Why the Samsung S90C is our TV of the Year, ending the reign of LG's OLEDs
QD-OLED shakes up the TV world, and we're here for it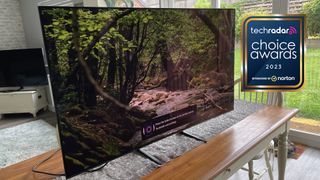 (Image credit: Future)
The Samsung S90C crashed into this year's premium TV line-up like an asteroid that isn't making the competition extinct overnight, but there's definitely going to be some migration to get out from its cloud. As a TV package, it offers arguably the best value you can get right now, which is a huge part of why it's our TV of the Year winner at the TechRadar Choice Awards 2023, sponsored by Norton.
This award has gone to LG OLEDs for the last couple of years, similarly as a result of the value they've offered, but the Samsung S90C has now completely upended what we expect from the best OLED TV for the price. It costs basically the same as the LG C3 (the successor to last year's winner, the LG C2), but its screen is much brighter thanks to its QD-OLED tech (at 55- to 77-inch sizes), its sound quality is notably superior, and it has a cooler design. OLED TVs had been in a cozy groove (or, some might say, a rut) for a few years, but things got shaken up in 2023, and this Samsung did the shaking in the mid-range.
When it was first revealed I must admit, the TechRadar team largely dismissed it. That was partly because Samsung barely announced it, mostly slipping quiet mentions of it into CES press releases. Unless you looked in the right places, you wouldn't know how it differed from the top-end Samsung S95C QD-OLED TV. We suspected it would just be a box-checking exercise to offer a slightly cheaper TV, and didn't have much hope for it.
But it turned out to be a lot cheaper than anticipated, and suddenly its revolutionary nature became clear, like when a Magic Eye poster clicks for you. No, it doesn't have the ground-breaking brightness of the S95C that's brighter than anything that came before; it has a mid-level brightness that beats anything that came before at this price.
Its brightness even means that the biggest annoyance about Samsung TVs – their lack of Dolby Vision HDR support – isn't a huge deal anymore. Once you get above 1,000 nits of brightness, Dolby Vision becomes far less essential because the TV is bright enough not to suffer from tone mapping issues that make HDR look crushed around highlights. The Samsung S90C's peak HDR brightness is a very healthy 1,100 nits – the LG C3 is around 800 nits, by comparison.
The one irritation is Samsung's truly bizarre decision to offer an 83-inch model that doesn't use the same QD-OLED panel as the 55-inch, 65-inch, and 77-inch models. It uses a standard OLED panel, just like the LG C3, which is therefore only as bright as the LG C3, and does suffer from its lack of Dolby Vision. We don't think you should get that model of the S90C; the LG C3 is actually better.
But at the other sizes, which are far more popular, the Samsung S90C sets a new standard for the future. The likes of LG and Sony (and Panasonic and Philips in Europe) now have to contend with a new picture-quality standard at mid-range prices next year. The whole measure of what's good value for OLED TVs had the rug pulled from it this year by this TV, and totally in the favor of buyers. What could be more worthy of an award?
Get daily insight, inspiration and deals in your inbox
Get the hottest deals available in your inbox plus news, reviews, opinion, analysis and more from the TechRadar team.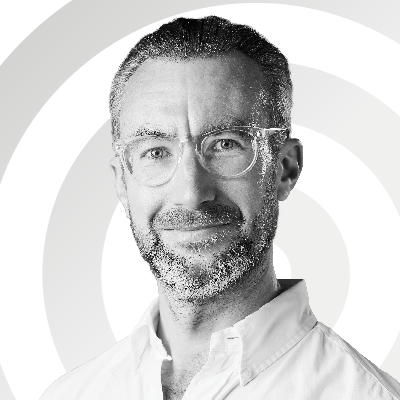 Managing Editor, Entertainment
Matt is TechRadar's Managing Editor for Entertainment, meaning he's in charge of persuading our team of writers and reviewers to watch the latest TV shows and movies on gorgeous TVs and listen to fantastic speakers and headphones. It's a tough task, as you can imagine. Matt has over a decade of experience in tech publishing, and previously ran the TV & audio coverage for our colleagues at T3.com, and before that he edited T3 magazine. During his career, he's also contributed to places as varied as Creative Bloq, PC Gamer, PetsRadar, MacLife, and Edge. TV and movie nerdism is his speciality, and he goes to the cinema three times a week. He's always happy to explain the virtues of Dolby Vision over a drink, but he might need to use props, like he's explaining the offside rule.