The new Godzilla is about to hit Apple TV Plus – here are 6 great monster movies to stream on Netflix, Max and more
Sharks, King Kong and even a gelatinous monster from outer space, here's what to stream now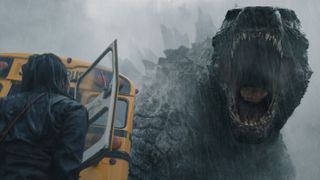 (Image credit: Apple`)
There's always been something fun about seeing a giant monster unleash havoc upon humanity. Godzilla may be the most recognisable of the lot – and have the most films to his name, with 37 outings on the big screen – yet there are plenty of others that have helped make the genre what it is today.
It's the legacy of the latest US Godzilla movies that's expanded in Monarch: Legacy of Monsters, the first TV series set within the new Kong and Godzilla MonsterVerse. Taking place after Godzilla's calamitous battle with the Titans, the show follows two siblings who follow in their father's footsteps to uncover their family's connection to a secret organization. It will begin rolling out in November exclusively for Apple TV Plus.
To help get in the mood for more monster madness, we've rounded up a selection of some of the best and/or most interesting monster movies that you can stream on the best streaming services, including the likes of Netflix, Max and more. Head below for all the details.
Godzilla: King of the Monsters
Runtime: 132 minutes
Director: Michael Dougherty
Age rating: PG-13
Where to watch: Netflix (US/Aus), rent or buy (UK)
Where better to start than 2019's Godzilla sequel which sees the skyscraper-sized lizard go up against Mothra, Rhodan and the three-headed King Ghidorah. While the pacing does take its toll a little bit, the visual effects are stunning as these Titans square up and flatten what feels like most of Boston. We also get Millie Bobby Brown (of Stranger Things fame) as Madison, one of the better human characters to appear in these movies.
The Meg
Runtime: 113 minutes
Director: Jon Turteltaub
Age rating: PG-13
Where to watch: Max (US), rent or buy (UK), Netflix (Aus)
Jason Statham takes on a 75-foot shark. Do we need to say any more? Loosely (and we do mean loosely) based on the novel by Steve Alten, this mindless action movie made huge waves at the box office making for a fun ride full of schlock that will keep you entertained for two hours. The Meg is a B-movie in every conceivable way, led by Staham who actually was a professional diver before entering Hollywood. He even represented England at the 1990 Commonwealth Games, in fact. Probably didn't have to deal with any sharks there, though.
Jaws
Runtime: 124 minutes
Director: Steven Spielberg
Age rating: PG
Where to watch: Netflix (US), Netflix/NOW (UK), Prime Video/Binge (Aus)
What can we say, people love shark movies and it doesn't get better than Jaws. The movie that put Steven Spielberg on the map and has been endlessly parodied for decades shows no sign of age… except for maybe the great white itself. That aside, Jaws has everything: compelling leads, genuine horror, a gripping soundtrack, stakes and potentially the best use of suspense ever put on the silver screen. It's a masterpiece for a reason. Okay, it's not a giant monster, but it took that boat apart well enough anyway.
The Blob
Runtime: 86 minutes
Director: Irvin Yeaworth
Age rating: PG-13
Where to watch: Max (US), rent or buy (UK/Aus)
The Blob works so well because it's such a simple premise: an ever-growing gelatinous monster from outer space wreaks havoc on a small town… and that's it! Made in 1958, the sci-fi horror classic is often overlooked considering it gave Steve McQueen his first leading role and offers plenty of imagination and scares considering its tiny budget.
Godzilla vs. Kong
Runtime: 113 minutes
Director: Adam Wingard
Age rating: PG-13
Where to watch: Netflix/Max (US), Netflix (UK), rent or buy (Aus)
The latest instalment in Legendary's MonsterVerse (and so the most recent before the new series) has the king of the monsters brawling against King Kong, finally giving audiences what they wanted from the start: less human dialogue and more monsters smashing into one another like action figures. Its colossal fights between the brutes are as violent as they are awe-inspiring. Considering we're getting another sequel in 2024, Godzilla x Kong: The New Empire, in addition to the TV show, it's the perfect time to catch up.
Hellboy
Runtime: 122 minutes
Director: Guillermo del Toro
Age rating: PG-13
Where to watch: Netflix (US), Netflix/Sky (UK), Netflix (Aus)
Finally, this is a less of a monster movie in the Godzilla sense, but it literally stars a monster, so we're counting it. Guillermo del Toro underrated take on Hellboy is still fantastic to watch almost 20 years on. It's chock full of inventive monsters with a great mix of prosthetics and CGI that puts a lot of modern films to shame. Above all, Ron Perlman's interpretation of the Dark Horse comics poster demon is sublime, nailing the voice, demeanor and presence needed to pull off the character. The 2008 sequel is terrific too.
You might also like
Sign up for Black Friday email alerts!
Get the hottest deals available in your inbox plus news, reviews, opinion, analysis and more from the TechRadar team.
Matt is a full-time freelance journalist who specializes in arts, culture and tech – be that movies, TV, video games, or otherwise. He's also turned his hand to everything from mattresses to motorbikes as a journalist. Prior to this, Matt headed up the games and entertainment section at T3.com, alongside being published across TechRadar, IGN, Tom's Guide, Fandom, NME, and more. In his spare time, Matt is an avid cinema-goer, keen runner and average golfer (at best). You can follow him @MattPoskitt64.