When you're on the run, and you just need to quickly print some photos, you're going to want to look at the best portable printers. You can forget about printers being big, bulky and beige devices that need 20 different wires.
Modern printers are more flexible than they've ever been. Many have wireless connectivity, allowing you to print from almost any device without having to worry about trailing cables everywhere.
There's also a class of portable printers that are battery-powered, allowing you to easily take them with you wherever you want to go. With this guide, we'll show you all the best portable printers you can buy today.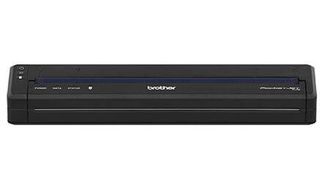 1. Brother PocketJet 763MFi portable printer
An excellent portable printer
Print speed: 8ppm | Paper sizes: Letter, legal, A4 | Resolution: 300 x 300 sheets | Connectivity: USB 2.0; Bluetooth Ver.2.1+EDR SPP, BIP, OPP, HCRP and iAP(MFi) Supported | Dimensions: 10.04 x 2.17 x 1.18 inches
Small and compact
Good battery life
Not great at graphics
No AirPrint or Google Cloud Print support
This handy portable printer allows you to print full page A4 documents while on the go, and is small enough to easily fit in a briefcase or shoulder bag. It supports the MFI Bluetooth protocol, so it's a great choice for printing wirelessly from your smartphone or Apple iOS device. There's also USB 2.0 support for hooking up to your PC, and you can buy an additional rechargeable high-capacity battery, which gives you around 600 pages from a single charge.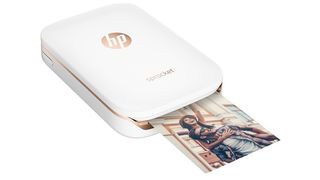 2. HP Sprocket Photo Printer
A quick and easy to use portable photo printer
Print speed: 40 seconds | Print resolution: 313 x 400 | Paper capacity: 10 sheets | Dimensions: 75 x 116 x 23 mm (Width x Depth x Height) | Weight: 0.17kg
Easy to use
No need for ink
Print quality isn't the best
Expensive media
The HP Sprocket Photo Printer is a small, hand-sized, photo printer which isn't for printing out professional-quality photos, but is a quick, easy and fun way to instantly print out your digital snaps - essentially turning any digital camera into a Polaroid-esque instant printer. It doesn't use ink, so you don't have to worry about buying replacement cartridges - instead it uses heat to transform a pre-dyed sheet of paper into your photos. It runs on batteries and has a stylish design as well.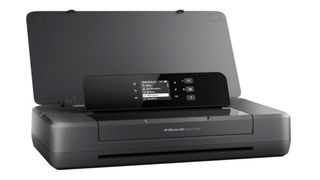 3. HP OfficeJet 200 Mobile Printer
A speedy portable printer
Print speed: 18ppm | Paper sizes: A4, A5, A6, B5 (ISO), B5 (JIS) | Resolution: 1200 x 1200 sheets | Connectivity: USB 2.0; Wi-Fi | Dimensions: 364 x 186 x 69 mm
Very good print quality
Easily portable
Doesn't come with USB cable
Heavy compared to the competition
If you're looking for a portable printer that offers very good print quality - some times better than standard inkjet printers - while also being fast when it comes to producing printouts, then the HP OfficeJet 200 Mobile Printer is a great choice. Weighing less than HP's previous mobile printers, the HP OfficeJet 200 Mobile Printer is a brilliant little portable printer that can hook up to devices via Wi-Fi. It offers plenty of connectivity options, though Bluetooth isn't included. A lack of an included USB cable also feels a bit mean.
4. Canon PIXMA iP110 portable printer
A decent mobile printer that's great at images
Print speed: 9 ipm | Paper sizes: A4, B5, A5, Letter, Legal, Envelopes (DL size or Commercial 10), 10 x 15cm, 13 x 18cm, 20x25cm | Resolution: 1200 x 1200 sheets | Connectivity: USB 2.0; Wi-Fi | Dimensions: 322 x 226 x 62 mm
Very good phtoo quality
Small and light
Not the fastest printer
Cartridges don't last that long
Unless a portable printer is explicitly designed for photo printing (such as the HP Sprocket), then they often fail to produce brilliant image quality. However, the Canon PIXMA iP110 bucks that trend, as it's a portable printer that can handle documents as well as print out excellent photos. That makes it a great choice if you want a flexible portable printer that can handle a range of tasks. It's not the fastest portable printer in the world, but for such good image quality, we don't mind waiting a little bit longer.
5. Fujifilm Instax Share SP-3 portable printer
Instant photos with a retro flavour
Paper sizes: 2.44 in x 2.44 in | Resolution: 318 dpi | Connectivity: Wi-Fi | Dimensions: 4.6 x 1.7 x 5.1 inches
Creates charming retro momentos
Really easy to use
Quite expensive as a printer
Film packs are even more expensive
The Fujifilm Instax Share SP-3 is another portable printer designed for photos. It essentially turns your smartphone into a retro instant camera, like a Polaroid, with the Fujifilm Instax Share SP-3 printing out photos on square printouts. Rather than using an instant camera, just send your photos from your via to the printer via a wireless connection and the Instax Share app. It's small enough to be carried around easily and the rechargeable battery lasts a good while. Print media is costly, however, and it's only good for printing retro-inspired photos. If you need a portable printer for documents as well, the Canon PIXMA iP110 (above) is a better choice.