The Pixel C may be Google's first proper attempt at a tablet, but you wouldn't know it. It looks great, performs well and gives its high-end rivals a real run for their money.
Google needs to set the standard when it comes to Android products, and with the Pixel C it's managed to do just that.
We liked
This is one of the best-looking Android tablets we've had the pleasure of using – and it's one of our favorite Android slates to date.
We were wary of the Nvidia processor Google had opted for, but thankfully it performs well – you can throw pretty much anything at the Pixel C and it'll run it without breaking a sweat.
Then there's the display. Seriously, this display is awesome. It's pin-sharp, colorful and insanely bright. You don't appreciate just how bright it is until you put it side by side with the iPads. It's pretty special.
Stock Android is another big plus point for the Pixel C, giving you a clean, fuss-free interface to customize to your liking without another manufacturer's apps and design tweaks getting in your way.
Plus, the Pixel C will be in line for future Android updates, so you can be safe in the knowledge that it won't fall behind the times for the next few years at least.
We disliked
There's really not a great deal to dislike about the Pixel C, and the negative points it does have are relatively minor.
It is a bit on the heavy, bulky side, especially when compared to the svelte iPad Pro 9.7 and Galaxy Tab S3 – but it's not disastrous.
The keyboard dock is a clever accessory, but it's also a pricey one on top of an already expensive tablet. While if was fun to use, we're not convinced it's worth the asking price; if you're planning on doing a lot of typing on the Pixel C, however, it's a must.
Battery life also wasn't stellar. The Pixel C by no means suffers in the battery department, but given Google's big claim of over 10 hours use from a single charge we were hoping for better performance during video playback.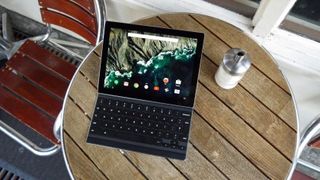 Verdict
The Pixel C is still a great Android tablet. It's not cheap, but this is a top of the range tablet, and it justifies its iPad-matching price tag.
If you're fed up with Apple, or simply want the best Android tablet around, then the Pixel C is the slate for you. You can feel that Google has been involved at every stage, with its simple fluidity flowing throughout the Pixel C experience.
Android still has a shortcoming when it comes to tablet-optimized apps; add to that the general bulk of the Pixel C it's not quite as pick-up-and-play-friendly as the iPad range.
It also doesn't have the breath of functionality to trouble the iPad Pro or Surface Pro 4, even with its keyboard dock, but the Pixel C is comfortably cheaper than both.
What the Pixel C does offer is genuine competition at the top of the tablet market, and if you decide to splash the extra cash on the keyboard dock as well you'll have a very powerful machine at your fingertips.
There are a few high-profile rivals for you to consider before splashing the cash on the Google Pixel C, and we've pulled them together below to help you make up your mind.
iPad Pro 9.7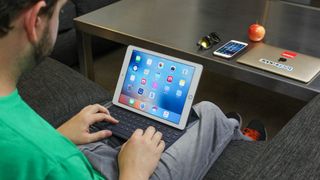 There's no mistaking which tablet Google's going after with the Pixel C. The iPad Pro 9.7 (and the new iPad) still dominates the high end of the market, and manufacturers are trying their best to emulate Apple's slate success.
The iPad Pro 9.7 has a fantastically premium design, an excellent display and a whole heap of power under the hood, making for a slick and enjoyable experience. There's also the optional Apple Pencil and keyboard case to make it into a tablet.
The biggest bonus of picking up the iPad though is the wide selection of applications that are optimized for its larger screen. It's something the Play Store has yet to match, and it makes the Pro even easier to use.
Read our iPad Pro 9.7 review
Samsung Galaxy Tab S3
Samsung's iPad Pro and Pixel C rival is filled full of tech, and sports a fingerprint scanner, S Pen stylus in the box, a premium design and an optional keyboard as well.
It's thin and light, making it easy to hold, while Samsung has worked on improving its TouchWiz interface. Stock Android still has the beating of it, but it's a positive step forward, while it can also boast the world's first HDR display on a tablet - making it great for gaming and movies.
Read our Samsung Galaxy Tab S3 review
Microsoft Surface Pro 4
The Surface Pro 4 has the advantage of running the full desktop version of Windows 10 - giving you all the functionality of a computer in a more portable form factor.
The Type Cover keyboard has been greatly improved, and it also boasts a mouse pad which makes certain tasks much easier over the Google Pixel C.
It doesn't come cheap, and if you're not wedded to the Microsoft way of doing things you can save yourself some money - will taking a functionality hit - by opting for the Pixel C.
Read our Microsoft Surface Pro 4 review
First reviewed: December 2015