The Inspiron 13 7373's configuration is impressive, especially when you consider the price. During the past week, we've used and tested the Inspiron 13, coming away rather impressed.
The Intel Core i5-8250, 8GB RAM and 256GB SSD can't quite keep up with the Surface Book 2's performance, but that's to be expected considering the Surface Book 2's internals. The Yoga 920 compares more favorably with the Inspiron 13, in spite of a beefier spec sheet.
Benchmarks
Here's how the Dell Inspiron 13 7373 performed in our suite of benchmark tests:
3DMark Sky Diver: 4,112; Fire Strike: 964; Time Spy: 388
Cinebench CPU: 578 points; Graphics: 44 fps
GeekBench 4: 4,157 (single-core); 14,015 (multi-core)
PCMark 8 (Home Test): 3,249 points
PCMark 8 Battery Life: 1 hours and 59 minutes
Battery Life (TechRadar movie test): 3 hours and 27 minutes
In particular, the Inspiron 13 and the Yoga 920 scored similarly on the 3DMark Sky Diver benchmark (4,112 vs 4,451, respectively). The same came be said about the Cinebench, Geekbench 4, and the PCMark 8 Home tests – scores between the two laptops are within just a few hundred points of one another.
Strong performance in benchmarks is noticeable in everyday use as well. We find apps to launch fast and perform lag-free on this 2-in-1 laptop. Even when using multiple tabs in Chrome, we don't experience any sort performance hiccups.
In other words, even though it may not look evenly matched to better-equipped systems on paper, the Inspiron 13 7373 is a fully capable 2-in-1 laptop. Expect to be able to achieve a common to moderate workload with this device, i.e. word processing, serious web browsing and seamless video streaming.
Battery life
Easily the most disappointing aspect of the Inspiron 13 7373 is its battery life. Neither of our benchmarks — PCMark 8's battery test, and our movie test — were able to reach half of Dell's promised 8 hour 20 minute battery life.
In fact, the PCMark test was just shy of two hours total. Granted, the 38 watt-hour battery inside this 2-in-1 laptop suggests less than all-day battery life, but it would be nice to get closer to Dell's far loftier estimate.
For reference, this laptop would struggle to get through most coast-to-coast flights across the US, Australia and western Europe. That's not a great look for the mobile professional or globe-trotting civilians.
Features and software
Dell has taken a somewhat heavy-handed approach to preloading software on the Inspiron 13. Between McAfee, and seven different Dell-related applications, there's a lot of unnecessary bloat on the Inspiron out of the box.
Outside of the pre-loaded software, the rest of the software experience is pretty vanilla. With the gamut of Windows 10 apps and services without any extra layers or redundant software.
We liked
The Inspiron 2-in-1 laptop may not look incredibly fancy, but its looks are deceiving. Windows Hello worked well with the IR webcam, and its price point combined with performance make it incredibly attractive.
We disliked
The touchpad is way too finicky for our liking, and battery life is a disappointment. Also, we're not fans of the stylus being an optional upgrade. Such accessories should be part of the core conceit of the product.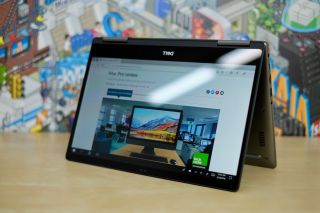 Final verdict
There's always some give and take when it comes to finding an affordable laptop, and the Dell Inspiron 13 7373 2-in-1 is no different. It's portable, powerful, but lacking all day battery life.
For that reason, we've awarded this laptop 3.5 stars. While the Dell Inspiron 13 7373 2-in-1 is a fine performing device, you'll be forced to ask yourself tough questions regarding its value and whether what's lacking here matters to you, and if so by how much.