I had high hopes for Origin Coolmax Latex Pillow, which promises sink-in comfort, plushness and cradling abilities mixed with cooling properties. As a real combination sleeper who switches constantly from my back to my side to my front and then back again during the night, I usually sleep on a pair of fibre-filled pillows that can cope with most of my sleeping positions, but not always too successfully.
This makes it a bit of a challenge to find the best pillow and even the best mattress for me, so I was keen to see how I'd cope with the surprisingly solid Origin pillow. The results were... interesting, but not all bad news.
Origin Coolmax Latex Pillow review: review in brief
There's much to like about the Origin Coolmax Latex Pillow in theory. It's made from natural latex infused with cooling gel, and wrapped in a removable Tencel fabric cover, and the result is a firm pillow with a luxurious feel that definitely does a good job of keeping your head cool at night, while its hypoallergenic build makes it a clear choice for anyone plagued by allergies.
Origin Coolmax Latex Pillow at a glance
Type: Cooling latex pillow
Best suited to: hot sleepers, people with allergies, anyone in need of firm support
Dimensions: 65cm x 40cm x 13cm
Trial period: 7 days
Warranty: 2 years
However despite its qualities, in testing I got on less well with the Origin than I expected I might, and what could make it an excellent pillow for back sleepers may also mean that for others it may be less of an attractive prospect.
Because I'm used to much softer pillows, the solidity and responsiveness of the Origin came as a bit of a shock to my system, and its 13cm height put it in an odd position where I found it too shallow for side sleeping but too high for sleeping on my stomach, while pairing it with the shallowest pillow I could find made it too lofty for anything other than side sleeping.
As an absolute combination sleeper this meant that in both configurations it left me uncomfortable at various points in the night.
Origin Coolmax Latex Pillow review: price and deals
The Origin Coolmax Latex Pillow is only available from Origin, where it retails at an RRP of £165 with no size options available. If that feels just a little on the expensive side for you – even for a 100% natural latex pillow with cooling properties – you'll be pleased to know that it's regularly on sale at a much more agreeable price. At the time of writing it has 40% off the RRP, bringing it down to £99, which I think is a more realistic price point.
If you're a combination sleeper you may get on better with the Casper Original Pillow, which has a pillow in pillow design that subtly shifts if you move around in your sleep; it's currently available at Amazon for £98 for a pack of two. Another other versatile alternative is the Emma Premium Microfibre Pillow, which has an adjustable height and adaptable layers. It's currently on sale at Emma with 50% off, bringing the price down to £57.50.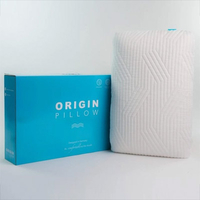 Origin Coolmax Latex Pillow: from £165 RRP/£99 sale price at Origin
The Origin pillow is a strikingly firm, springy and hefty cooling latex pillow that would be best suited to back sleepers who need a lot of support. At its RRP we'd say it's a little on the expensive side, but on sale it's a good buy if you get on with it.
Origin Coolmax Latex Pillow review: design and materials
All-latex core
Removable Tencel pillow cover
Cooling and hypoallergenic
The Origin Coolmax Latex Pillow has a core of natural latex with holes running through it to promote airflow and prevent overheating in the night; it's also infused with cooling gel that helps keep temperatures down too. The latex feels firm and springy, but it has enough give in it to mould to your head and provide decent pressure relief.
One downside to latex can be its smell; it's not like the chemical odour you often get with memory foam, but more of a rubber smell, unsurprisingly. I didn't notice much of a smell to this pillow, although my partner who also tested it remarked on a slight rubbery odour; it's something that'll doubtless fade in time, but if it's something that might bother you, you should maybe think twice about the Origin Coolmax Latex Pillow.
Beyond the latex, the pillow's encased in a lightweight Tencel cover that definitely feels luxuriously soft, and which is also removable and machine washable. Both the pillow and its cover are hypoallergenic and resistant to dust mites, microbes and bacteria, making this pillow an attractive choice for anyone with allergies.
One last thing to note is this pillow's weight: on my bathroom scales it clocks in at around 1.6kg, which is very much on the heavy side for a pillow.
Origin Coolmax Latex Pillow review: performance
Best suited to back sleepers
Effective cooling features
Very firm but springy too
I tested the Origin Coolmax Latex Pillow for over two weeks to find out how it performed in terms of setup, comfort, support and temperature regulation. Both myself and my partner slept on it, covering all the sleeping positions, and I also roped in another TechRadar reviewer to try it out along with her husband. Here's how I fared with it...
Setup
5 out of 5
It's hard to fault the Origin Coolmax Latex Pillow in this regard. It arrived in a plain cardboard box that itself contained a much better-looking cardboard box with its own carry handle; a good thing if you're having the pillow delivered to your office (as I did), because of its weight.
Once I got the pillow home I opened the box and found that it was enclosed in a clear plastic bag that was easily removed. The pillow wasn't compressed or vacuum-packed and it was ready to go instantly. And because it's latex there was no off-gassing to contend with at any point, although my partner did remark on a mild rubbery smell.
Temperature regulation
5 out of 5
The Origin Coolmax Latex Pillow is really good when it comes to regulating heat. While it doesn't exactly feel cool to the touch (something that I'd frankly find weird except maybe in the height of summer), it definitely didn't retain heat. I reviewed it in the UK in February in a mix of cold and mild temperatures, and throughout the testing period it maintained a thoroughly agreeable temperature.
This, I think, is as much down to the airflow-enabling holes running through it as it is the cooling gel infused into the latex, which kept things good and breathable. Whatever the reason, though, this pillow never got too warm for comfort.
Firmness and support
3.5 out of 5
This is where things get a little trickier because we're into the realms of subjectivity. The Origin Coolmax Latex Pillow is very firm, and that's another reason I'm grateful for the holes running through it, because as well as promoting airflow I think they also do a good job of bringing the firmness level down. You'll sink into the Origin pillow a bit and it'll cradle your head beautifully, but because it's so springy it'll bounce back into shape as soon as you move, which can feel a little strange.
Not only is it just a little too responsive for my liking (and indeed for other testers), its height meant that it was rarely comfortable enough for me. Case in point: the first night I tested it the Origin Coolmax Latex Pillow I used it on its own, and while it felt comfortable and supportive lying on my back, it was too shallow for side sleeping and far too unyielding for sleeping on my front. Nevertheless I persisted and was rewarded with a pretty rotten night's sleep and, randomly, pain in one hip the next day.
Despite that I gave it another go the next night with the same results, except that the hip pain was worse the day after. And so the night after that I tried putting a thin fibre pillow underneath it, and while this configuration was still useless for front sleeping (which, to be fair, I should probably try to avoid anyway), it was much more comfortable for back and side sleeping; the next day the hip pain had gone, too. Go figure.
After a few more nights I was happy to hand the Origin pillow over to my partner; again she found it too shallow on its own (and was more troubled by its latex smell than I was), and after one night she added a second pillow underneath it. She sleeps predominantly on her side and found this to be a good configuration, but not quite good enough; after a couple of weeks she gave up on it and went back to her old pillows.
Another TechRadar reviewer also tried out the Origin Coolmax Latex Pillow; she's a back sleeper of light build and found it far too high for her, and also reports that both she and her husband found it to be far too bouncy.
There is hope for the Origin, though: her husband slept well on it and woke up without any aches and pains. And another friend tried the Origin pillow and, despite being taken aback by its bounciness at first, as a stomach sleeper of average weight who prefers a single pillow she got on with it really well, noting that it prevented her head from sinking in too deeply and throwing her spine out of alignment.
Origin Coolmax Latex Pillow review: user reviews
The Origin Coolmax Latex Pillow has an impressive 5-star rating on the Origin site, although that's based on just three reviews from March-April 2022, all of which praise the pillow highly, specifically mentioning its comfort and cooling qualities, as well as its breathability and its washable cover. Great, but that's not a lot to go on.
The Origin pillow isn't available on Amazon so I wasn't able to find any reviews there. Meanwhile on TrustPilot, Origin itself has a rating of 4.2 out of 5, but that's based on just eight reviews of its mattress (which we'll have our own review for within the next few weeks).
Should you buy the Origin Coolmax Latex Pillow?
As you might have realised, my personal experience of the Origin Coolmax Latex Pillow wasn't entirely positive, and the same is true for others who also tested it for me. But that doesn't mean you won't get on with it; one tester really liked it, and indeed some people seem to love it.
Despite it not being a good fit for me, I was definitely impressed by the quality of the Origin pillow's build and the materials used. Its cooling delivered as promised, it was extremely supportive when I was lying on my back, and its removable and washable cover is a definite plus.
If you sleep exclusively on your back or front and appreciate firm support then you could well enjoy the Origin Coolmax Latex Pillow straight out of the box; similarly, pop a thin pillow underneath it and it's could be a good fit for dedicated side sleepers. If you're intrigued by this pillow (which I was) then you can at least take advantage of its seven-day trial period.