MSI Vigor GK71 Sonic: Two-minute review
The MSI Vigor GK71 Sonic may be the best gaming keyboard for you, especially if you have a penchant for fast games and furious typing. This new mechanical keyboard from MSI is built for speed, staying true to its name, with a robust aircraft-grade top case, 1.4mm/45gf actuation, and no-nonsense software that gets right down to business.
In a sea of keyboards, however, being great is no longer enough. Thanks to the many incredible models that have hit the shelves over the past few years, it's getting harder and harder to set oneself apart from the competition. To stand out, you have to do something cooler than the others, which is why MSI throws in extra frills like the convenient dual-touch volume wheel and the X-shaped cable routing.
Not that the MSI Vigor GK71 Sonic needs those, as even its fast actuation is more than enough to recommend it to gamers. It can be a bit of a double-edged sword though, as even the slightest pressure can cause a key to register, resulting in accidental presses when your fingers are merely resting on the keys. It's a classic case of great power coming with great responsibility.
The MSI Vigor GK71 Sonic kind of reminds me of older-generation gaming keyboards, but with a touch of that modern look that newer-gen models have. So, in a way, it feels like a cross between the two, or something that came out during the transition period.
It's very much a new release, however, even scoring a CES Innovation Award at this year's convention. You'll even notice signs of modern innovations here. There's the short 1.4mm actuation, naturally, which you'll be hard-pressed to find in old gaming keyboards. There's also that nice dual-touch volume wheel, which delivers a surprising touch of convenience I never knew I needed.
And then, there's the MSI ClearCaps keycaps that give the keyboard a faux floating keys effect that, in turn, allows that already vibrant RGB to dazzle even more. The keycaps themselves are not low-profile; they just have a clear bottom half to give them that look. If you want to switch out to low-profile ones, however, you'll be happy to know they're removable. The keyboard even comes with its own keycap puller.
The Vigor GK71 Sonic is full-sized, which means that it does take up a lot of space on the desk, especially if you throw the wrist rest into the mix. It also has some heft to it, as well as a robust build, mostly thanks to its aircraft-grade aluminum alloy top case. It doesn't feel too bulky, though, probably because it isn't as thick as other full-sized options. If you want to save some space, you have the option not to use the wrist rest. However, it's nice to touch, plush, and considerably improves the keyboard's overall ergonomics, so I'd recommend sacrificing that bit of space.
What I like most here are the multimedia keys – or rather the volume wheel, which not only doubles as a mute button but also has a dual-touch control that lets you adjust the volume from the top and from the side for convenience. Of course, the usual back, play/pause, and forward buttons are on hand as well.
Most of the keys on this gaming keyboard are macro-programmable and remappable, except for the Fn/MSI Dragon key, which lets you access a pre-programmed set of shortcuts, almost all of which are RGB-related. Such shortcut keys have been becoming increasingly popular among keyboards, even full-sized ones, and I'm glad to see it here. MSI even makes things more convenient for users by marking those shortcuts on the keycaps so you won't have to memorize them.
A curious feature here is the X-shaped cable system that MSI has designed to protect your peripherals' cables and keep them from cluttering your desk. It isn't something I find particularly useful, sadly, as I prefer to direct my cables towards the back of my desk, out of sight.
The MSI Center, which offers software support for the MSI Vigor GK71 Sonic for customizations, is impressive – and not because it's extensive. On the contrary, it has a back-to-basics approach, covering only the more vital customizations.
But, while it can feel a little rudimentary to gamers who are used to the more convoluted apps of competitors, I appreciate that it works incredibly well and as it's supposed to. If you're familiar with other gaming keyboard apps, you'll know that the more complex they are, they less user-friendly they can be. That's on top of the fact that they really only work half of the time.
My only issue with the MSI Center is that you don't have immediate access to the tools you'll need for customizations. You have to install some installable items the first time you use it. With the MSI Vigor GK71 Sonic, for example, you'll need the Gaming Gear module for macros and the Mystic Light module to control the RGB lighting.
The MSI Vigor GK71 Sonic has been out for a while but only in its red switches version, which require a lighter operation force but has a deeper pre-travel. This new version comes with the MSI Sonic blue clicky mechanical switches, which require ever-so-slightly harder presses but have a shorter actuation distance of 1.4mm.
So short, in fact, that you run the risk of accidentally activating a key when you've got a finger resting on it. On the plus side, because it takes light presses, I find it relieves some pressure on my shoulders and fingers when I'm playing.
The switches themselves are also incredibly fast and responsive, whether I'm battling monsters in Kena: Bridge of Spirits or exploring the magical world of Hogwarts: Legacy. They're also comfortable and satisfying to press, with a nice bottom-out. Meanwhile, the hybrid 6+N-key rollover ensures the keyboard isn't missing any presses.
MSI Vigor GK71 Sonic: Price & availability
How much does it cost? $129.99 (about £110 / AU$195)
When is it available? Available now
Where can you get it? Available in the US, UK, and Australia
Is the MSI Vigor GK71 Sonic a budget option? Not exactly. However, it's fairly priced for a fast, well-made gaming keyboard of its caliber, and around the same price point as its direct rivals. At $129.99 (about £110 / AU$195), it's also more affordable than the likes of the Razer BlackWidow V4 Pro and the Corsair K100 Air Wireless – both of which are in the above-$200/£200 range.
To be fair, the Vigor GK71 Sonic is less feature-rich than those two, with MSI taking a more minimalist approach in terms of not only its features but also its software support. However, it also ticks a lot of things that gamers find most useful – such as the fast actuation, macro-programmable keys, convenient multimedia keys, and the vibrant RGB. That makes it a great value, even if it's not what I would call cheap.
MSI Vigor GK71 Sonic: Specs
Swipe to scroll horizontally
| | |
| --- | --- |
| Layout: | Full |
| Switch: | MSI Sonic Blue mechanical |
| Programmable keys: | Yes |
| Dimensions: | 442.5 x 138 x 41 mm (without wrist rest) |
| RGB or backlighting: | Yes, programmable |
Should you buy the MSI Vigor GK71 Sonic?
Swipe to scroll horizontally
| | | |
| --- | --- | --- |
| Value | While it's not what I would call a budget option, it offers great value for the price – and is cheaper than some of the newer full-sized releases in its class. | 4.5 / 5 |
| Design | It blends old-school and modern touches in its design and offers novel conveniences you won't find on other gaming keyboards. It's also very robust. | 4.5 / 5 |
| Performance | The Vigor GK71 Sonic offers a 1.4mm actuation point, requires a light 45g actuation force and can switch from 6-key to N-key rollover. | 4.5 / 5 |
| Average rating | This is a fast, robust gaming keyboard that delivers excellent gaming performance and some nice extras that will help you focus on your game. | 4.5 / 5 |
Buy it if...
You want a super fast, super responsive gaming keyboard
Gaming on the MSI Vigor GK71 Sonic doesn't take a lot of effort as it only requires light presses for every key to register, no matter how quick your presses are. Fast-paced boss battles have nothing on it.
You love a good clicky mechanical keyboard
Those MSI Sonic Blue clicky switches are satisfying to press with their classic clicky sound and nice bottom-out. The keyboard can get pretty loud so I wouldn't recommend it for office use, but if you're not disturbing anyone, it's a win.
Don't buy it if...
You need something more compact
It doesn't feel as bulky as other full-sized keebs, but it does still take up a bit of space. If you have a more compact or portable setup, I would go for one of the best mini keyboards instead.
You prefer the thock sound or something quieter
I've been getting into the thock sound lately so the Vigor GK71 Sonic's clicky sound doesn't quite hit the spot for me. If you're the same, I would recommend looking elsewhere.
MSI Vigor GK71 Sonic: Also consider
Swipe to scroll horizontally
| | MSI Vigor GK71 Sonic | Razer BlackWidow V4 Pro | Corsair K100 Air Wireless |
| --- | --- | --- | --- |
| Price: | $129.99 (about £110 / AU$195) | $899 / £899 / AU$1,619 | $279 / £279 / AU$479 |
| Layout: | Full | Full | Full |
| Switch: | MSI Sonic Blue mechanical | Razer Linear | Cherry MX Ultra Low Profile Tactile |
| Programmable keys: | Yes | Yes | Yes |
| Dimensions: | 442.5 x 138 x 41 mm (without wrist rest) | 466 x 152.5 x 44mm | 437 x 156 x 11 to 17 mm |
| RGB or backlighting: | Yes | Yes | Yes |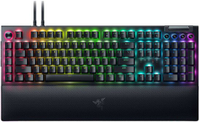 (opens in new tab)
Razer BlackWidow V4 Pro
The Razer BlackWidow V4 Pro is a performance- and feature-packed keeb. It's comfortable to type and game on, and gorgeous to look at.
Read our full Razer BlackWidow V4 Pro review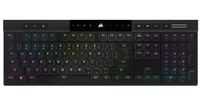 (opens in new tab)
Corsair K100 Air Wireless
The Corsair K100 Air Wireless is thinner, faster, better to type on, and comes with a lot more features than its top rivals.
Read our full Corsair K100 Air Wireless review
How I tested the MSI Vigor GK71 Sonic
Tested the MSI Vigor GK71 Sonic for a week
Used it for a week, playing games and typing up articles and emails
Testing the MSI Vigor GK71 Sonic was easy, as it always is with top-of-the-line products. I did use the keyboard for a week, however, using it on a daily basis for playing PC games and for work. To test its gaming performance, I used it to play Kena: Bridge of Spirits, Control, and the new Hogwarts: Legacy. To test its typing prowess, I used it to write emails and my articles for that week. Naturally, I tested its features during this time and played around with its software as well.
We pride ourselves on our independence and our rigorous review-testing process, offering up long-term attention to the products we review and making sure our reviews are updated and maintained - regardless of when a device was released, if you can still buy it, it's on our radar.
First reviewed March 2023