Razer BlackWidow V4 Pro: One-minute review
If the Razer BlackWidow V4 Pro adheres to any philosophy, it's that more is more. This is not one of those stripped-down mechanical keyboards that offer up the basics for a straightforward experience – this is a keeb that will do just about everything but play the game for you.
To start with, the Razer BlackWidow V4 Pro has a polling rate that puts most of the competition to shame, dedicated macro and media keys to go along with its full-size layout, and offers levels of comfort that will make you forget you've been using it for the last eight hours. Its brilliant RGB lighting even extends around its wrist rest. If there's a feature you want from your keyboard, the BlackWidow V4 Pro has it, with one exception: it's lacking the wireless connectivity of its predecessor.
While it faces plenty of stiff competition, the Razer BlackWidow V4 Pro can go head-to-head with any of the best gaming keyboards and at least keep up. If you're looking for specific features, such as that wireless connectivity or adjustable actuation, there might be other options that are better for you. Otherwise, this is one of the best keyboards out there right now.
Razer BlackWidow V4 Pro: Price and availability
How much does it cost? $229 (about £190 / AU$330)
When is it available? Available now
Where can you get it? Available in the US, the UK, and Australia
Razer BlackWidow V4 Pro: SPECS
Layout: Full
Switch: Razer Linear
Programmable keys: Yes
Dimensions: 466 x 152.5 x 44mm
RGB or backlighting: Yes
It might not be the most expensive keyboard in Razer's lineup, but the Razer BlackWidow V4 Pro is close. At $229 (about £190 / AU$330), it's not for the faint of heart. Yet, it's more than worth the price thanks to its impressive set of features, all-day comfort, and top-of-the-line performance. More importantly, it retains the price tag of its predecessor at a time when everything – including eggs – is getting more expensive.
Frugal gamers may want to pass on the Razer BlackWidow V4 Pro for something like the Roccat Magma, which at around $70 / £50 / AU$90 is more than a serviceable gaming companion, if a little light on features. It also doesn't have the quality build of this Razer keyboard.
The serious competition might be a more fully-featured keeb like the Corsair K100 Air Wireless. It's similarly jam-packed with features, it also has that lofty 8,000Hz polling rate, and it has an attractive low-profile design. However, it is pricier at $279 / £279 / AU$479, is a bit louder to type on, and has fewer dedicated macro keys.
Razer BlackWidow V4 Pro: Design
Comes with several dedicated, remappable keys
RGB lighting is fantastic
Plenty of comfort thanks to the magnetic wrist rest
The Razer BlackWidow V4 Pro's black-on-black look is not going to convert any keyboard DIYers or Instagram influencers. But, that's okay. This is not a keyboard for social media. This is a full-blown battle-station interface designed to tackle the most challenging of gaming situations – and Razer has put a lot of effort into making sure that it can handle the needs of the most demanding gamer.
That starts with its 8,000Hz polling rate, and choice of either Razer's green clicky or yellow linear switches. Both offer a 100 million-press lifespan, double the industry standard, and come with speedy actuation – 1.9mm/50g for the green and 1.2mm/45g for the yellow. As Razer uses a premium 5052 aluminum case, the company packed it with PCB foam to quiet down those switches.
The reintroduction of those macro keys that went missing on the BlackWidow V3 Pro is also a huge addition. This newer model has eight macro keys, five of which line the left side of the layout, while the other three sit on the side of the keyboard, and can be used to switch profiles. There are also four dedicated media keys, as well as an infinity edge roller, all of which are remappable.
There's even a command dial that can be mapped to all sorts of functions, from mic volume and spreadsheet horizontal scrolling to turbo key pressing (great for spamming spells). Really, there's a ton of customization on hand with the BlackWidow V4 Pro.
The immersive RGB is just as deep. Not only does the BlackWidow V4 Pro feature a floating key-cap design to allow all that per-key lighting to literally shine, but an RGB underglow lines the entire base, including the sides and front of the magnetic wrist rest for a display that will put your Christmas lights to shame.
To round out the whole package, Razer includes a single USB passthrough (more on that later) and USB connectivity, eschewing the previous version's wireless and Bluetooth connectivity, presumably in order to hit that 8,000Hz polling rate; the BlackWidow V3 Pro only made it up to 1,000Hz.
Lastly, the company has also magnetized the leatherette wrist rest so that it snaps into place, and stays where it should during heavy gaming sessions. It's plush, and it's as comfortable as it is ergonomic.
Razer BlackWidow V4 Pro: Performance
Has a ridiculous 8,000Hz polling rate
Quieter than most mechanical keyboards
USB passthrough is disappointing
With its 8,000Hz polling rate, you would have to be superhuman to stump the Razer BlackWidow V4 Pro. It's fast, accurate, and easy to use. Since the keycaps are concave and textured, they do a great job of keeping my fingers on the keys I want to press. They're also spaced out so as not to feel cramped or crowded. I've used this keyboard not only for fast-paced gaming but for furious typing, and I haven't experienced any latency issues, missed presses, or other performance-related issues.
While that's not uncommon for higher-end gaming keyboards, I was especially impressed by the switches. The review unit I tested came with the yellow variants, which are billed as smooth and silent, and indeed they are. They only require a light amount of pressure to actuate in a very even fashion.
On top of that, they're much quieter than I expected. Regardless of whether it's the switches themselves or that foam padding, the Razer BlackWidow V4 Pro makes less noise than most mechanical keyboards, while still providing a little bit of that satisfying clack.
As with most Razer keyboards, there's a ton of customization on hand. Not only does it have all those dedicated macro and media keys, it's also fully customizable via the Razer Synapse app. In fact, you need the app to fully unlock all this keyboard can do, from remapping to adjusting the RGB lighting key by key.
If there's any place for complaint, it would be in Razer's implementation of USB passthrough. To use the one USB passthrough port the BlackWidow V4 Pro comes with, you have to connect a second USB-C to USB cable from the keyboard to the computer. Considering that almost all computers of the last few years come with USB-C, it's strange that Razer didn't just allow you to use a single USB-C cable to cover both the keyboard's functionality and the use of a USB-A port.
Should I buy the Razer BlackWidow V4 Pro?
Buy it if...
You love dedicated keys
Not only are those dedicated keys back, but they're back in force. Eight dedicated macro keys, as well as four media keys and a multi-function roller, means you can do plenty of customizing without sacrificing any important options.
You want a powerhouse
While that 8,000Hz polling rate might seem like overkill, the Razer BlackWidow V4 Pro will keep up with anything you can throw at it.
You want a brilliant RGB display
Looks matter, even with keyboards, and the Razer BlackWidow V4 Pro uses a floating keycap design to put on a glorious RGB display. If you're into RGB lighting, you'll like this keyboard.
Don't buy it if...
You're on a budget
There's no way around that $229 (about £190 / AU$330) price tag. This is an expensive keyboard, so if you're on a budget, you should probably look elsewhere.
You need wireless connectivity
As fully featured as the Razer BlackWidow V4 Pro is, it's missing the wireless connectivity of the BlackWidow V3 Pro. If you want to go wireless, there are plenty of stellar alternatives.
Also consider
Swipe to scroll horizontally
| | Razer BlackWidow V4 Pro | Roccat Magma | Corsair K100 Air Wireless |
| --- | --- | --- | --- |
| Price: | $229 (about £190 / AU$332) | $70 / £49.99 / AU$90 | $279 / £279 / AU$479 |
| Layout: | Full | Full | Full |
| Switch: | Razer Linear | Membrane | Cherry MX Ultra Low Profile Tactile |
| Programmable keys: | Yes | Yes | Yes |
| Dimensions: | 466 x 152.5 x 44 mm | 452 x 157 x 39 mm | 437 x 156 x 11 to 17 mm |
| RGB or backlighting: | Yes | Yes | Yes |
If our Razer BlackWidow V4 Pro review has you considering other options, here are two more to consider...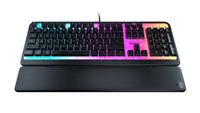 (opens in new tab)
Roccat Magma
The Roccat Magma is an incredibly competent and delightfully punchy gaming keyboard that won't break the bank, despite missing some of the cooler features of pricier mechanical keyboards.
Read our full Roccat Magma review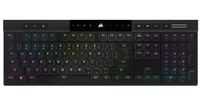 (opens in new tab)
Corsair K100 Air Wireless
The Corsair K100 Air Wireless might have just blown away the competition for not much more in price. It's thinner, faster, better to type on, and comes with a lot more features.
Read our full Corsair K100 Air Wireless review
Razer BlackWidow V4 Pro: Report card
Swipe to scroll horizontally
| | | |
| --- | --- | --- |
| Value | The Razer BlackWidow V4 Pro is quite expensive, but it's worth the price considering its fantastic performance and strong feature set. | 4.5 / 5 |
| Design | Its RGB display is vibrant and immersive, while the dedicated macro and media keys add a level of customization you won't find elsewhere. | 5 / 5 |
| Performance | This is a speedy, powerful, and surprisingly quiet mechanical keyboard. Only the lacklustre USB passthrough holds it slightly back. | 4.5 / 5 |
| Total | It may be pricey, but the power and features are worth the cost of entry. This is a worthy keyboard for any gamer. | 5 / 5 |
First reviewed February 2023
How I tested the Razer BlackWidow V4 Pro
To properly test the Razer BlackWidow V4 Pro, I used it as my primary keyboard every day for two weeks to compose all my work emails, as well as to write my reviews and buying guide articles. I also used it on quite a few gaming sessions to see if it could handle more rigorous use.
We pride ourselves on our independence and our rigorous review-testing process, giving long-term attention to the products we review, and making sure our reviews are updated and maintained. Regardless of when a device was released, if you can still buy it, it's on our radar.