One-minute review
Braun describes the Series 9 Pro as its "best shaver, period" – an incredibly bold statement given that the German brand has reigned supreme as the world's most prestigious shaver manufacturer for over a century.
Luckily (for Braun), that confidence is well-founded. Positioned as the slightly-more-expensive sibling to Braun's already exceptional flagship electric shaver, the Series 9, the Series 9 Pro boasts an eye-catching design, stellar performance and a near faultless level of practicality to rank among the best beard trimmers and electric razors we've ever tested.
Of course, you'd expect nothing less from a grooming product that costs the same as an Apple iPad – and that, unsurprisingly, is the kicker when it comes to describing (or not describing) the Series 9 Pro as good value for money.
If you've got $379.99 / £509.99 / AU$799 to spare – and your heart is set on equipping yourself with the best grooming tools in the game – the Series 9 Pro will not disappoint. For everyone else, though – particularly those who are still willing to spend three figures on a premium-grade shaver – there are other options that can deliver an almost comparable level of performance for much less.
Braun Series 9 Pro review: price and availability
List price: $379.99 / £509.99 / AU$799
... but can be found cheaper
Let's begin with the elephant in the room: the Braun Series 9 Pro is astronomically expensive. At $379.99 / £509.99 / AU$799, it costs the sort of money you'd expect to spend on one of the best smartphones. Only a handful of products in our guide to the best beard trimmers and electric razors come anywhere close to that figure. The Philips Norelco Shaver series S9000 Prestige – the next most expensive shaver on our list – retails for $329.95 / £399 / AU$749.
The good news is that having launched in 2021, the Braun Series 9 Pro is now readily available at a range of retailers for heavily discounted prices – in some regions, even Braun has slashed the shaver's price by 50%. In the UK, for instance, you can currently pick up the Series 9 Pro on Braun's official website for £254.99 (down from £509.99), while in the US, the shaver is available for $339.99 (down from $379.99), also at Braun. In Australia, ShaverShop has the Series 9 Pro for AU$549 (down from AU$749).
None of these discounted figures are cheap, mind, but they do bring the Series 9 Pro closer to the price you'd expect to pay for a top-of-the-line electric shaver from Braun.
Braun Series 9 Pro review: specs
Before I dig into the Series 9 Pro's specs – which you'll find in the table below – it's worth clarifying the differences between this shaver and its non-Pro sibling, the Braun Series 9.
The biggest difference is the inclusion of the PowerCase with the Series 9 Pro, an exceptionally handsome travel pouch that doubles as a portable charger (think of it as the male grooming equivalent of an AirPods Pro charging case).
When it comes to the shaver itself, the Pro model also has a superior shaving head that offers five shaving elements. It also has an all-new ProLift trimmer and Sonic Technology, which captures more hair courtesy of 10,000 micro-vibrations.
Oh, and the Series 9 Pro is bundled with a 5-in-1 SmartCare Center, too, which charges, cleans, lubricates and dries the shaver while you get on with your day.
Swipe to scroll horizontally
Braun Series 9 Pro specs

| | Header Cell - Column 1 |
| --- | --- |
| Price: | $379.99 / £509.99 / AU$799 |
| Battery life: | 60 minutes |
| Charge time: | 50 minutes |
| Weight: | 1.21kg |
| Accessories: | PowerCase, SmartCare charging base and cartridge cleaning dock, cleaning cartridge, cleaning brush, smart plug and user manual |
Braun Series 9 Pro review: design
Stylish, ergonomic design
Useful Precision Switch toggle
Strong waterproofing credentials
On the design front, the Series 9 Pro shares its looks with the standard Series 9, meaning you get the same chrome-accented body and digital battery indicator display here.
Being a slightly more premium model, though, the Series 9 Pro throws in a 'Precision Switch' toggle just above the power button, which allows you to switch the shaver head from a free-moving pivot to one of several fixed positions. I rarely switched my unit to the latter, but it's nice to have the option to do so if you ever need to tackle trickier patches of hair.
Despite being a tool that wouldn't look out of place on Batman's utility belt, the Series 9 Pro is impressively ergonomic. Rather than cladding the entire thing in silicon, Braun has sensibly kept the shaver's grippy material to the rear of the Series 9 Pro, maintaining its smoothness in areas where the palm doesn't sit. Put simply, it's a pleasure to hold and use, and you could reasonably perform a whole face shave without ever shifting your hand from its starting position, even when moving the Series 9 Pro across the contours of your face.
As you'd expect from a shaver of this price, the Series 9 Pro is completely waterproof, so it can be used under the shower with foam, gel, or nothing at all.
Oh, and the PowerCase? As alluded to earlier, it's very, very smart – in both senses of the word. Honestly, you could leave this thing on your coffee table and nobody would bat an eyelid; it looks more like a fancy air freshener than a portable charger.
Braun Series 9 Pro review: performance
Exceptional shave performance
Easy to clean
Fancy aesthetics and ergonomics are all well and good, but those factors alone aren't worth $379.99 / £509.99 / AU$799. It's a good thing, then, that the Series 9 Pro delivers on the performance front and then some.
Whether you're trimming a 1-, 3- or 7-day beard, the Series 9 Pro's shaver head does away with unruly hairs in just a handful of passes, thanks to its five distinct shaving elements. Where cheaper trimmers – like the Remington F6 Style Series Aqua – require you to go over the same patches of hair time and again, the Series 9 Pro delivers respectable results in minutes.
Braun's shaver can supposedly cut hairs below 0.05mm. I was unable to put that claim to the test with proper measuring equipment, but the level of smoothness I consistently achieved with the Series 9 Pro was comparable to that of a traditional wet razor. The pop-up trimmer isn't quite as impressive as its beefier sibling but performs well enough on eyebrows and other hard-to-reach areas.
In other words, this is the best electric shaver I've ever used, and while I would never say that such a high level of performance is worth $379.99 / £509.99 / AU$799, it's clear that Braun's claim about the Series 9 Pro being its "best shaver, period" wasn't hyperbole (it uses sensors to detect how dense your hair is and adjusts trimming power accordingly, for goodness' sake!).
When it comes to cleaning, the shaver's excellent waterproofing credentials mean you can rinse its head – detached or otherwise – under the tap for as long as you like. For a more substantial clean, the aforementioned SmartCare Center washes, lubricates and dries the Series 9 Pro using a special cleaning solution (you get one cartridge of the stuff included in the box). I wouldn't recommend switching on the SmartCare Center as you head to bed, though, since it's a little on the loud side (imagine the sound of a gnome mowing his lawn).
Braun Series 9 Pro review: battery life
60-minute run-time
Full charge takes 50 minutes
Three chargers included in the box
Thanks to the Series 9 Pro's PowerCase and SmartCare Center – both of which charge the shaver – you'll rarely (if ever) be left without power. And even if you decide not to use either accessory, the Series 9 Pro has a 60-minute run time per charge, which allows for about 12 uses – assuming each shave takes you around five minutes.
Naturally, those with longer beards may spend more time shaving but shave less, while those (like me) with patches of stubble may spend less time shaving but shave more frequently, so that 12-uses-per-charge figure is a little arbitrary. Just know that you're pretty much getting the best battery life available with the Series 9 Pro.
You shouldn't ever find yourself unexpectedly out of charge mid-shave, either, since the Series 9 Pro's digital display indicates battery life, making it easy to know when to juice up. Oh, and the shaver charges to full capacity in just 50 minutes.
Should you buy the Braun Series 9 Pro?
Buy it if...
You want the best electric shaver money can buy
The Braun Series 9 delivers phenomenal performance and battery life in an eye-catching design package. If you can afford the best in male grooming, this is it.
You're a frequent traveler
Braun's inclusion of the PowerCase means the Series 9 Pro performs just as well on the road as it does at home.
Don't buy it if...
You don't have a three-figure sum of money to spare on an electric shaver
The Series 9 Pro is an astronomically expensive shaver. Even when it's on sale, there will be other, cheaper electric shavers that meet your requirements.
Braun Series 9 Pro review: also consider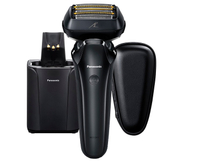 Panasonic Arc6
The Panasonic Arc6 is essentially Panasonic's answer to the Braun Series 9 Pro. It performs wonderfully for wet or dry shaving, and you get a similar self-cleaning station included in the box, too. The Arc6 typically retails for a little less than the Series 9 Pro, so depending on what deals you can find, this could be a more affordable alternative.
Check out our Panasonic Arc6 review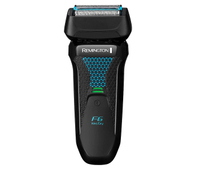 Remington F6 Style Series Aqua
Remington's F6 Style Series Aqua electric shaver boasts excellent battery life, convenient USB charging, and easy cleaning. It's also much, much cheaper than the Series 9 Pro – though its bulky design makes it an awkward travel companion.
Check out our Remington F6 Style Series Aqua review
How I tested the Braun Series 9 Pro
I used the Braun Series 9 Pro as my primary electric shaver for three months. In that time, I used the shaver for everyday stubble removal as well as longer beard trimming, and I traveled abroad with the device on two separate occasions. I also depleted the cartridge of SmartCare Center cleaning solution that came in the box with my Series 9 Pro review unit.
Read more about how we test
First reviewed: April 2023