Bang & Olufsen Beosound Theatre: One-minute review
Bang & Olufsen clearly set out to make a statement with the Beosound Theatre Dolby Atmos soundbar. It's gloriously over-engineered, with a level of design finesse the category hasn't seen before. It's also a formidable performer. The driver array includes a sublime coaxial center, two oversized woofers, and side and height drivers that build an immense wall of sound.
We think the Beosound Theatre sets a new audio benchmark for the soundbar category, pushing past what any of the best soundbars we've heard so far can do from a single unit. It's related to B&O's Beosound Stage soundbar, but when it comes to power and profundity, this is a much bigger brother.
However, it's quite the commitment. Both in terms of price – it'll set you back an eye-watering $6,890 / £5,590 / AU$11,860 – and weight, at a huge 18kg. The design is unmistakably B&O. The iconic Scandinavian design, which on our review sample includes a dramatic slatted wooden grille (there's also a less expensive fabric grille option available), and slick glass touch panel, which illuminates when you approach.
With 12 power amplifiers onboard, it has quite the sonic arsenal at its disposal. As a standalone music speaker, it's surprisingly effective, and when it comes to movie blockbusters it delivers action hard and fast. But it can't deliver rear sound without adding extra separate speakers (and extra expense).
If you want the biggest, clearest sound from a single-unit soundbar, nothing else does it quite this well, as you'd hope for the price. But if you need a one-box soundbar with Dolby Atmos for a more affordable price, consider the Sonos Arc, Sony HT-A7000 or Devialet Dione (in ascending price order), all of which still deliver big sound. Just not quite as big.
Bang & Olufsen Beosound Theatre review: Price and release date
Costs from $6,890 / £5,590 / AU$11,860
Released October 2022
The price you'll pay for the Bang & Olufsen Beosound Theatre varies according to the finish you opt for. In its most inexpensive guise, with a fabric grille, you can expect to pay $6,890 / £5,590 / AU$11,860. However, upgrade the finish to Silver Oak or Gold Tone, and the price escalates to $7,990 / £6,390 / AU$13,650.
We don't need to tell you that's incredibly expensive, even by the standards of other premium soundbars. For example, the Samsung HW-Q990B, one of our top, high-end soundbar picks cost $1,899 / £1,599 / AU$2,199 at launch. Sure the Beosound Theatre may outperform it in some ways, but it's still an incredible ask for boosting the sound on your TV.
Bang & Olufsen Beosound Theatre review: Features
Upgradable design
Dolby Atmos sand HDMI 2.1 support
Auto-calibration microphone
There's no dedicated remote control supplied in the box with the Beosound Theatre. Instead, you're directed to the accompanying app. Some people are bound to love the fact you don't need to mess about with a remote, others might feel shortchanged for the price – this is the same deal as you get with Sonos soundbars, and we have no issue with it.
The app has a variety of sound presets to choose from, including TV, Music, Movie, Game and (dynamically compressed) Night. It also facilitates Spotify Connect, Chromecast and Apple AirPlay 2 support.
One key feature of the Beosound Theatre is its modular design. Longevity was a key requirement in its design, and virtually any part of the soundbar can be swapped out for a replacement or upgrade. This includes the processor and the HDMI interface board, so any changes to broadcast specs or standards can theoretically be accommodated.
It's compatible with Dolby Atmos, TrueHD and Dolby Digital Plus 7.1, and 7.1 PCM sources, but not DTS:X. It seems a little ridiculous to miss the latter off at this price, but here we are.
Connectivity on the rear comprises four HDMI ports – one of which is the eARC port that connects to the TV. Frustratingly, this is also the only one that supports 4K 120Hz, meaning that you can't actually pass-through 4K 120Hz from the other three HDMI ports. But you do get regular 4K HDR passthrough, at least.
There's also the provision to connect the Theatre to other Beosound speakers. Indeed, as many as 16 can be connected: eight using Wireless Powerlink, and eight Powerlink.
There are four Ethernet sockets towards this purpose, although one is specifically for connecting to LG TVs and controlling the whole setup using the B&O app.
The soundbar comes with a calibration microphone to help tune the sound for your room – and it's not limited to just one 'sweet spot', usefully. You can tune for a whole seating area, which is not something you tend to get from soundbars.
Bang & Olufsen Beosound Theatre review: Sound quality
Wide spatial soundstage
Incredible dynamics
A high performer with both movies and music
The Beosound Theatre provides a hugely entertaining listen. High frequencies are detail rich, there's a smooth, fulsome mid-range and underpinning both is a bass attack capable of flattening your recliner. The speaker array is classified as 7.1.4, but take that with a pinch of salt.
Despite the price tag, this is not a replacement for a high-end AV receiver system. It's something altogether different. Perhaps the most surprising aspect of the Theatre is its bass handling. This all-in-one slams like a battalion of subwoofers. It can drop seriously deep, and is capable of quite startling dynamics. Those two forward facing 6.5-inch woofers know how to pressure load a room.
But the bar is also capable of remarkable mid-range clarity. That center-mounted coaxial driver is beautifully articulate, not just with movie dialogue, which is always easy to follow no matter how busy the soundstage, but also music.
Stereo music sources can be upmixed to make full use of the expansive driver array, which is worth doing. With all cones at play, the soundstage is preternaturally wide and spacious. Significantly there's no overt sweet spot – you won't have to commandeer the prime spot on the sofa every time you want to listen to Tidal streams. Volume is prodigious too. There's more than enough power on tap to pump the volume in a large listening space.
Of course, movies are the Beosound Theatre's raison d'etre, and it doesn't disappoint when the lights dim. The bar has a ball with Bond's pirouetting Aston Martin from No Time to Die. The machine-gun headlights sound fast and fierce.
But blockbusters in particular reveal an Achilles' heel. The Beosound Theatre doesn't offer a full 360 degree soundstage from Dolby Atmos sources. Even with those angled side speakers, there's no sense of Dolby Atmos in the round. For that, you'll really need to add additional rear speakers.
This isn't a criticism particular to this B&O as all soundbars need to use additional speakers to convincingly deliver a full surround experience, and we're not knocking the B&O for not being able to break the laws of physics. We're judging it here as a one-box soundbar, not a surround system. But it still means that if you want this, you'd need to add more B&O speakers to your package.
What you're presented with from the bar alone, though, is a masterful sonic canvas that looms before you for games and music.
However, we found a curious issue with the accuracy of sound placement in games – they don't match what's on-screen as well as in movies. This will only really be an issue for serious shooter fans, and odds are those people will use a headset (or different screen) anyway, so we don't think it holds the Theatre back for 99% of its buyers.
Bang & Olufsen Beosound Theatre review: Design
Iconic Scandi-style design
Multiple stand options
Weighs 18kg
It seems entirely appropriate that a flagship soundbar should take its design cues from a ship. B&O describes the soundbar's shiny exterior as a hull, which rather cleverly disguises some of the bulk. Another cute design trick is the central TV mounting plate. This allows virtually any TV to be secured to the bar, effectively obscuring the rear 50 per cent of the build.
The Theatre can be partnered with any screen brand or size, most typically 55, 65 or 77 inches. Bang & Olufsen works closely with LG, and stylistically, that would be the TV of choice – perhaps the new lighterweight LG C3. The aluminium wings – which fix left and right, and can be changed to accommodate different screen sizes – are an inspired element.
The top of the bar is wrapped in acoustic fabric. The cheapest (!) finish extends this to the front grille. The Beosound Theatre soundbar I tested features a slatted oak wood grille.
Behind the grille are 12 speaker drivers: two 6.5-inch woofers and that coaxial centre, which comprises a 1-inch tweeter mounted in front of a 5.25-inch midranger. There's also two 3-inch mid-range drivers, four 2.5-inch drivers and two 1-inch tweeters. The total power output for this array is 800W; 100 watts power the two bass drivers, with 60W going to each of the remaining 10 drivers.
One unintended consequence of the touch glass control up top is that it's highly reflective, and always reflects what's on the screen above. Depending on your angle, this could be a small frustration.
Bang & Olufsen Beosound Theatre review: Value
Impeccable build quality
High-end performance
Lacking some (niche) features
There's no dodging that huge price tag, particularly if you go for the full Scandi finish. That said, the Beosound Theatre is a remarkable piece of kit that sounds fantastic.
Does it deliver a performance commensurate with its price? That's more difficult to say. What you're buying here is so much more than the noise it makes.
Industrial design is outstanding. There's not a millimeter of spare space beneath the hood (which goes some way to explaining its weight), yet an insistence on modular construction means it can always be repaired or upgraded. This isn't so much a soundbar as an heirloom, if B&O lives up to the promise there.
It also uniquely dovetails with the larger B&O ecosystem. Which means if you've already bought into the brand, there's more aspects of control and integration that can be unlocked.
But it's disappointing that it lacks DTS:X, and that none of the three input ports for passthrough to the TV are HDMI 2.1 compliant – for this price, we don't expect to want for any established soundbar features.
Bang & Olufsen Beosound Theatre review: Should I buy it?
Swipe to scroll horizontally
Bang & Olufsen Beosound Theatre

| Attributes | Notes | Rating |
| --- | --- | --- |
| Features | Love the modular design, but lacks DTS:X and HDMI 2.1 passthrough. | 4/5 |
| Sound quality | A wide soundstage and high performer when it comes to both music and movies. | 5/5 |
| Design | Beautiful and impeccably finished – just a bit reflective. | 4.5/5 |
| Value | Incredibly expensive, but also incredibly accomplished. | 3.5/5 |
Buy it if...
You want a versatile audio hub for movies and music
The Beosound Theatre is unquestionably a high performer, capable of impressive movie sound, and it doubles as a convincing hi-res music system too. Significantly, there's also solid HDMI provision to add local sources, such as a Blu-ray player and set-top box.
You already own Bang & Olufsen gear
The Beosound Theatre can be fully integrated with existing B&O speakers, which is useful if you want to add additional rear speakers, or incorporate it into a wider home audio system.
You want to make a design statement
The Beosound Theatre looks unlike any other soundbar on the market. Thanks to its boat-like hull and the multiple stand and mounting options, this isn't a bar you'd buy to blend into the background.
Don't buy it if...
You want a fully immersive Dolby Atmos cinematic experience
The Beosound Theatre may punch like a prize-fighter but it doesn't surround you in a 360 audio envelope. If you want full Dolby Atmos immersion, budget for additional rear speakers or buy an AV receiver home theater system instead.
You're an avid gamer
It may sound sensational, but the Beosound Theatre will not help your game play. It's curiously bad at placing game sounds accurately in space, so you'll never guess where your enemies are when you stealth through abandoned building.
Bang & Olufsen Beosound Theatre review: Also consider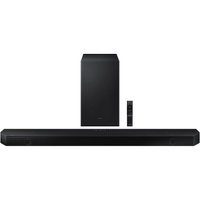 (opens in new tab)
Samsung HW-Q700B
Far more conventional in design, this Samsung isn't short of proprietary tricks, particularly if you have a Samsung TV that's compatible with Q-Symphony technology. It's a 3.1.2 sound system with both Dolby Atmos and DTS:X support, and sounds brilliant for the price – but it's not playing in the same elite pool as the B&O.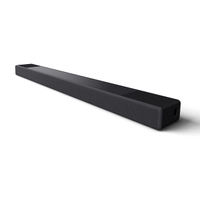 (opens in new tab)
Sony HT-A7000
A higher-end bar than the Samsung, but still relatively cheap when compared to the Beosound Theatre, this Sony soundbar and subwoofer combo supports Dolby Atmos, DTS:X and Sony 360 Reality Audio. It also sounds excellent with both movies and hi-res audio.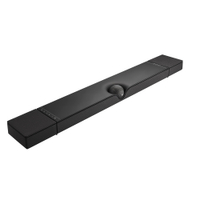 (opens in new tab)
Devialet Dione
The closest competitor to the Beosound Theatre, at least in price and performance. Also from a presitigous European audio company, it packs in a similar amount of bass punch to the B&O, and handles the steering of position sound very well – but again, can't put sounds behind you.