Best laptops for medical students 2023
We test, review, and rate the best laptops for medical students who need tech they can trust
Best laptop for medical students: Quick menu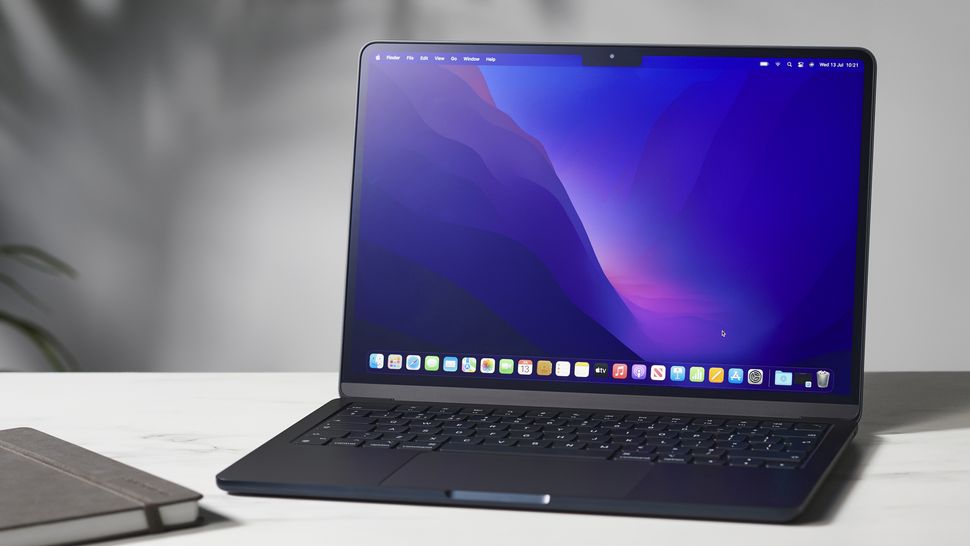 1. The quick list
2. Best overall
3. Best on a budget
4. Best MacBook
5. Best for gamers
6. Best 2-in-1
7. Best Chromebook
8. Best 17in
9. FAQs
10. How to choose
11. How we test
In a field as vital as health, choosing the best laptops for medical students can be a challenge. Med students are studying information that might one day help in life-or-death situations.
Healthcare providers at any stage of their career need computers that are reliable, accurate, fast. They have to operate anywhere, ready for anything. Because of these specialized needs, our team of testers and reviewers have concentrated on reliability and robust design when selecting the best laptops for med students.
You can read comparisons and reviews of sturdy, long-life, lightweight designs that will cope with lectures, placements in medical facilities, and frequent travel.
Our review process benchmarks processing power for handling medical software and data analysis, storage for fast file loading, and display resolutions that make reading reports, diagrams and graphics clear. We've also analyzed webcam and microphone quality. Several of the laptops we've chosen support a stylus for handwritten notes and annotating diagram, too.
The quick list
Best overall
No matter which screen size you buy, the latest MacBook Air is robust, long-lasting, portable and powerful – a great combination of features for medical students. Factor in the top-notch keyboard and the reasonable pricing and you're onto a winner.
Best on a budget
Getting an OLED display at this price is a huge win, and the Acer's stunning display is paired with plenty of processing ability, all-day battery life and impressive connectivity. Its keyboard is mediocre and it has no graphics card, but this is still a fantastic budget choice.
Best MacBook
Apple MacBook Pro 16-inch (2023)
The 16-inch Pro excels in every area: performance, screen quality, battery life, connectivity and keyboard quality. It's overkill for many people and it's costly, but it's the top of the tree when it comes to quality and capability for medical students.
Load the next products...
The best laptops for medical students in 2023
Why you can trust TechRadar We spend hours testing every product or service we review, so you can be sure you're buying the best. Find out more about how we test.
Best laptop for medical students overall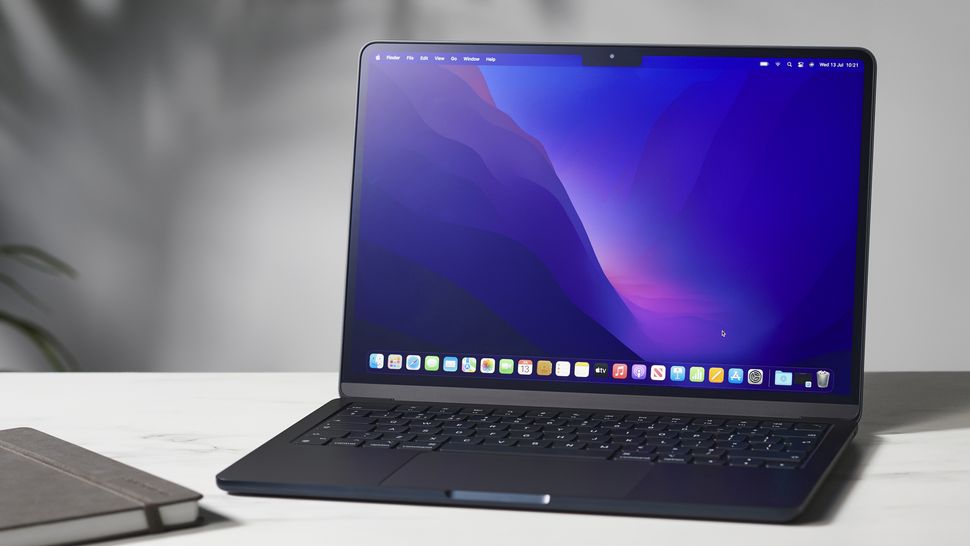 A reliable, trustworthy and lightweight performer with different screen sizes
Specifications
Graphics:
Integrated 8 - 10-core GPU
Screen:
13.6-inch / 15.3-inch Liquid Retina display
Dimensions:
13.6-inch: 11.97 x 8.46 x 0.44 in / 30.41 x 21.5 x 1.13 cm; 15.3-inch: 13.4 x 9.35 x 0.45 in / 34.04 x 23.76 x 1.15 cm
Reasons to buy
+
Sturdy and light
+
Great battery
+
Powerful
+
Different screen options
Reasons to avoid
-
Can be expensive
-
Other laptops are faster
It's not unusual to see an Apple laptop at the top of one of these charts, but we prefer the MacBook Air as the best option for medical students – not the MacBook Pro.
There are several reasons why. At 2.7 pounds of 3.3 pounds depending on which model you buy, it won't weigh you down on your journey around lecture halls and medical facilities. The latest Air comes in 13.6-inch and 15.3-inch guises, so you have options – the smaller version if you need something compact and the larger laptop for more on-screen clarity.
No matter which one you buy you get the Apple M2 processor, which is a superb choice for multi-tasking, dealing with medical apps and records and working in browsers. It's not as powerful as the M2 Pro or Max chips inside the MacBook Pro, but it's ample for medical work.
The Liquid Retina panel is bright and bold, so it remains clear and visible in all situations, and the Air easily has the battery life for a busy, full day of work. Build quality is exceptional thanks to the aluminum chassis, and both the keyboard and trackpad are impressive, comfortable and reliable.
The Air doesn't have as many ports as its larger, heavier stablemate, but it's exceptionally fast, it's very well-made and it's very slim and light – and it's far cheaper than the pro, too. It's our top pick for medical students.
Read our full Apple MacBook Air review
Best budget laptop for medical students
Decent power and portability alongside a crisp, accurate OLED display
Specifications
CPU:
Intel Core i5 12500H / i7 12700 H
Screen:
14-inch 2880 x 1800 OLED
Dimensions:
12.31 x 8.42 x 0.7 in / 31.29 x 21.4 x 1.79 cm
Reasons to buy
+
Solid performance
+
An accurate OLED screen
+
Great pricing
Reasons to avoid
-
Plain looks
-
No graphics card
Clear screens are crucial for medical students who need to see things with clarity and precision, and no budget laptop is better than the Acer Swift 3 OLED.
The anti-glare OLED screen is bright, bold and accurate, so it's an excellent choice for any medical student, and the 2880 x 1800 resolution ensures loads of on-screen space for multiple windows. And when the Swift is often available at three-figure prices, that's a tremendous start.
On the inside, either of Intel's Core i5 or Core i7 processors have plenty of power for medical students – the former is ideal for most workloads, multi-tasking and loads of browser tabs, while the latter is more adept with simulations and tougher workloads. It's also helpful that this laptop has 16GB of onboard memory.
Fourteen hours of battery life means the affordable Acer should handle busy medical days, and the Swift's three-pound weight is reasonable. Wi-Fi 6E, Thunderbolt 4, USB 4 and HDMI 2.1 mean excellent connectivity, the Acer has a webcam and a fingerprint reader, and its eco-friendly ocean glass trackpad improves the Swift's environmental credentials.
There are inevitable compromises at this price: the Acer looks middling, pricier laptops are a bit sturdier and its keyboard is too soft. It also has no discrete GPU. But none of those issues are dealbreakers, and we wholeheartedly recommend the Acer if you're a medical student on a budget.
Read our full Acer Swift 3 OLED review
Best MacBook for medical students
A sturdy, fast notebook with a great display – a high-end powerhouse
Specifications
CPU:
Apple M2 Pro (12-core) - Apple M2 Max (12-core)
Graphics:
Integrated 19-core – 38-core GPU
Screen:
16.2-inch Liquid Retina XDR display
Dimensions:
14.01 x 9.77 x 0.66 in / 35.57 x 24.81 x 1.68 cm
Reasons to buy
+
Sensational M2 processors
+
Great battery to handle long shifts
+
Fantastic high-resolution display
Reasons to avoid
-
Expensive
-
Slightly large
-
Doesn't use Windows
The MacBook Pro is a fantastic laptop in every department. And while it will be too expensive and offer too much computing power for most medical students, it's the Apple notebook we recommend if you need all of the power available for simulations, analysis and other trickier workloads.
There's virtually nothing that the Apple M2 Pro and Max chips won't handle, and the Pro can also be configured with plenty of RAM and storage. The power is partnered with a big, bold Liquid Retina XDR display that combines high resolution with stunning quality levels, so your medical diagrams and apps will always appear with clarity.
Great audio-visual kit make communication easier, the Pro has rock-solid connectivity and plenty of ports, and Apple's security features are impressive. The battery is also one of the best in any laptop – a twenty-hour lifespan will cope with the most demanding of medical days.
The Pro weighs just under five pounds, so it's not particularly light, and those upgraded M2 chips will be overkill for most medical students. Don't forget the price, either – this 16-inch version starts at $2499, so it's vastly expensive. But if you want the best Apple offers, you should buy this.
Read our full Apple MacBook Pro 16 (2023) review
Best for gamers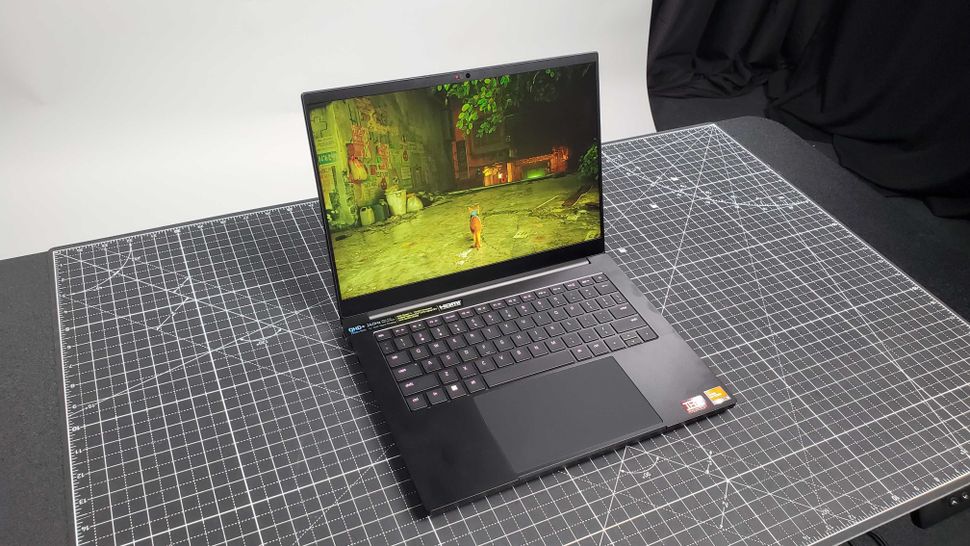 Huge performance in a strong, small design
Specifications
Graphics:
Nvidia GeForce RTX 4060 - 4070
Screen:
14-inch 2560 x 1600 240Hz IPS
Dimensions:
12.23 x 8.97 x 0.7 in / 310.7 x 22.8 x 17.99 cm
Reasons to buy
+
Incredible power considering the size
+
Robust, compact design for busy days
+
High-quality, sharp screen
Reasons to avoid
-
Can become expensive
-
No Intel CPU
-
Better battery life elsewhere
If you're a medical student who wants a laptop to handle gaming, too, then you've got to make a sensible decision about what laptop you buy. And there's no better laptop for gamers and medical students than the Razer Blade 14.
At just under four pounds and with a compact design it's easy to carry to lectures and placements, and its sleek black design looks mature and modest – most people won't know it's a gaming device. It's extremely sturdy, too, which is vital for any medical student with a busy life.
On the inside, Nvidia GPUs will handle any top-tier game at high levels of graphical quality and the AMD processor is powerful enough for any medical task. The bright, high-resolution screen has the quality for medical work and the 240Hz refresh rate for esports, and the keyboard is quiet and comfortable – ideal for long days of typing.
Pairs of full-size USB and USB-C ports, an HDMI output and Wi-Fi 6E aid connectivity, and the Blade has a 1080p webcam with facial recognition.
There are downsides. The Razer's battery will barely last a working day unless you're really careful – expect six or seven hours. The Blade also has no card reader. Prices start at $1799, so it's not cheap. But quality costs, and the Blade has the quality, performance and versatility to sate medical students who want to game, too.
Read our full Razer Blade 14 review
Best 2-in-1 laptop for medical students
Huge versatility and impressive performance from this robust all-rounder
Specifications
CPU:
13th Gen Intel Core i7-1360P
Screen:
Up to 14-inch 3840 x 2400 400-nit OLED touch with 100% DCI-P3, VESA Certified
Dimensions:
12.52 x 9.06 x 0.6 in / 318 x 230 x 15.2 mm
Reasons to buy
+
Reliable performance in medical apps
+
Touchscreen with stylus
+
Great battery
Reasons to avoid
-
A little pricey
-
Display could be brighter
Medical students need laptops with versatility more than most, and the Lenovo Yoga 9i Gen 8 is one of the best notebooks around in that regard. It's a 2-in-1, so it can work in laptop, tablet and tent modes, which is ideal for working, presentations and touch input.
The touchscreen works well with the included stylus, so it's a reliable and effective partner for note-taking and annotating. And it's a high-resolution OLED, too, so it's got ample quality for any medical situation.
The screen is the star here, but there's plenty more to like. The low-power Intel processor can tackle everyday medical workloads, including multi-tasking and running loads or browser tabs – it'll only struggle with complex simulations and data analysis. All-day battery life, a surprising amount of connectivity and decent privacy and security features complete the picture.
The Lenovo only weighs three pounds and it looks fantastic, and its build quality is equally impressive. This isn't a laptop that'll struggle with being carried around during busy days. And it's Lenovo, so you can count on a superb keyboard.
The Yoga is fast, versatile and long-lasting, so there's not much more we can ask for when it comes to a 2-in-1 for medical students.
Read our full Lenovo Yoga 9i Gen 8 review
Best Chromebook for medical students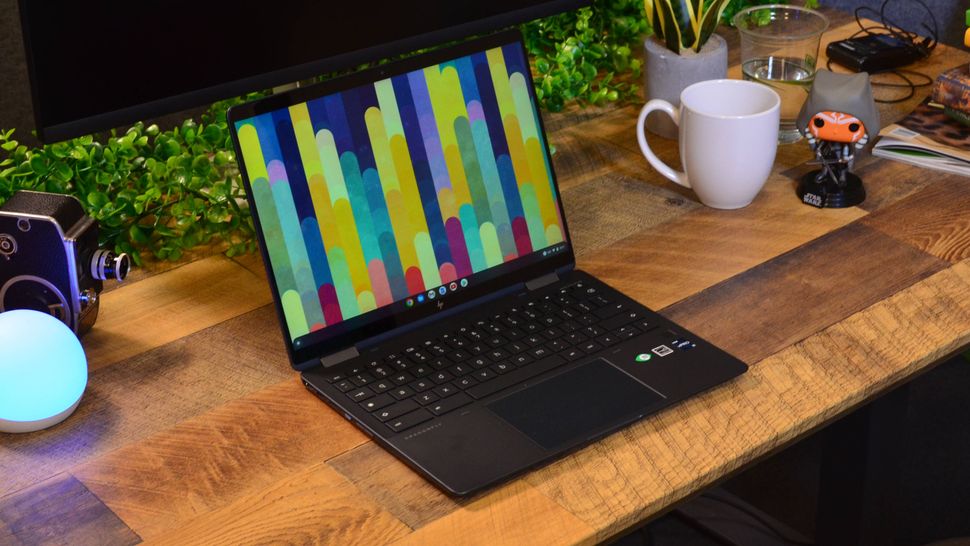 Fast and long-lasting to cope with busy, varied days
Specifications
Screen:
13.5-inch, 1920x1280p, 400 nits, touchscreen
Dimensions:
12.4 x 8.7 x 0.7 in / 31.4 x 22.09 x 1.77 cm
Reasons to buy
+
Very fast
+
A touchscreen for easy navigation
+
Robust and long-lasting
Reasons to avoid
-
Pricey for a Chromebook
-
Some features cost extra
Before taking the plunge with any Chromebook, ensure the software you need will run on ChromeOS. If you're good to go, add the HP Elite Dragonfly to your shopping basket – because it's the best Chromebook on the market and the best option for medical students.
It's available with Core i5 and Core i7 processors that place right at the top of the pile when it comes to Chromebook performance – the former is well-suited to everyday medical multi-tasking and the latter can tackle tougher simulation and data analysis workloads.
All-day battery life sits alongside a touchscreen with accurate colors and stylus support. Unusually for a Chromebook, the specification can also be customized with extra storage and mobile broadband.
The Dragonfly has impressive security, like a Google Titan C chip and zero-touch enrolment. You have to pay more for Intel vPro, but we'd recommend that because you don't want to take any chances when you will likely work with sensitive medical data.
The Dragonfly is fast, well-specific and well-built. It's not cheap, especially for a Chromebook, but this is the best example for medical students who want to work in ChromeOS.
Read our full HP Elite Dragonfly Chromebook review
Best 17-inch laptop for medical students