If you don't need to print in colour, you can slash you print costs by choosing one of the many excellent monochrome printers on the market in 2021. Our list of the very best black and white printers includes both laser and inkjet technologies and both print-only and multifunction devices. The thing they all have in common, is they all print perfectly in black and white.
Black and white printers have several advantages, but the main one is cost. Without the additional inkjet and toner cartridges, they are simpler machines with fewer parts and therefore cheaper to manufacture. In many cases, they're smaller too. Inkjet printers also print much faster in black and white, which is why we're seeing more mono inkjet models appearing this year. As for laser printers, you'll always find the monochrome models selling in greater numbers because incorporating four big toner cartridges instead of just one adds considerably to the cost and size of the printer.
It's also way cheaper to print in black and white. Colour toner cartridges cost more than black toner cartridges, offer much more, and you need four of them to print a colour document. What's more, a printed colour image takes up a lot more toner than a monochrome image because black and white images use a lot of the blank white page to make up the picture. As for black and white inkjet printers, you'll find the new supertanker models shipping with bottles of inexpensive black ink that can yield many thousands of monochrome pages. Look out for more great mono inkjet printers appearing in this growing category.
Best black and white printers at a glance
Kyocera Ecosys P3155dn
Canon PIXMA GM4050
HP Laserjet Pro M15w
Brother HL-L6400DW
Xerox VersaLink B600DN
HP LaserJet Pro M304a
Lexmark B2236dw
Brother HL-L2350DW
Epson EcoTank ET-M3140
Xerox VersaLink C400DN
The initial cost might seem high for a mono printer that doesn't even have a Wi-Fi module built in. However, it looks and performs like a premium printer, turning out perfectly crisp mono pages at the very impressive rate of 55 per minute. It's highly efficient too, thanks to a hardwearing image drum that lasts much longer than usual and a very low running cost of around 0.4p per page. There's enough toner in the box for 10,000 pages and enough room in the main tray for a whole ream of paper. If you print demands are high, this quality machine will keep your print costs low.
Read the full review: Kyocera Ecosys P3155dn
The Canon PIXMA GM4050 is one of the first monochrome printers to be added to Canon's cartridge-free MegaTank range and it's one of the cheapest ways to print around. It's a 3-in-1 device with a scanner, 35-sheet ADF (automatic document feeder) and room for 250 sheets of paper in its main paper tray. It can duplex print and Wi-Fi with Wi-Fi Direct built in. The sluggish print speed cannot compete with a laser printer, but with three bottles of black ink in the box, it can offer a higher page yield and a lower per page cost. If you print frequently and never in colour, this capable machine will keep your print costs right down.
Read the full review: Canon PIXMA GM4050
The tiny and portable Laserjet Pro M15W combines the practicality of a mono printer with the footprint of an inkjet model. Perfect for those who work from home or in a cramped office and aren't fussed about high-quality prints (its resolution is a meagre 600 x 600dpi), it prints quickly and reliably. Initial setup is a breeze despite its lack of an LCD display, which means you can't tweak settings on the printer itself. However, this is made up for in HP's excellent (and free) Smart app, which lets you scan and print documents wirelessly, in addition to printing from the cloud with support for Google Docs, Dropbox and Evernote.
Read the full review: HP LaserJet Pro M15w review
Don't underestimate this pale grey laser printer. The Brother HL-L6400DW may be small, but it can hold 570 sheets of paper and prints at the remarkable speed of 50 pages per minute. It ships with enough toner for 1,200 pages, so it will satisfy the needs of any small office with a big workload. There are plenty of upgrade options too, and with its paper capacity expanded to a maximum of 2,650 and Brother's ultra high-yield cartridge achieving 20,000 prints, it could serve a really large workgroup just as well.
Read the full review: Brother HL-L6400DW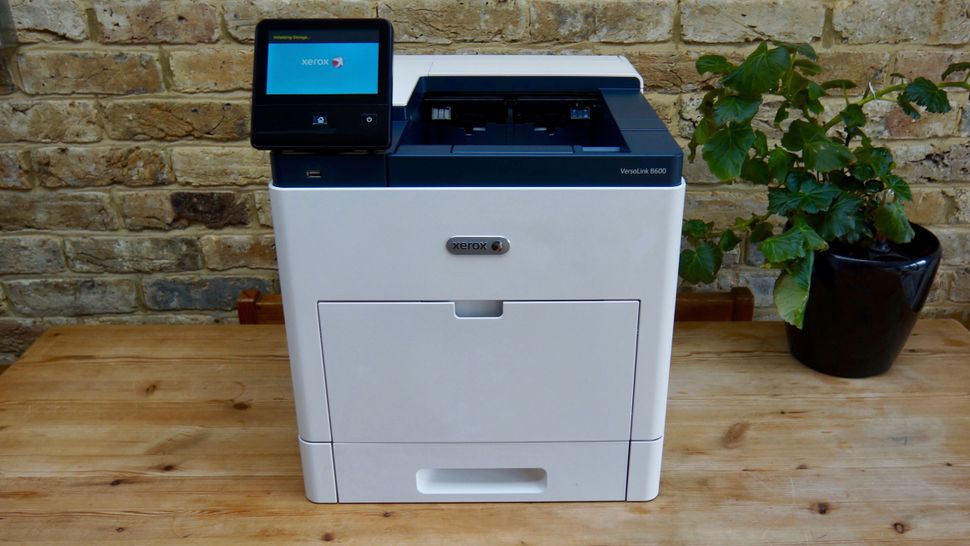 If you think the Brother model above is fast at printing, the Versalink asks you to hold its beer. With a duplex print speed of 55ppm, it's one of the fastest laser printers in the business and stores a massive number of sheets while supporting high-capacity toner cartridges, which ultimately brings down the running cost over time. It's larger, noisier and more expensive than the HL-L5100DN – not to mention twice the weight – which makes it more suitable for a busy SMB or large workgroup than a household.
Read the full review: Xerox VersaLink B600DN review
If you can be sure that you don't need to print in colour, or on both sides of the page and you don't require a wireless connection, then this stripped-down device could be just the thing. It prints quickly at 35ppm, and there's room for a total of 350 sheets of A4 in two paper trays, making it suitable for a busy, yet small, office. A standard black toner cartridge also offers plenty of capacity with a promise of around 3,000 printed pages. The two-line display is just enough to make this an easy-to-use no-frills printer with an emphasis on speed and efficiency.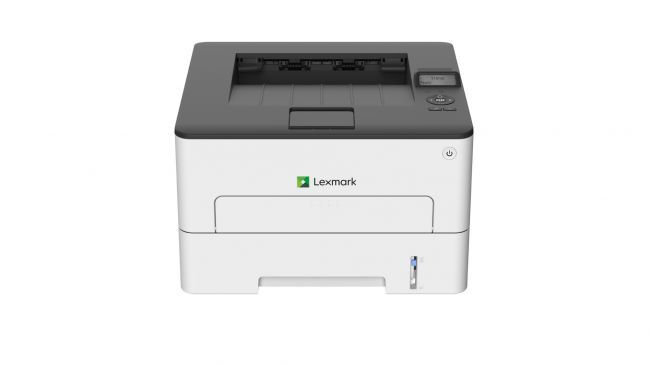 Offering decent print quality and a slew of features, this Lexmark printer is an attractive model that doesn't skimp on security. Logging into its web server lets you restrict printing and admin access to certain users and departments, making it ideal for use in office or shared accommodation scenarios. Duplex printing is enabled by default and print quality itself is stellar considering the B2236dw's initial affordability. It has a separate drum (rated for up to 12,000 prints) and toner (up to 6,000), which together result in acceptable (but far from best-in-class) running costs over time. Heavy users are advised to sign up to Lexmark's Cartridge Collection Program for best bang-for-buck when it comes to replacing ink.
Suitable for home printing, this speedy model from Brother is suitable if you're looking to occasionally burst print a bunch of pages while initially looking to spend as little as possible. Setting up the HL-L2350DW isn't fun on its tiny LCD screen, but once completed the printer is compact and light enough to move into position. It's also pleasingly inexpensive to operate in the long term and features connectivity options aplenty – including compatibility with Airprint, Google Cloud print and Brother's own iPrint & Scan app. Turning our attention to quality, the Brother produces text with above average sharpness – certainly enough for everyday printing tasks – but we were less enamoured with its graphics quality.
The Epson EcoTank ET-M3140 is a well designed and fully featured all-in-one cartridge-free inkjet for the small office. It cannot print in colour, but that means there's more room for black ink on board and the box includes three bottles, giving you a yield of 18,000 pages. Bottled ink costs around 90% less than cartridge ink, so your TCO (total cost of ownership) is very low, despite what might seem a high purchase price. It prints quickly at 39 pages per minute and can auto duplex, while the ADF (automatic document feeder) can dual scan. It's also very well connected with Ethernet, Wi-Fi, Wi-Fi Direct and NFC all available.
It might seem expensive for a desktop device, but this colour laser printer comes with impressive specifications and a slick smartphone-style interface. It has a huge capacity for paper with a 550-sheet tray built in and the option of doubling that by adding a second tray. Xerox includes a generous amount of toner too, enough for 2,000 colour or 3,000 mono pages. The five-inch touchscreen makes setup and operation easier than most while it's print quality is excellent, thanks largely to its bold Pantone-approved colour performance.
Read the full review: Xerox VersaLink C400DN