Your Android TV could be getting a big upgrade – here's what's coming
Easier headphone pairing could be on its way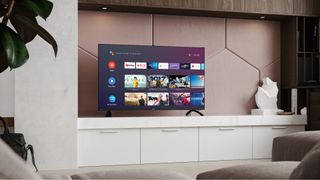 (Image credit: Sharp)
Google released Android TV 14 beta this week, which revealed two big updates about the company's plans for the latest version of its smart TV platform. While the company hasn't yet officially announced these plans, reports are surfacing that it's planning to retire Android TV 13.
Replacing Android TV 13 will be Android TV 14, the latest beta of which has revealed that new features could be added to the operating system, including a new remote shortcut button, new notifications, energy modes, much easier headphone pairing and more.
If you own one of the best TVs and best streaming devices that has Android TV or Google TV – if you're not sure what the difference between the two is, read our Google TV vs Android TV explainer – then these updates will become available when the latest version of the operating system is officially launched, which has not yet been confirmed.
What's coming in Android TV 14?
There's a lot to unpack in the Android TV 14 beta – according to freelance journalist Mishaal Rahman, who compiled his observations in a Twitter thread – but the two features we're most interested in so far are the new custom shortcuts and the improved headphone pairing.
According to FlatPanelsHD.com, the new custom shortcut feature is a kind of "magic button". You'll be able to link the button to a specific app or a specific HDMI port on your TV, such as the one you've got a games console or one of the best 4K Blu-ray players connected to, which will then allow you to call up the app or switch to the input by pressing the star button on your remote.
If you're thinking, "hang on, my remote doesn't have a star button!". We thought that too. It seems likely that this change might be Google telling TV firms to stop putting so many unwanted sponsored buttons on their remotes – we can't be the only TV owners who have accidentally ended up on another streaming services such as Disney Plus or Netflix because of their big buttons right in the middle of a remote.
The headphone pairing feature is a little more mysterious because Rahman couldn't get it to work without the feature immediately crashing. But the new feature is apparently designed to make it much quicker to connect the best wireless headphones to your TV, something that can still be quite frustrating on current TVs.
Other new features revealed in the beta include the ability to receive calls, new energy saving modes and a new settings quick menu called 'Accessibility'. Although the latest Android TV 14 beta is the third version of the operating system, it's important to note that at this stage Google is focusing very much on changes under the hood. The more flashy, fancy, consumer-facing stuff will come in later builds, so Android TV 14's most exciting features may still be secret.
Sign up to receive daily breaking news, reviews, opinion, analysis, deals and more from the world of tech.
Contributor
Writer, broadcaster, musician and kitchen gadget obsessive Carrie Marshall (Twitter) has been writing about tech since 1998, contributing sage advice and odd opinions to all kinds of magazines and websites as well as writing more than a dozen books. Her memoir, Carrie Kills A Man, is on sale now. She is the singer in Glaswegian rock band HAVR.