The cost of Amazon Prime is about to go up for some users
Annual Amazon Prime plans won't be affected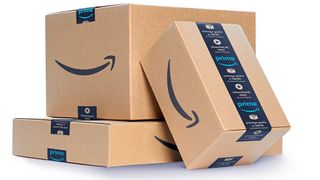 A single day after we reported that Amazon is seeking cash-generating blockbusters for distribution on Amazon Prime Video, Amazon has announced that it's hiking up the monthly subscription rate for Amazon Prime.
As of today, if you're paying the monthly rate for Amazon Prime in the US, expect to pay $12.99 during the next billing cycle beginning on February 18. That's an 18% hike from the previous price of $10.99.
The price increase also affects Amazon's monthly plan for students, which will also jump 18% from $5.49 to $6.49.
In a email to TechRadar, Amazon confirmed that the price hike only affects US customers.
Fortunately, the annual rate of $99 will stay the same, as will the standalone $8.99 monthly fee for Amazon Prime Video for those who wish to enjoy Amazon's video content without paying for the shipping and other perks.
Amazon didn't give a concrete reason for the price increase, and instead simply played up the appeal and wide range of services available through Amazon Prime in a prepared statement.
"Prime provides an unparalleled combination of shipping, shopping and entertainment benefits, and we continue to invest in making Prime even more valuable for our members," an Amazon spokesperson said.
Amazon also pointed out that the number of items eligible for two-day shipping recently jumped from 20 million to 100 million, and it called attention to original viewing content on Prime Video such as "the Golden Globe-winning The Marvelous Mrs. Maisel" and The Grand Tour.
Up we go
The last time Amazon Prime saw a price increase was in 2014, when the annual rate jumped from $79 to $99. The boost was seen as controversial at the time, but, as these things go, it's essentially been accepted as business as usual.
That's partly because Amazon introduced the new monthly plan that's now seeing the price increase a little under two years ago, offering greater flexibility to folks who just want to try out Prime for a while or don't have $99 to throw down all at once.

Unfortunately, with the new price hike, monthly customers will end up paying a total of around $156 per year if they pay the monthly fee throughout the entire year.
On the fence about Amazon Prime? Here's our explanation of why picking it up is a good idea.
Sign up to receive daily breaking news, reviews, opinion, analysis, deals and more from the world of tech.