The imminent launch of the Apple Musical Classical app is great news for anyone who prefers composers to college rock, but the Apple Music spin-off will come with one restrictive limitation at launch.
The list of requirements in the Apple Music Classical preview (opens in new tab) on the App Store includes a line that says "to listen to music on Apple Music Classical, you must have an internet connection". And Apple has now confirmed to us that there'll be no offline listening option on the Apple Music Classical app, for now.
So, if you were hoping to listen to some Bach in the outback away from a reliable internet connection, that unfortunately won't be possible on Apple's standalone classical music app in the same way as it is on Apple Music and the best streaming services. Whether that changes after it launches on March 28 remains to be seen.
This issue obviously won't affect home listeners, but a couple of other drawbacks might. Strangely, there isn't currently an iPad app for Apple Music Classical and Android users initially won't have access to its charms, either. Fortunately, the latter won't be the case for long, as Apple says an Android app is "coming soon".
Despite these niggles, Apple Music Classical is shaping up to be a great new bonus service for Apple Music subscribers, who'll get it for no additional cost to the usual $10.99 / £10.99 / AU$12.99 monthly fee. Apple says the app's catalogue will have over five million tracks and that it will stream songs in 24-bit/192kHz hi-res lossless quality and in spatial audio with Dolby Atmos.
This will conveniently make Apple Music Classical a fine partner for Sonos' new Dolby Atmos-enabled speaker, the Era 300, which also launches on March 28 for $449 / £449 / AU$749. Given our hands-on Sonos Era 300 review has already branded it "a seriously impressive speaker", we're looking forward to combining it with Apple Music Classical to raise our cultural credibility by several notches.
---
Analysis: Slowly building to a crescendo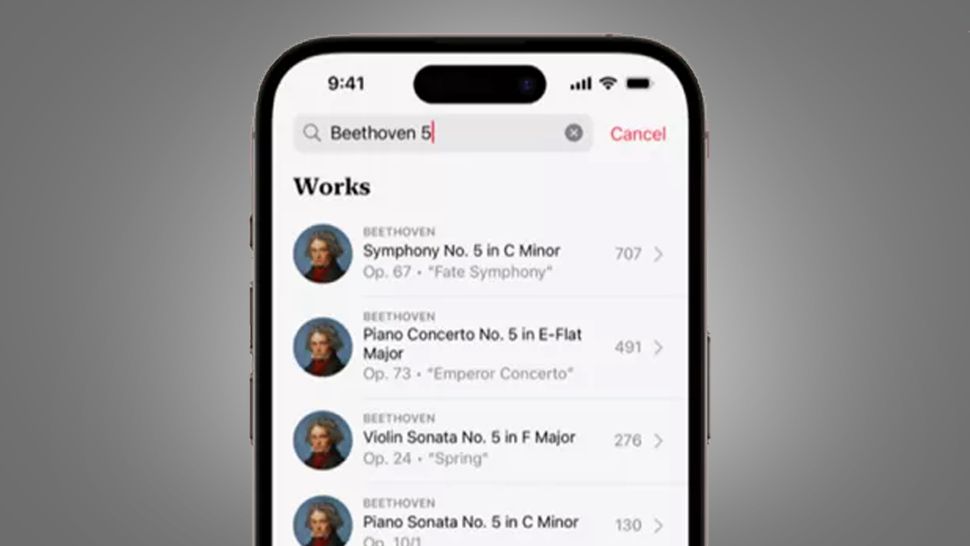 Apple Music Classical has been in development for at least a couple of years and doesn't launch until March 28 – so it isn't too surprising that it'll arrive with a few features missing.
Apple hasn't announced an iPad, Mac or Apple Watch app for its new classical music service, but that doesn't mean we won't see them in the future – and the same goes for offline listening.
Given there is plenty of classical music on the standard Apple Music that can be downloaded for offline listening, it seems likely that Apple Music Classical will get the same abilities once the service is established.
For now, the big selling point of Apple Music Classical – and the reason why it's a separate app from Apple Music – lies in its organization and search powers. The ability to search by composer, work, conductor or catalog number means you can quickly gather all the recordings of a certain classical work in one place, which isn't always easy on other streaming services.
Given you can effectively get it for free with an Apple Music subscription, it's a powerful new feature in Apple's battle with the freshly-redesigned Spotify.