It doesn't seem that long ago when 4K TVs were on our home entertainment wish-lists for the future. But now, they're something of a staple in a lot of homes with plenty of advanced models from the biggest tech brands hitting the market.
So, if you want a fantastic quality picture, and have the budget to match, there are plenty of high-performing UHD televisions that work exceptionally well and look exceptionally stylish for you to choose from.
Over the past few years, the team at TechRadar has been reviewing all of the newest televisions and have put our heads together to show you what we think the top 4K TV models of 2019 are.
Although 4K display tech may not be cheap, we've included a mix of options that we hope will please everyone in the market for a new TV – even those with a slightly smaller budget.
The list may be full of great options right now, but we're also expecting to see some great top-of-the-range TVs land later this year. But does that mean you should wait? Well, that depends. The newer the TV, the higher the chance it'll be expensive right out of the gate. So if you're looking for a new TV, it might be best to go with an older model, which should hopefully come with a decent discount as new devices enter the market.
With new models incoming soon, there's never been a better time to find the 4K Ultra HD TV that's right for you as manufacturers are clearing out their stock to make room.
It's also a good time to start looking ahead with the most exciting TVs we saw at the CES 2019 expo, and keep an eye out for reviews of the LG Signature Series OLED TV R, Sony Master Series Z9G and Panasonic GZ2000, all of which will be reviewed over the next year.
Need a soundbar to go with your 4K setup? Check out our roundup of the best soundbars 2019
TV stands: finding the best TV stand to suit your living room cinema needs
If you're not sold on 4K tech just yet, remember it's not just a case of packing as many pixels as possible into a screen. It's also about the quality of those all-important pixels – with High Dynamic Range and Wide Colour Gamut technologies to make those pixels truly shine.
We've been testing TVs since the dawn of 4K, and using that wealth of experience alongside the hundreds of TVs that have crossed our paths, we've created a list of the best 4K TVs of 2019 – whether 55-inch, 65-inch, or 75-inch is what you need. We regularly update this list with new suggestions, so keep on checking back to see what replaces the leading models.
Check out our video below for an introduction to the world of 4K:
What you need to know about 4K TVs
Before we round-up all the TVs on offer, it's worth having a quick 4K TV refresher so the terminology makes more sense to you – and you can figure out which TV you need.
For starters, not only do 4K UHD screens have four times the amount of pixels as their 1080p predecessors, these 4K TVs also usually pack in screen technology like High Dynamic Range (HDR) and Wide Colour Gamut (WCG) that really make the most of those extra pixels.
The other reason 4K TVs have taken off is that game consoles, like the PS4 Pro and Xbox One X, have totally embraced the 4K future, as have the Blu-ray industry and streaming video player market. Pretty much everyone is on board the 4K Ultra HD train these days, so what better time to get a set?
If all of this sounds weird or archaic or tough to understand, don't worry. We're here to help decipher the wild, wonderful world of Ultra HD. Give us a few minutes of your time and we'll help you take home the best 4K TV on the market.
The 8 best 4K TVs out there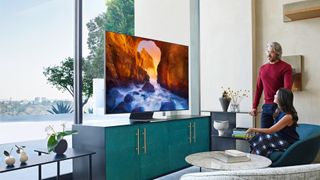 1. Samsung Q90 QLED TV
The best 4K TV of 2019, so far
Superb picture quality
Incredible HDR performance
Wider viewing angles
Comprehensive smart platform
Attractive design and well built
No Dolby Vision support
No Dolby Atmos speakers
Last year the Samsung Q9FN won plaudits galore for its features and image quality. But it's now been replaced on our list of the best 4K TVs by the Q90 QLED TV. The Q9FN wasn't perfect and there were legitimate complaints about viewing angles and an over-aggressive local dimming system that crushed detail just above black.
Samsung has clearly taken these criticisms to heart, and directly addressed them in the Q90. The new model has a visibly superior viewing angle that holds its own against an OLED TV, and the local dimming delivers deep blacks without losing shadow detail. To that end, the new Ultra Black Elite filter is nothing short of a revelation, rejecting ambient light in a way that just staggers belief.
It's not too much of a leap to say that the Samsung Q90 is the most impressive QLED we have reviewed to date, incorporating comprehensive features and cutting-edge picture innovations. As a result, this TV can deliver a performance that is capable of competing with and often surpassing even the best OLEDs.
Read the full review: Samsung Q90 QLED TV review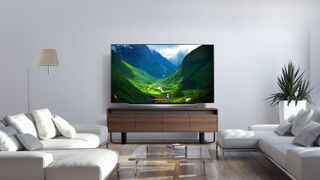 2. LG C8 OLED
The best entry-level 4K OLED TV
Superb picture quality
Comprehensive features
Highly effective smart platform
Limited peak brightness for HDR
More expensive than last year
We've long loved LG's B-Series of OLED 4K TVs with last year's B7 OLED as the pinnacle of affordable OLED technology. But this year, LG has delayed the B-Series and has instead made the C-Series its front-running screen.
While we're a bit miffed at the price increase from last year's B7 to this year's C8, it's hard to say it's unwarranted: LG's C8 builds on the success of last year's models, resulting in a TV that can deliver astonishing HD/SDR images and equally impressive 4K/HDR pictures. It's not as bright as an LCD TV but those deep blacks make a huge difference to the dynamic range of the image. It's also capable of vibrant and gorgeous colours, not to mention an astounding level of detail with native 4K content.
The WebOS smart platform remains the best available and the choice of streaming services is second to none. Once you add the gorgeous design and a comprehensive set of features, you have one of the most complete TVs that we've ever reviewed.
Read the full review: LG C8 OLED (OLED55C8, OLED65C8)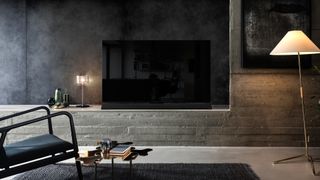 3. Panasonic FZ952/FZ950
The best 4K OLED TV specific to the UK
Stunning contrast performance
Unprecedented colour accuracy
No Dolby Vision support
Some occasional vertical banding
There's a very good reason that Hollywood video editors master on OLED TVs – they simply outmatch anything else on the market.
And while LG and Sony certainly have their merits in this area (the former is the largest producer of OLED panels in the entire world, after all), Panasonic is certainly no slouch. All you need to do is look at the Panasonic FZ952, the latest OLED reference 4K TV from Panasonic, to see why.
The FZ952 is a luscious OLED that puts performance first. Its colour handling is class-leading, and its HDR talents are a match for any of its rivals. In fact, it just might offer the best picture performance that we've seen on a 4K UHD OLED to date.
The FZ952 isn't quite the complete package though, lacking as it does Dolby Vision and Atmos compatibility, but it wins more arguments than it loses. We suspect you'll appreciate the easy sophistication of its smart platform, the quality of that low-lag game mode, and the sheer musicality of the Technics soundbar.
Read the full review: Panasonic FZ952/FZ902 OLED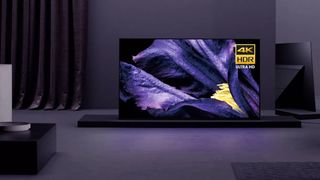 4. Sony Bravia AF9 OLED
An OLED display taken to new heights
Gorgeous picture quality
Innovative and excellent sound
Not very bright
Android TV is clunky
The Sony Bravia A9F OLED is Sony's best OLED so far, no contest. This second-generation set manages to hold its own against Samsung and LG's renewed efforts in OLED displays – Samsung Q9FN QLED and LG E8 OLED – with a truly stunning picture.
Part of Sony's new Master Series, the A9F is a step up from last year's Sony A1 OLED. While we experienced some minor issues, like struggling black level when watching in Dolby Vision, niggles are to be expected on a set as ambitious as this. If you can live with the slightly idiosyncratic design, and afford the asking price, it's a glorious UHD display.
Read the full review: Sony Bravia A9F OLED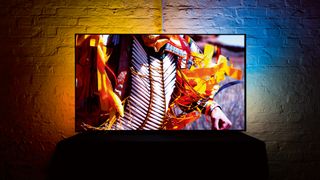 5. Philips 803 OLED
The best 4K TV in terms of value
Superb image performance
Three-sided Ambilight
Designer good looks
No Freeview Play
Only two full-spec HDMI inputs
Philips has significantly upgraded the picture processing power of its 2018 OLED TVs, and the benefits of this new found brawn can be seen writ large on the Philips 803 OLED, with enhanced contrast and spectacular colours. The brand's second generation P5 Perfect Processing Engine offers twice the picture processing power of the original, and that was a pretty impressive chip in its own right.
While the 903 is still the brand's flagship model, beyond its Bowers & Wilkins sound system, there's little to separate that from the 803, making it the smarter buy.
If there's anything holding Philips back from holding the top spot in our round-up, it's the minor irritations, like poor catch-up TV provision, just two full-spec UHD HDMI inputs and the lack of Dolby Vision. If that doesn't bother you, though, Philips Hue-compatible Ambilight room lighting system, and the promise of an early upgrade to the new Android Oreo TV OS, however, might just make this the most promising OLED on the market.
Read the full review: Philips 803 OLED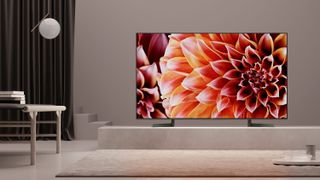 6. Sony XF90 Series
The best mid-range 4K TV available on the market
Excellent motion handling
Great contrast
HDR isn't the brightest
Remote doesn't feel as premium
Short and sweet, the KDL-55XF9005 is a brilliant mid-priced 4K TV. Every one of the improvements Sony has introduced over and above last year's already excellent XE90 series – better processing, more brightness, slightly more backlight dimming zones, improved motion performance – delivers the goods, resulting in picture quality that humbles many more expensive TVs.
Its Android TV system and some generally minor backlight clouding stop it short of perfection, but it's hard to imagine any similarly priced upcoming 65-inch UHD rival getting the better of it.
Read the full review: Sony BRAVIA KDL-55XF9005
7. Panasonic FZ802/FZ800 OLED TV
Panasonic's penultimate OLED 4K TV delivers pictures just as the director intended
Superb picture quality
Impressive HDR performance
Simple but effective smart platform
No Dolby Vision or Dolby Atmos
The FZ802 does exactly what it was designed to do: deliver exceptionally accurate pictures at a competitive price. The Panasonic is cheaper than its main competitors, but is still well made, and boasts a smart platform that is simple but highly effective. The 4K UHD TV also produces the best SDR and HDR images that we have seen out of an OLED to date, thanks largely to highly sophisticated picture processing.
It's not the compete package, lacking the Dolby Vision and Dolby Atmos support found on LG's OLEDs, but it does include HDR10+. The sound quality is reasonably good for a modern slimline TV, although if that's a factor you might want to check out Panasonic's FZ952 with its Technics-tuned soundbar.
Read the full review: Panasonic FZ802/FZ800 OLED TV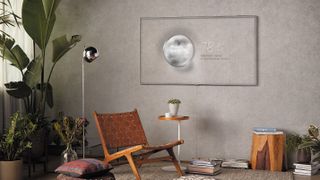 8. Samsung Q7FN QLED TV
The best 4K TV for very bright rooms
Startling colour accuracy
Great for daytime viewing
Edge-Lit VA panel
Limited viewing angles
While Samsung's Q7FN isn't quite the pinnacle of QLED technology – that honor is reserved for the Q9FN – it is a great compromise between price and performance, offering a bright screen, three forms of HDR and incredibly accurate colours for £1,999 (around AU$3,699).
Ambient Mode adds a design aesthetic sure to please even the keenest of eyes and its low-latency game mode makes it a competent companion for the Xbox One X and PS4 Pro. HDR+ mode helps liven up HD/SDR content and of course 4K/HDR content has an eye-watering sheen when viewed on this set. While the Q7FN isn't the shining star of the QLED range, it's still a bright spot in the mid-range.
Read the full review: Samsung Q7FN QLED TV
Additional resources: