Star Trek: Strange New Worlds: everything we know about the Star Trek prequel
The latest intel on Original Series prequel Strange New Worlds – including its release date and mysterious Khan connections.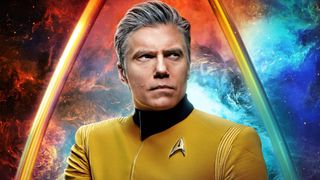 (Image credit: Paramount)
The adventures of the USS Enterprise didn't start with James T Kirk. Star Trek: Strange New Worlds is set around a decade before he embarked on the most famous five-year mission in TV history, and puts his predecessor – Christopher Pike
– back in the captain's chair.
Pike first appeared in original Star Trek pilot 'The Cage' back in 1966, but it was his comeback in Star Trek: Discovery's second season (where he was played by Anson Mount) that earned him his own spin-off show. Pike and fellow 'Cage' veterans Number One (played by Rebecca Romijn) and Spock (Ethan Peck inheriting the role made famous by Leonard Nimoy) proved so popular with fans that Paramount Plus decided to make Star Trek: Strange New Worlds the latest addition to Trek's rapidly expanding shared universe.
And when it launches later this year, the show will feature a few more iconic names from the '60s, including Nurse Chapel, Dr M'Benga and a genuine Trek legend in the form of Uhura. There's also a mysterious crew member called La'an Noonien-Singh, whose surname has a special resonance for fans of the final frontier.
With producers promising less serialized storytelling than Star Trek: Discovery and Star Trek: Picard, Star Trek: Strange New Worlds looks set to get back to the cosmos-exploring traditions of the Original Series and The Next Generation. Here's everything we know so far – hit it!
What is it? A Star Trek: Discovery spin-off following the adventures of Captain Christopher Pike, science officer Spock and first officer Una Chin-Riley (better known as Number One) on the USS Enterprise, around a decade before James T Kirk takes command.
Release date: Star Trek: Strange New Worlds will beam onto Paramount Plus on May 5, 2022 – after Star Trek: Discovery season 4 and Star Trek: Picard season 2 have finished boldly going.
Cast: Alongside its familiar trio of lead characters (still played by Discovery's Anson Mount, Ethan Peck and Rebecca Romijn), six new crew members will be taking their places on the Enterprise bridge. Read more about them below.
Star Trek: Strange New Worlds release date
Star Trek: Strange New Worlds release date: May 2022
It's so long ago that Star Trek: Strange New Worlds got its greenlight (May 2020) that Paramount Plus was still known as CBS All Access at the time.
Unfortunately, coronavirus significantly delayed its departure from Spacedock, and the show didn't make it in front of the cameras until March 2021. Production on Strange New Worlds' 10-episode first season eventually wrapped in October 2021, as confirmed in a video announcement from star Anson Mount:
Now the wait for Star Trek: Strange New Worlds is almost over. StarTrek.com confirmed on January 18, 2022 that the new voyages of the USS Enterprise will boldly go onto Paramount Plus in the US on Thursday May 5, 2022 – coinciding with the conclusion of Starfleet stablemate Picard's second season.
Jess Bush, who'll play Nurse Christine Chapel in the show, celebrated the announcement by posing in one of the Enterprise's Jefferies Tubes with co-star Christina Chong (La'an Noonien-Singh).
While we know Strange New Worlds will stream on Paramount Plus in the US, it may vary depending on where you are. The streamer is set to launch in the UK in 2022, and we'd expect to see Strange New Worlds debuting on there – especially after the recent controversial announcement that Discovery's fourth season has been shifted from its traditional international home on Netflix, to help launch Paramount Plus around the world.
Star Trek: Strange New Worlds trailer
Is there a Star Trek: Strange New Worlds trailer?
There's no sign as yet, but with less than three months until the series' launch, it can't be long until we get to see a Star Trek: Strange New Worlds trailer. Indeed, with Star Trek: Discovery returning from its mid-season break and Picard's second season kicking off in early March, Paramount have a pair of tentpoles they can hang a promo off.
That said, journalists at the show's Television Critics Association panel on February 1, 2022 were treated to first-look footage focussing on Cadet Nyota Uhura (played by Celia Rose Gooding), the character made famous by Nichelle Nichols in the Original Series. Den of Geek reported that most of the bridge crew were also accounted for in the clip.
Back in September 2021, the Star Trek Day event also unveiled a brief teaser introducing the cast. It contains a few stills from the new series, including a glimpse at the new-look USS Enterprise uniforms – a modern riff on the classic gold, blue and uniforms we saw in 'The Cage' and the original series.
Going back even further in time, leads Anson Mount, Ethan Peck and Rebecca Romijn beamed in an announcement video in May 2020:
As you'd expect, the party line was very much that the show exists because of fan demand. "Without you this wouldn't be happening," says Peck, while Mount explains a bit about the tone of the series. "[It's] a classic Star Trek show that deals with optimism and the future."
Star Trek: Strange New Worlds poster: the frontier is waiting
While Paramount are keeping us waiting for a trailer, the tantalizing new Star Trek: Strange New Worlds poster is doing more than enough to get us excited about the show. It features Captain Pike on horseback in what looks like his home in the Mojave desert – but the real excitement comes from what's in the sky above him. The iconic USS Enterprise is hovering in front of a pair of alien worlds – and, no doubt, several new life forms and new civilizations.
If the "The frontier is waiting" tagline isn't enough to get Trek fans firing up their warp drives, chances are nothing will.
"We wanted [the poster] to reflect that the [concept] of the final frontier is at just the beginning," executive producer (and Star Trek's de facto commander-in-chief) Alex Kurtzman told the show's TCA panel (via Syfy) . "We think it brings the sense of nostalgia hope, optimism, exploration and sense of adventure."
Star Trek: Strange New Worlds cast
Star Trek: Strange New Worlds cast: who's beaming onto the Enterprise bridge?
The principal Star Trek: Strange New Worlds cast looks like this:
Anson Mount as Captain Christopher Pike
Ethan Peck as Mr Spock
Rebecca Romijn as Una Chin-Riley/Number One
Jess Bush as Nurse Christine Chapel
Christina Chong as La'an Noonien-Singh
Celia Rose Gooding as Cadet Nyota Uhura
Melissa Navia as Lt Erica Ortegas
Babs Olusanmokun as Dr M'Benga
Bruce Horak as Hemmer
Ever since Star Trek: Strange New Worlds was confirmed in 2020, we've known that three actors would be reprising their roles from Discovery.
Anson Mount is back in the captain's chair as Captain Christopher Pike. Meanwhile, after proving himself worthy of donning the pointy ears that once belonged to Leonard Nimoy, Ethan Peck returns as Spock. Rebecca Romijn continues as first officer/helmsperson Number One.
A 'start of production' video released in March 2021 introduced five other members of the cast:
The five new additions to the USS Enterprise bridge crew are Melissa Navia (from Dietland), Celia Rose Gooding (Jagged Little Pill), Christina Chong (Doctor Who, Line of Duty), Babs Olusanmokun (Black Mirror), and Jess Bush (Skinford).
At the Star Trek Day panel in September 2021, it was finally confirmed who each of them would be playing. We also learned that the full name of Number One is Una Chin-Riley – the first time this has been confirmed in the character's 56-year history.
Intriguingly, three of the new cast members are playing characters who – like, Pike, Number One and Spock – were first established in the 1960s.
The most famous of these roles goes to Celia Rose Gooding, who plays a younger version of Nyota Uhura, the Enterprise communications officer famously portrayed by Nichelle Nichols in the original series and first six Star Trek movies. (Guardians of the Galaxy's Zoe Saldana took on the role in JJ Abrams' rebooted Trek.)
Gooding explained to the assembled journalists at the TCA event in February 2021 that this will be a much less experienced version of the communications officer we saw serving alongside Captain Kirk in the Original series.
"Nichelle had a level of understanding and clarity [in her portrayal], but we're showing different parts of her humanity, which isn't as sure and asks questions as we go along," the actress explained. "Getting to represent an iconic character in a multi-faceted way is an honor and now we're getting to see other sides of Uhura that go outside of the limitations set for Black women in the '60s."
Babs Olusanmokun plays Dr M'Benga (originally played by Booker Bradshaw), a character who filled in as the Enterprise's chief medical officer when Dr McCoy was absent in the original series. Jess Bush, meanwhile, inherits the role of Nurse Christine Chapel, who worked alongside McCoy in the Enterprise Sick Bay.
Chapel is one of two Strange New Worlds characters who were originally played by Majel Barrett-Roddenberry back in the 1960s – the other is Number One, who made her one-and-only vintage Trek appearance in 'The Cage'. (Barrett-Roddenberry also went on to play Lwaxana Troi and voice the Enterprise computers in The Next Generation.)
Of the Starfleet newbies, Bruce Horak's Hemmer is a member of the Andorian species. The fact he's wearing a red shirt – aka Star Trek's sartorial kiss of death – doesn't bode well for his life expectancy. The same could be said for Melissa Navia's Lt Erica Ortegas.
The most mysterious addition to the cast, however, is Christina Chong's La'an Noonien-Singh. The fact she shares a surname with The Wrath of Khan's Big Bad can't be a coincidence, but seeing as Trek canon tells us the cryogenically frozen 20th century villain won't be thawed out until after Kirk has taken command of the Enterprise, it's unclear how they're linked – but there definitely is a connection.
"She's related to Khan for sure, and, uh, the deal will unfold..." co-showrunner Akiva Goldsman confirmed at a Television Critics Association panel in February 2022 (via the Hollywood Reporter).
Star Trek: Strange New Worlds already has its first great mystery...
Star Trek: Strange New Worlds story
What can we expect to see in the Star Trek: Strange New Worlds story?
Star Trek: Discovery spoilers ahead – proceed with caution if you haven't seen season 2.
Pike, Spock and Number One have been part of the Star Trek story even longer than James T Kirk – they were on board the Enterprise in original Star Trek pilot 'The Cage', unaired in the '60s and set more than a decade before Kirk's famous five-year mission. Jeffrey Hunter, Leonard Nimoy and Majel Barrett originated the three roles.
While we know that the trio have been together at least three years by the time Star Trek: Strange New Worlds kicks off and that a tragic fate awaits Pike – more on that later – most of their voyages remain undocumented. That means it's prime storytelling territory and – after the more serialized Discovery and Picard – a chance for Trek to get back to the standalone stories of its earlier years.
"We're going to try to harken back to some classical Trek values, to be optimistic, and to be more episodic," executive producer Akiva Goldsman (and director of the Strange New Worlds pilot episode) told Varietyin May 2020. "Obviously, we will take advantage of the serialized nature of character and story building. But I think our plots will be more closed-ended than you've seen in either Discovery or Picard."
The ability to visit a huge galaxy of, well, strange new worlds, should allow the show to feel different from week to week – after all, this versatile formula is a big reason for the franchise's longevity.
"We want to do Star Trek in the classic mode; Star Trek in the way Star Trek stories were always told," fellow EP Henry Alonso Myers said at a Star Trek Day panel (via TrekMovie). "It's a ship and it's traveling to strange new worlds and we are going to tell big ideas science fiction adventures in an episodic mode. So we have room to meet new aliens, see new ships, visit new cultures..."
Strange New Worlds won't be entirely devoid of serialization, however, as writer Akela Cooper explained: "While we'll have individual one-off plots, the character arcs are what's going to carry us through in a more serialized fashion. There's probably one point that we will be sprinkling through this series until we actually get to the episode. And that's all I can say about that."
Goldsman explained a bit more about the structure of the show in an interview with the Hollywood Reporter in April: "If you think back to the original [Star Trek] series, it was tonally more liberal – I don't mean in terms of politics but it could sort of be more fluid. Like sometimes Robert Bloch would write a horror episode. Or Harlan Ellison would have 'City on the Edge of Forever', which is hard sci-fi. Then there would be comedic episodes like 'Shore Leave' or 'The Trouble with Tribbles'. So [co-showrunner] Henry Alonso Myers and myself are trying to serve that. We've all become very enamored, myself included, with serialized storytelling. Picard is deeply serialized but Strange New Worlds is very much adventure-of-the-week, but with serialized character arcs."
Going on Mount's performance in Discovery, Pike is the ideal captain for an optimistic mission of exploration.
"The writers have done a magnificent job of establishing this captain as his own iteration of what a Starfleet captain should be, independent of other captains in canon," the actor said at the TCA panel (as reported by Syfy). "Humility is a big part of his character. And his father was a science teacher and scholar of comparative religion, so exploration is a big part of Pike. He's looking at the things that made us see what's next over the horizon? Are we searchers or conquerors?"
We can also expect to see a Spock more prone to displays of emotion than his Original Series counterpart, as the younger version of the character struggles to balance his logical Vulcan side with his human urges.
Indeed, in 'The Cage', Number One was the more buttoned-up, logical member of the crew – her personality traits passing to the Vulcan when Star Trek went to series. "She's way more complex than y'all know," actor Rebecca Romijn teased in the cast introduction video released on Star Trek Day, and she expanded on the theme in the panel.
"'The Cage' being such an old pilot, the writers have this very unique opportunity where they've had this character that's existed since the beginning of the canon, but she's never been written," Romijn pointed out. "I can't wait to find out how vast her skill set is. What are the arrows in her quiver? My number one question is, 'What's her backstory?' [The writer's room] floated an idea for Number One's backstory that I'm not going to share right now because it blew my mind when they said it."
Despite being made more than half a century after the Original Series, the look of Star Trek: Strange New Worlds will echo those early '60s designs – from the Enterprise starship interiors to the Starfleet uniforms.
"It's a fine line because, obviously, we want to keep continuity with the storytelling and the style, but we also want Strange New Worlds to be a different show," Goldsman told the Hollywood Reporter. "It's not Discovery. There are a few more reach-backs [to the Original Series] and the uniforms have been adjusted slightly, the sets are slightly different. Remember, the Enterprise existed as a little piece [of Star Trek: Discovery], but now it's its own object. When you close your eyes and think of the key sets and situations that you think of the Original Series, that's what we're looking to do."
Intriguingly, at this point in the Star Trek timeline, Kirk and other members of the original crew must be out there somewhere in the universe, so the smart money would be on a few headline-grabbing (recast) guest appearances – as the older members of the Original Series line-up, McCoy and Scotty would seem prime candidates.
If a few familiar faces do turn up, however, we may have to wait a while to see them, with Goldsman telling the TCA panel that bringing classic characters back into the fray isn't a priority.
"We're starting wth this crew and don't want to bring folks into the show to be splashy," he said. "We want to dig deeply into the characters in this ensemble. We're open to widening our arms, but right now, and this is said in the best possible way, what you see is what you get."
Perhaps the biggest elephant on the Enterprise bridge, however, is Pike's tragic story…
When we meet him in Original Series two-parter 'The Menagerie', it's revealed that he's been left severely disabled by a radiation leak. In Discovery, he's forced to endure a vision of that future, so it'll be intriguing to see how that knowledge preys on his mind, and how much it plays into Star Trek: Strange New Worlds' story.
"The most honest thing I can say is, I'm still figuring out," Mount explained at Star Trek Day. "Pike didn't just learn how he dies, he learns in what circumstances. So we do know that at some point he's going to be presented with a promotion opportunity to Fleet Captain. And he has to accept that in order for the fate to come into existence. So what is it that's going to allow him, both in terms of circumstance and emotion, to accept that promotion? It's a tough question but I think we'll figure it out together."
Star Trek: Strange New Worlds season 2
Star Trek: Strange New Worlds season 2 is already confirmed
The show hasn't even aired yet and Strange New Worlds: season 2 has already been confirmed by Paramount Plus via StarTrek.com. In fact, the streaming service is so engaged by the prospect of a follow-up season that it's already shooting – one journalist at Strange New Worlds' TCA panel on February 1, 2022 noted that Ethan Peck was wearing his Vulcan ears and costume because he was already working on the new season.
Sign up to receive daily breaking news, reviews, opinion, analysis, deals and more from the world of tech.
Richard is a freelance journalist specialising in movies and TV, primarily of the sci-fi and fantasy variety. An early encounter with a certain galaxy far, far away started a lifelong love affair with outer space, and these days Richard's happiest geeking out about Star Wars, Star Trek, Marvel and other long-running pop culture franchises. In a previous life he was editor of legendary sci-fi magazine SFX, where he got to interview many of the biggest names in the business – though he'll always have a soft spot for Jeff Goldblum who (somewhat bizarrely) thought Richard's name was Winter.