Back in February we reported on a new lineup of Sony AV receivers, the company's first such offerings to arrive after a five-year hiatus. Sony has now confirmed that an amplifier version of the STR-AN1000 ($899), an entry-level model from that family which is now shipping in the US, will be sold in the UK and Europe, with a scheduled June arrival date.
Sony's new AV amplifier is called the TA-AN1000 and is priced at £999 / €999. It has similar specs to the STR-AN1000, with 7.2-channel output (rated at 165 watts per channel), Dolby Atmos and DTS:X processing, Variable Refresh Rate (VRR) and Auto Low Latency Mode (ALLM), and both 8K and 4K 120Hz pass-through for connecting a PS5 or Xbox Series X gaming console.
Another feature the TA-AN1000 throws in the mix is Works with Sonos certification, which lets the amp connect to a multiroom wireless Sonos system. This process is carried out using an intuitive guided setup routine that's a new Sony addition. And when used with one of Sony's TV's with an Acoustic Centre Sync feature (such as the Sony A80K or Sony X90K), the TA-AN1000 can combine the TV's audio output with the system's center speaker to make movie dialogue seem like it's emanating from onscreen for a more realistic presentation.
Bluetooth is onboard the TA-AN1000 for wireless streaming, and it supports Spotify Connect, Chromecast, and Apple AirPlay 2. High-res music fans will also appreciate that Sony's new receiver is High-Res Audio-capable, and it can also natively handle DSD (Direct Stream Digital) playback with no conversion.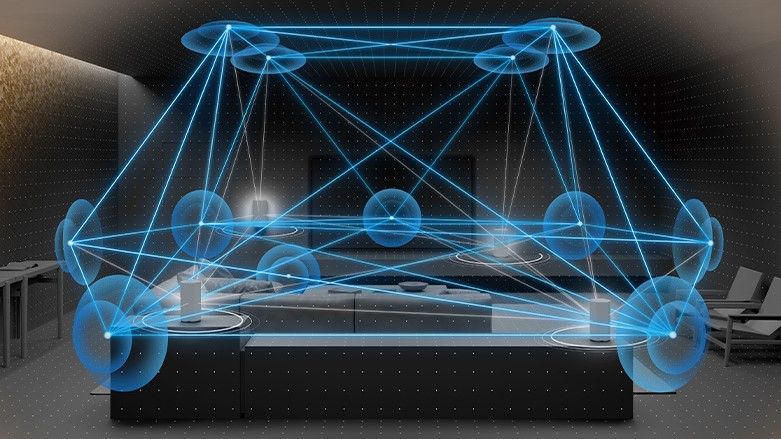 360 Spatial Sound Mapping
One of the most exciting features of the TA-AN1000 is 360 Spatial Sound Mapping, a type of processing that creates "phantom" speakers to fill in sound gaps in a regular 5.1.2 or 7.1.2 Dolby Atmos configuration for a more immersive presentation.
Sony's 360 Spatial Sound Mapping is set up using the new Digital Cinema Auto Calibration IX, an auto-calibration tech that uses a supplied stereo mic to do variable height measurements of distance, angle, and sound pressure for each speaker and create a 3D sound map of the room. According to Sony, this works alongside Auto Phase Matching processing in the TA-AN1000, which aligns the phase of various speakers to compensate for challenging placement.
Analysis: Sony's new amp is ready for the future
With 4K 120Hz pass-through, along with other key features such as VRR and ALLM, Sony's new AV amp packs all the features that a gamer would look for. And with 8K video and both Dolby Atmos and DTS:X support, it also holds great appeal for movie fans seeking a receiver that will serve them well into the future.
Are UK and European consumers getting shortchanged by Sony, which opted to make the rest of its new AV electronics lineup US-only? Those other four models, which we got the chance to have hands-on time with at the company's launch event earlier this year in Austin, Texas, differ from the TA-AN1000 / STR-AN1000 mainly in terms of more rugged build quality and support for multiple whole-house control protocols (Crestron, Savant, Control4, and so on).
But Sony's entry-level model is aimed mainly at home theater, music, and gaming fans, while tossing in Works with Sonos certification, which is a more consumer-oriented multi-room audio system that users can easily set up themselves. With a $899 price tag, the STR-AN1000 is certainly more affordable while offering many of the same features. We'll soon be publishing our full STR-AN1000 review, and when that happens we'll let you know how it stacks up against the best AV receivers.