Verizon tipped to get aluminum-bodied Lumia next month
Lumia 920 variant to be new flagship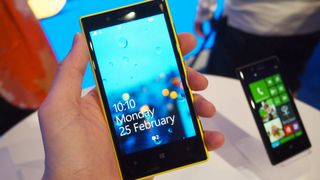 April showers may bring a new Nokia Lumia 920 variant to Verizon, according to a new report.
While we've heard reports of Verizon getting its own version of the Lumia 920, Nokia's flagship Windows Phone 8, in the past, the latest rumors indicate it won't be much longer until the smartphone formerly known as Laser arrives.
Sources speaking with The Verge revealed the newly christened Lumia 928 will arrive in April, and despite the larger number, the phone is said to be lighter and thinner than the original model.
Laser light show
Though it was initially believed the Nokia phone codenamed Catwalk would be the recipient of a svelte aluminum body, it looks like the 928 is getting all the perks.
The phone's thinnest spot is reportedly pinched to 10.2 millimeters, and it's slated to also receive a new xenon and LED flash for the 8MP PureView rear camera.
The main specs, like CPU and RAM, won't vary from the 920, though by appearances the squared look of the 928 will be reminiscent of the Lumia 720. Its OLED display will stretch to 4.5-inches.
One big feature that may draw consumers is the support for Verizon's SVLTE, which allows for simultaneous voice and LTE usage.
Though there are other smartphones that already make use of the SVLTE, the iPhone 5 doesn't, which could be enough incentive for some customers to make the switch.
TechRadar asked Verizon for comment on the report and will update this story if and when the company responds.
Sign up to receive daily breaking news, reviews, opinion, analysis, deals and more from the world of tech.