Moto G (2015): where can I get it?
Not in the usual spots, actually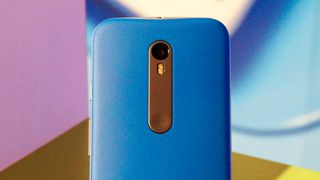 The new Moto G (2015) has finally been announced, and it's already on sale starting at $179. However, you won't see this phone on the shelves of your local carrier store any time soon.
Motorola's taking a trendy approach to how it sells its latest phones in the US: an exclusively online, unlocked offering. (Though, Motorola representatives didn't rule out carrier sales of the Moto G down the line during its recent announcement event.)
The Lenovo-owned firm has synced up with two major retailers to help smooth the launch along. (Hint: one is named after a South American jungle.) But since this is more than likely a new way to buy a smartphone for the lot of you, here's where and how you can get your hands on Moto's latest budget phone.
Carriers get cut out this go 'round
As was mentioned above, the new Moto G starts at $179 in the US, and no carriers will, well, carry it. However, Motorola is offering up a $219 version with double the RAM and storage – up from the standard 1GB and 8GB, respectively.
No matter which model you choose, you'll still score the 5-inch, 720p screen, 13-megapixel rear camera and LTE support. But if you want that extra space for apps and games, there's only one place to go...
Motorola – Unsurprisingly, probably the best place to pick up the new Moto G is straight from the source. This is the only way you'll be able to use the Moto Maker tool to customize your device, not to mention spring for the extra storage and RAM. Also, only Moto is selling the Flip Shell covers for $24.99 a pop.
Amazon – Of course the largest online retailer on Earth is involved in Moto's launch. However, don't expect much in the way of variety from the Kindle maker. The only options offered on Amazon.com are the basic all-white and all-black models.
Best Buy – Naturally, the nation's largest brick-and-mortar retailer is in on the fun, too. Unfortunately, your options through BestBuy.com are even fewer, with just the all-black Moto G on offer. If you want to try the Moto G before you buy it, the phone will hit Best Buy shelves on August 2.
*Motorola, Amazon and Best Buy all offer free shipping, so that might make your decision a little easier.
Which carrier do I choose?
This is an easy one to answer. The LTE chip within the Moto G's Qualcomm Snapdragon 410 processor is only tuned to support GSM, unlike that inside the Moto X Style (Pure Edition in the US), which can work on any carrier network.
That leaves you with two options for carriers to buy SIM cards from and go in on plans with: AT&T and T-Mobile. We'll leave that decision to you, based on your coverage area. To help you over the fence one way or the other, here are the coverage maps for AT&T and T-Mobile.
Sign up to receive daily breaking news, reviews, opinion, analysis, deals and more from the world of tech.
Joe Osborne is the Senior Technology Editor at Insider Inc. His role is to leads the technology coverage team for the Business Insider Shopping team, facilitating expert reviews, comprehensive buying guides, snap deals news and more. Previously, Joe was TechRadar's US computing editor, leading reviews of everything from gaming PCs to internal components and accessories. In his spare time, Joe is a renowned Dungeons and Dragons dungeon master – and arguably the nicest man in tech.