Best mobile stocking fillers
How do you win Secret Santa?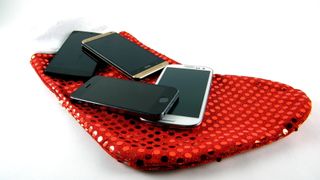 With Christmas here and a shiny new mobile under the tree, we're here to help avoid the yearly stress associated with buying Christmas gifts. We've prepared a handy guide to the best stocking fillers to accompany your lovely new smartphone.
Wether you've broken the bank, or spent wisely on the mobile in question, there's something for everyone in our best stocking fillers guide.
So what are you waiting for? Pull on an awfully festive jumper, pop on a woolly hat and maybe even a scarf, then sit back and smugly swig a mulled beverage safe in knowledge you've got Christmas sorted.
Headphone hats
Why you can trust TechRadar We spend hours testing every product or service we review, so you can be sure you're buying the best. Find out more about how we test.
For those that love to listen to music, but also enjoy the comfort of a warm head, headphone hats are a great compromise. We could have suggested a variety of earmuffs with built in headphones (also a good idea), but we've plumped for a hat as they provide all round cranial protection.
There are so many to choose from, but you can grab a trapper hat, pompom hat or knitted beanies to ensure you stay warm, while still being cool!
It doesn't matter what phone you've purchased, headphone hats will generally suit any phone with a 3.5mm headphone port. They are ideal for any media lover, so couple the Galaxy Note 3 with its big screen, or the iPhone 5S and HTC One with their heavy music slants, with a headphone hat and you're on to a winner.
Lego iPhone Case
We're trying to avoid the dreaded phone case, but sometimes one catches our eye and we can't help go 'oooooh!'. The Brickcase (for iPhone 4/4S and iPhones 5/5S) comes in a variety of colours and it's compatible with "all major brick brands", or you could opt for the official Lego case from Belkin (for iPhone 5/5S or iPad Mini).
As well as protecting your new Apple device, playing with your phone has never been so literal. The brick cases make us feel like we were fiver years old again. Let's face it, there has always been a budding architect or spaceship designer in all of us, so we're letting our creativity out and asking for one this Christmas.
Photo lenses
The standard cameras that come equipped on the modern smartphone are able to cope with a wide variety of situations, but they will never be able to provide the same range of options that can be found on mid-range compact cameras, let alone DSLRs.
Although they will never be able to solve that problem, clip on lenses go some way to adding another level of professionalism and creativity. Just think how cool your Instagram photos will look!
Get the right set and these will be the perfect add on to complement the UltraPixel technology found in the HTC One, One Mini or One Max, as well as the 13MP camera sat behind the LG G2. Lenses would even help the iPhone 5S and iPhone 5C in their domination of Flickr.
Touch screen gloves
One of the biggest bugbears of the ice cold weather is the decision between putting on a pair of gloves or being able to use your touchscreen phone. This wasn't the case a few years ago when the likes of the HTC Tattoo came with resistive displays, but that tech has been and gone.
The Samsung Galaxy S4 and Nokia Lumia 1020 both come packed with super fancy screen tech, making touch screen gloves completely irrelevant. However there are still many capacitive screens that need the extra help; the HTC One and the iPhone 5S are prime examples. The solution? Touch screen gloves, like the pair we found on I want one of those.
iPhone fan
Not to be associated with the legions of Apple fanatics, the iPhone fan is an attachment that turns your iPhone into pocket fan for the summer. It could be used in the winter too, but we're already finding the winter breeze sufficient for our cooling needs.
Sign up for Black Friday email alerts!
Get the hottest deals available in your inbox plus news, reviews, opinion, analysis and more from the TechRadar team.