Apple might be behind New York chip factory pitch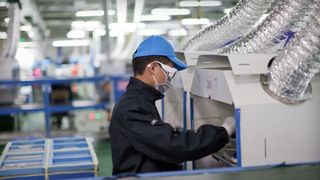 A proposed plan for a chip manufacturing plant in upstate New York is generating a lot of buzz, with rumors that Apple may be behind the new factory.
The 3.2-million square foot facility has reportedly been pitched to New York state economic development officials by an undisclosed company.
State Governor Andrew Cuomo hinted that Apple is at least on the list of companies interested in the factory during a recent radio interview, though wouldn't go so far as to say any plans are set in concrete.
"We're shopping a lot of different companies at any given time," Cuomo said. "Apple has a lot of competition, obviously, for their location. I don't think that they're anywhere yet in the decision-making."
The usual suspects
The leading theory seems to be that while the upstate New York factory will be used to manufacture chips for iPhones and iPads, it may not necessarily be an Apple factory.
Instead, Taiwan Semiconductor Manufacturing Company (TSMC) is thought to be at the helm following reports that Apple is shifting away from Samsung and toward TSMC as its primary chip supplier for the future.
Talk of a new Apple chip factory is timed conveniently with the firm's declaration that starting in 2013, one of the existing Mac lines will be made wholly in the U.S.
Of course, this new factory is still a long ways off, making it unlikely to be involved in the plan for stateside Mac production next year.
While Apple and TSMC are getting the most attention as a candidate for the plant, Cuomo's radio comments don't make it sound like such a slam dunk.
A company like Intel could still be on the table, either using the site to open its own plant or taking the place of TSMC in a partnership with Apple.
Upstate New York is already home to a GlobalFoundries chip fabrication plant, which began production of IBM chips in Jan. 2012.
Sign up to receive daily breaking news, reviews, opinion, analysis, deals and more from the world of tech.