The best business laptops combine cutting edge productivity features with slimline designs and long battery life that provides mobility and productivity - essential functions for the modern workplace, and we're here to help you by gathering together the very best business laptops for 2018.
Having the best business laptop that suits your needs is essential, and to make things as easy as possible, we've put together this list of the best business laptops money can buy in 2018, which includes expert advice on the latest business-orientated laptops and notebooks, so you know exactly what you're buying.
While compiling this list of the best business laptops, we've taken into consideration a number of key factors including power, battery life, feature set and sheer value for money.
This means that we've selected a wider range of laptops to suit most if not all budgets and hopefully all tastes; there's a mix of cutting-edge products and old favourites here.
Almost all of them come with the professional version of Microsoft Windows to enhance their business credentials.
We also have our very own price comparison tool that will compare prices and make sure you're buying the very best business laptop for the very best price.
If you're looking for a bit more power, then check out our list of the best mobile workstations, as well as our pick for the best business desktop PC.
Where to buy business laptops
1. Lenovo ThinkPad X1 Carbon
The ultra-thin business laptop that sacrifices nothing
CPU: Intel Core i7-7600U vPro | Graphics: Intel HD Graphics 620 | RAM: 16GB | Screen: 14-inch, 2560 x 1440 pixels | Storage: 1TB SSD
Smaller and lighter in every way to previous versions
Improved Microsoft Precision Touchpad
Expensive
Previous versions of the Lenovo ThinkPad X1 Carbon have been the absolute best-in-class when it comes to business laptops, and this year's model is no exception, with Lenovo delivering a thinner and smaller design with practically no trade-offs. Despite its small size, the ThinkPad X1 Carbon comes with pretty much every feature you need in a productivity machine, making it the best business laptop money can buy. Thanks to a battery life of up to 15.5 hours, and a rapid charging feature that brings the battery back up to 80% capacity in only an hours, the X1 Carbon is an ultrabook that lets you keep on working while you're on the move.
2. Dell XPS 13 (2017)
This is the best laptop money can buy in 2018
CPU: Intel Core i3 – i7 | Graphics: Intel HD Graphics 620 – Iris Plus Graphics 640 | RAM: 4GB – 16GB | Screen: 13.3-inch FHD (1,920 x 1,080) – QHD+ (3,200 x 1,800) | Storage: 128GB – 1TB SSD
Faster than ever
Long-lasting battery
Stunning screen
Frustrating webcam position
Believe it or not, Dell classifies the XPS 13 as a business laptop, albeit one that is geared towards a home office environment but businessmen (and women) will love the design. This ultraportable laptop – as Dell puts it – punches above its weight with Windows 10 Pro across the entire range as well as rather attractive pricing.
This award winning laptop (it won best laptop of the year from us and many others) manages to pack a 13.3-inch display into the chassis of an average 11.6-inch model. It was also refreshed in 2017 with even better components, for a much improved business laptop experience.
The laptop can be upgraded to 16GB of RAM and a 1TB M2 SSD drive. Battery life is exceptional as well with almost 22 hours of continual use when using productivity applications.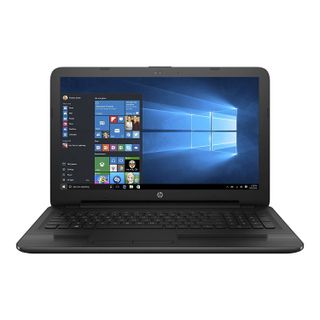 3. HP 255 G5
A reliable workhorse that won't break the bank
CPU: AMD A6-7310 | Graphics: AMD Radeon R4 | RAM: 4GB | Screen: 15.6-inch, 1366 x 768 pixels | Storage: 1TB HDD
3 year Next business day onsite warranty
Very affordable price
Low resolution
Bloatware
The 255 G5 is HP's entry-level business laptop and is a solid candidate should you be looking for a straightforward, reliable, workhorse at a bargain price. Don't expect any fireworks as it is a basic model; it just does the job without much ado. One thing that works for this machine though is its price – the G5 battles with Lenovo for the best-value business laptop on the market.
If you want a similar business laptop with an Intel processor, rather than AMD, then the HP 250 G5 is worth looking into. There are various configurations of both the HP 255 G5 and the HP 250 G5, so it's worth shopping around and finding one with the right components for your needs.
4. Toshiba Portege Z30-C-138
A notebook which boasts great connectivity and battery longevity
CPU: 2.5GHz Intel Core i7-6500U | Graphics: Intel HD Graphics 520 | RAM: 16GB | Screen: 13.3-inch, 1920 x 1080 pixels | Storage: 512GB SSD
Exceptional connectivity
Up to 11 hours battery life
Doesn't have the best input peripherals
Not much else wrong here
So, you want the most powerful system on the market with plenty of connectivity but don't want to compromise on size or portability or battery life. Mission impossible? Well, not really. Take this Portege laptop from Toshiba. The Japanese manufacturer managed to squeeze an extraordinary amount of components in this device including a VGA port, a fingerprint reader and even a 4G/LTE modem and A-GPS!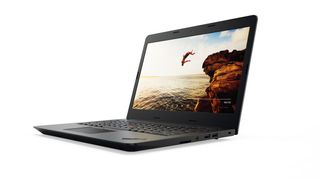 5. Lenovo ThinkPad E470
Best if you're looking for something portable with a decent keyboard
CPU: 2.7GHz Intel Core i7-7500U | Graphics: Intel HD Graphics 620 | RAM: 16GB | Screen: 14-inch, 1920 x 1080 pixels | Storage: 256GB SSD
Outstanding value for money
Discrete graphics card
No high capacity battery option
No Displayport
Lenovo took an existing form factor and refined it to deliver the new 2016-2017 ThinkPad E470. Powered by the 7th generation Intel Core processors, this particular SKU has a 14-inch FHD anti-glare display, powered by a discrete Nvidia Geforce 940MX 2GB GPU.
Equipped with a spill resistant keyboard, a TrackPoint and a 3+2 buttons click pad, the E470 has more than enough ports and expansion capabilities to keep the average user happy. Shame that it doesn't do DisplayPort, so no 4K output.
6. Lenovo ThinkPad Yoga 260
For those looking for a business convertible
CPU: 2.5GHz Intel Core i7-6500U | Graphics: Intel HD Graphics 520 | RAM: 8GB | Screen: 12.5-inch, 1920 x 1080 pixels | Storage: 512GB SSD
Tried and trusted form factor
Stylus
Could be a tad lighter
If you are willing to sacrifice portability for sheer power, then this laptop is worth considering. Oddly enough, although it is part of Lenovo's B-series (essentially aiming for the SMB market), it comes with Windows Home rather than Professional. Other than this, the B51 is a very decent all-rounder that hits almost all the right notes: from the powerful CPU to the full HD display and the discrete GPU.
7. Apple Macbook Pro with Touch Bar
The best Macbook Pro ever, now with Touch Bar
CPU: Dual-core Intel Core i5 – i7 | Graphics: Intel Iris Plus Graphics 640 – 650 | RAM: 8GB – 16GB | Screen: 13.3-inch, (2,560 x 1,600) IPS | Storage: 256GB – 1TB PCIe 3.0 SSD
The best Macbook Pro ever
Super fast performance
Expensive
Disappointing battery life
If you're after the latest and greatest laptop from Apple, we suggest you check out the 13-inch Macbook Pro with Touch Bar, which is one of the best business laptops in 2017. Despite Microsoft's claims that its Surface Book 2 is twice as powerful as Apple's flagship MacBook Pro, it's also more expensive at the starting level. Of course, the headline feature is the Touch Bar – it's a thin OLED display at the top of the keyboard which can be used for any number of things, whether that be auto-suggesting words as you type or offering Touch ID so you can log in with just your fingerprint. If you're a massive fan of the Macbook Pro 2017, you'll be happy with this model but there are some serious reasons why you should consider one of the Windows alternatives. If you work with a lot of creative applications, such as Photoshop, then the MacBook Pro is a fantastic choice.
Read the full review: Apple Macbook with Touch Bar (2017)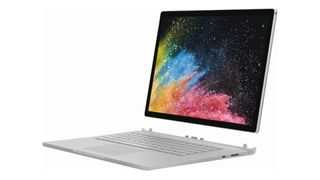 8. Microsoft Surface Book 2 (13.5-inch)
The most powerful 2-in-1 laptop in the world
CPU: Intel Core i5-7300U - Intel Core i7-8650U 1.9GHz | Graphics: Intel UHD Graphics 620; Nvidia GeForce GTX 1050 (2GB GDDR5 VRAM) | RAM: 8GB – 16GB | Screen: 3,000 x 2,000 (267 ppi) PixelSense display, 3:2 aspect ratio | Storage: 256GB – 1TB SSD
Very good battery life
Powerful
Pricey
No Surface Pen included
The Surface Book 2 (13.5-inch) is another new entry to our best business laptop list, and it's worthy of its spot, as Microsoft has crafted one of the most powerful 2-in-1 laptops in the world. The Surface Book 2 has some powerful enough components to handle most day-to-day tasks, and even some light gaming and video editing if you go for a model with a dedicated graphics card. If you want a bigger screen, the there is also a 15-inch version of the Surface Book 2, which comes with more powerful components, but that's currently only on sale in the US. It should reach other territories next year.
Read the full review: Microsoft Surface Book 2 (13.5-inch)
9. HP Spectre Pro 13 G1
A genuine altearnative to the XPS 13
CPU: Intel Core i7-6500U | Graphics: Intel HD 520 Graphics | RAM: 8GB | Screen: 13.3-inch, 1920 x 1080 pixels | Storage: 512GB SSD
Sublime design
3 Year Next Business Day onsite warranty
Colour scheme might not be to everyone's taste
Very expensive
HP was the only one of the three big laptop vendors who didn't have a flagship thin-and-light laptop: Dell has the XPS 13 and Lenovo, the Yoga 900.
That is now no longer the case with the introduction of the HP Spectre Pro 13 G1. This is a device that not only oozes luxury with a combination of colours and a clever design but also one that packs some incredible components.
Despite being just over 10mm thick and weighing just over 1.16Kg, it manages to pack a proper Core i7 CPU with a full HD 13.3-inch display, a massive 4-cell 38Whr battery and three USB Type C connectors.
10. Dell Latitude E5480
A solid performer backed by Dell's quality aftersales
CPU: 2.8GHz Intel Core i5-7440H | Graphics: Intel HD Graphics 630 | RAM: 8GB | Screen: 14-inch, 1920 x 1080 | Storage: 256GB SSD
Impressive performance levels
Strong on connectivity
Not cheap for higher-end configurations
Dell managed to deliver a magnificent piece of kit which it says is the most secure, most reliable and most manageable business-class laptop.
That Latitude 5480 does come at a hefty price though and compared to the competition, this notebook may feel underwhelming.
However, Dell's forte lies in its services and aftersales. That particular model comes with a 7th generation Intel CPU, one that is an actual four-core CPU.
While it has a far higher TDP than most of its peers (45W vs 15W), it is likely to be more powerful than even a top of the range Core i7-7600U.