Despite a few shortcomings, the P4 is a decent piece of equipment that can be enhanced to operate even better easily. The only caveat is that a machine that uses this much plastic needs to be given to someone who will look after it.
Pros
+

Powerful processor

+

Easy to upgrade

+

Decent battery life

+

Thunderbolt port
Cons
-

Mostly plastic

-

Lower-performance GPU

-

Poor SSD
Why you can trust TechRadar We spend hours testing every product or service we review, so you can be sure you're buying the best. Find out more about how we test.
Acer Travelmate P4: 30 second review
The Acer Travelmate P4 is an alternative to the Travelmate P2 that we recently reviewed, but it's even cheaper.
Like the P2, it can come with either Intel or AMD processors.
The highlights, according to Acer, are a 14-hour battery life, an aluminium-magnesium alloy body. Using those materials in combination with a mostly plastic skin keeps the weight down, something anyone who carries their system through a working day will appreciate.
What's genuinely impressive is how fast these systems can be when compared with much more expensive ultrabook designs, as they use similar platforms and include some special features, like Thunderbolt ports.
The Acer Travelmate P4 we review below is a general-purpose machine with a powerful multi-core processor, NVMe storage, upgradable memory and a useful selection of external ports.
These machines come with a 14" or 15.6" display, up to 16GB of RAM and 512GB of NVMe SSD space.
That said, this machine's obvious cost-cutting might not make it as durable as more expensive options. While some metal is used inside, a significant amount of plastic doesn't contribute to making this design especially resilient.
One weakness of the review machine was that its integrated GPU isn't especially fast, but if you're not editing video or working with CAD, then this might not be an issue. The other is that Acer used a poor-performing SSD that slows down dramatically when writing large files.
While this has a relatively easy fix, it isn't one that the Acer support team appears able to provide.
Even with this mistake, the Travelmate P4 is one of the better cheap business laptops that we have tested and easily worth the modest asking price Acer wants for it.
Acer Travelmate P4: Price and availability
How much does it cost? $400-$1100
When is it out? It is available now
Where can you get it? You can get it in most regions direct from Acer or through an online retailer.
Acer Travelmate P4 TMP414-51 Specs
The Acer Travelmate P4 that was sent to us for review came with the following hardware:
Model: TMP414-51-54RH
Part No.: NX.VPCEK.001
CPU: Intel Core i5-1135G7
GPU: Iris Xe 80EU Graphics
RAM: 8GB DDR4 (single DIMM), upgradable to 32GB
Storage: 256GB Hynix PCIe Gen 3, NVME
Screen: 14" LED backlight 1920 x 1080 @ 60 Hz
WAN SIM: Optional
Weight: 1.4 kg
Dimensions: 32.5 x 23.6 x 1.79 cm
Camera: Webcam (1280 x 1024)
Networking: WiFi 6, Bluetooth 5.0
Ports: 1x HDMI, 2x USB-A 3.2 Gen 2, 1x USB-C (supports Thunderbolt 4, USB 3.2 Gen 2, DisplayPort Alt Mode, charging up to 60W), 1x Ethernet LAN, Headphone/microphone combo jack, 1x MicroSD card reader, 1x Smartcard reader (an option)
Fingerprint Reader: Yes
OS: Win 10 Pro 64-bit + Windows 11 Pro Licence
Battery: 56 Whr 3-cell Li-ion battery
The pricing of this machine can vary wildly depending on the SKU, and in the UK alone, Acer sells 28 different specifications.
Our review machine, the Travelmate P2 TMP215-54 (NX.VVSEK.004), isn't one of those sold directly in the UK. But is available through Curry's business channel and other retail outlets, with a cost of £764.38 inclusive of VAT.
The closest equivalent US customers have to that model is the TMP215-54-52X7 (NX.VVRAA.001), which has the same processor as our review hardware, but 16GB of RAM and 512 GB SSD, all for $949.99.
With this wide selection of potential hardware, it's probably the best plan to decide what your budget limits are and then see what options Acer has for that money. As we'll detail later, it is possible to upgrade the SSD and RAM on these machines, which might save you money over having lots of either item pre-installed.
Acer Travelmate P2: Design
Slick and easy to carry
Interesting port selection
Pin-barrel charger
The P4 is an interesting take on providing an affordable business laptop, especially when you compare it to the P2 design.
This is a more elegant and lighter machine that is reasonably easy to hold and use, even if the quality of construction does make it flex somewhat.
Ventilation uses a wide slotted section on the underside for air to be drawn inside, and then it is ejected through a vent on the right rear side of the chassis. The feet don't give much ground clearance, so be careful not to block access to cool air.
On a machine with a 14-inch display, there isn't room for a numeric pad in the keyboard, but the one provided works well enough and is a good size. The 1080p resolution panel offers a high-quality image with an impressive range of brightness. The trackpad is on the small side but remains usable. The only issue we've had with it was that when you use two fingers with it, it can occasionally decide to switch which of the two fingers it thinks is controlling the pointer.
Where this design surprised us was the port selection. Cheaper laptops tend to do away with some of the options that higher-tier equipment includes, but not the P4.
On the left of our P4 is the power inlet, an Ethernet port, one HDMI, two USB 3.2 Gen 2 ports and, most unexpectedly, a single USB 4.0/Thunderbolt USB-C port.
That last port allows the P4 to be a single cable linked to a Thunderbolt or USB dock and be recharged while it uses all the downstream ports on that device.
We tested it with the Caldigit TS4 dock and a Thunderbolt external SSD, and achieved transfer speeds of 2,800Mb/s, showing it isn't just a USB 3.2 Gen 2 port with a fancy rebrand.
In comparison, the right-hand side is not as well endowed with ports. Having a security lock slot, a 3.5 mm audio combo, a MicroSD card reader and a power button that doubles as a biometric fingerprint reader.
Normally, placing the power button on the side would be odd since you can see if the light on it is lit. But after a while, it became second nature to hit that button even without seeing it.
Alongside the power button is a battery indicator LED that flashes when the machine is charging. Not on our machine, but others in this series can also have a slot for a SIM tray for LTE functionality.
What our P4 did have was a smartcard reader on the front edge, but this is an option that doesn't come on all models.
To critique this layout, it would have been better if both sides had USB and it had more than a single USB-C port, but what ports are provided can be worked with, especially if you have a docking station or hub.
One reservation is the very thin pin-barrel connector that the PSU uses to charge the machine. It has a right-angle cable end to avoid being pulled out, though this could end up with breaking force being applied to the port and barrel should someone try to walk away while it is connected to the PSU.
Should that happen, at least you can use a USB charger on the Thunderbolt port to charge the machine.
Overall, for the cost, the P4 is substantially better specified than we expected.
Acer Travelmate P4: Hardware
11th Gen CPU and GPU
User upgrades possible
Cheap SSD
The P4 was an unusual review for us. We usually have these machines for a short period, allowing only for something of a cursory experience. Acer let us have the P4 for much longer, enabling a much greater reveal, and most of what we discovered about this laptop we generally liked.
The central processor on the review machine was an Intel Core i5-1135G7 CPU, an 11th Gen Tiger Lake series chip that pre-dates the whole P-core and E-core changes.
It has four cores offering hyperthreading, doubling the thread count to eight. The base clock is 2.4GHz, but it can boost Turbo to 4.2GHz if required, and it manages this with just a 28W TDP.
While the 12th and now 13th Gen Intel processors do offer better efficiency, the Core i5-1135G7 CPU provides more than enough grunt for most office applications.
Our review hardware had a single 8GB memory module, but the machine can take an additional SODIMM and up to 16GB modules allowing a maximum memory of 32 GB.
Not sure why it can't take 32GB modules since the processor can address them, but 32GB is plenty of RAM for most applications.
What we most liked about this design was that it is possible, with some spudger work, to remove the undertray from the machine and get to the interior. For those brave enough to do that will be rewarded with access to dual SODIMM slots, a single M.2 2280 slot, a single M.2 2230 slot occupied by the WiFi/Bluetooth module, and the 56Wh battery.
We've seen way too machine machines with soldered memory, so we rejoiced that you could potentially swap all these things to potentially increase the usefulness and longevity of the machine.
In our P4, this upgradability turned was critical, as one of the major bugbears of this design was the OEM SSD Acer used.
This 256GB Sk Hynix BC501 SSD has a firmware issue that is well documented, and as we'll discuss in the performance section, where write speed drops to HDD speeds in certain circumstances.
If you buy this drive directly from Sk Hynix they will provide a firmware upgrade that fixes the issue, but it won't install on this specific Acer variant. After checking the Acer support site for a patch, we asked Acer support if they could provide a firmware fix, and they directed us to the list of firmware associated with the machine. A list that doesn't include any fixes for this problem.
After we'd completed our benchmarking and wanted to use the machine for testing external SSD storage, we decided to address this problem for ourselves using the excellent Lexar NM790 2TB SSD. This was swapped with the Sk Hynix BC501 in under 30 minutes using a USB caddy.
We recommend doing this if you buy the P4, as that Lexar drive costs only about $120 for 2TB, and smaller capacities are available. At that outlay, it not only provides eight times the capacity but has massively better transfer performance and uses less power.
It might not use the latest Intel gear, and the SSD was an unfortunate choice, but otherwise, there isn't much wrong with this machine.
Acer Travelmate P4: Performance
11th Gen processor
Iris 80EU
Good battery life and recharge speed
Acer Travelmate P4 Benchmarks
This is how the Acer Travelmate P4 performed in our suite of benchmark tests:
3DMark Wild Life: 4978; Fire Strike: 1678; Time Spy: 879;
Cinebench R23 CPU pts: 1304 (single-core); 4044 (multi-core)
GeekBench 5: 1260 (single-core); 3311 (multi-core), 9611 (OpenCL)
CrystalDiskMark: Sequential Read: 2181MB/s; Sequential Write: 178 MB/s
PCMark 10 (Office Test): 4307
PCMark 10 (Battery Test): 9h 42m
Windows Experience Index: 6.8
It is generally considered that the 10th and 11th generations weren't a golden time for Intel and that the 12th and 13th products were clearly much better. But the Intel Core i5-1135G7 at the heart of this system isn't junk, and it makes the P4 trundle along rather effectively.
Comparing it to a 12th Gen part, like the i5-1235U we saw in the P2, this processor is about 80% of that performance in single thread and 60% in multi-thread tasks.
What's interesting about this is that the user experience is largely the same, and we didn't notice any significant slowdowns using the P4.
However, its weakness is that the Iris Xe integrated GPU is only the eighty execution unit model, not the 96 EU one that we often see. This number might not seem like a big difference, but the overall performance of this GPU is a notch down from the better Iris Xe option.
What doesn't help is that this machine uses DDR4 RAM, and newer designs with DDR5 memory tend to run better with this integrated GPU as it uses system memory, not VRAM.
The GPU option doesn't make the P4 ideal for graphically intense jobs, but it's more than adequate for playing back video, even at 4K resolution with an external monitor.
One place this machine is very disappointing is the SSD, as we've already mentioned, for a PCIe 4.0 slot, a read speed of 2181 MB/s is on the lowest end of that spectrum, but a write speed of 178.8 MB/s is diabolical. We've already mentioned how to address this, but the write performance needs addressing at the source.
Battery life at 9 hours and 42 minutes was more than acceptable, even if Acer claims more than 14 hours for this platform. What was also good is that when we used all the battery capacity in that test, we managed to reclaim 43% of that capacity within 30 minutes of connecting to the charger.
Overall, while it won't be breaking any speed records, with the exception of the SSD, the performance of the P4 is solid. And, if you just wanted to dump the Sk Hynix module for something without an inherent firmware bug, a module can be sourced for less than $30 for 256GB.
Given its low cost and relatively modest specification, the P4 could have been an easy justification for getting something with a more modern processor, like the P2.
But the reality is that there is relatively little wrong with the underlying hardware on this machine, and with a good SSD and enough RAM, it can be a delight to use.
With the one glaring exception of the Sk Hynix SSD, this is a good machine, and including a Thunderbolt port elevates it to be much more useful than we'd anticipated.
Easy upgrades, a great port selection, and the lightweight package make the P4 a decent choice for those looking to provide solid functionality without breaking the budget.
This is a desirable low-cost system for businesses, and it might be suitable for students too.
But, we'd only hand these to people who don't typically throw computers around, as it won't take much abuse, we suspect.
Acer Travelmate P4: Report card
Swipe to scroll horizontally
| | | |
| --- | --- | --- |
| Value | Lots to like for the relatively low price | 4 / 5 |
| Design | Thinner and lighter than the P2, there is lots of plastic in this case. | 4 / 5 |
| Hardware | Adequate 11th Gen CPU and good battery size. A faster SSD and more memory can easily be added, and the SSD is definitely needed.er SSD and more memory can easily be added. | 4 / 5 |
| Performance | Not a record breaker but solid performance that is fine for office use. | 4/ 5 |
| Total | A practical system with Thunderbolt and a good battery life | 4 / 5 |
Should I buy a Acer Travelmate P4?
Buy it if...
You perform your own upgrades
So many thinner machines have soldered RAM, but the P4 is deep enough to have sockets allowing for easy memory and storage upgrades.
You look after your equipment
While there is some alloy in the P4, there is also plenty of plastic, making resilience an issue. Don't hand this to someone who always has a broken phone screen.
Don't buy it if...
You are triggered by bloatware
Why a business machine would need a link to ESPN or Norton running background checks you never asked for, we can't fathom, but that's what you get when you first open this machine. If you are not prepared to spend a few hours deleting things you never wanted, this is not the right machine for you.
Graphics performance is critical
The Travelmate P4 design has an integrated GPU, the Iris Xe, that comes with many Intel mobile processors. It has a better GPU than the old UHD Graphics but not comparable with the better AMD integrated options or discrete video hardware. In short, this isn't a gaming platform.
Also consider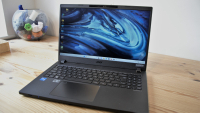 Acer Travelmate P2 (TMP215-54)
Another affordable option from Acer, the Travelmate P2 is a heavier option but aggressively priced. It uses 12th Gen silicon for greater levels of performance, but its USB-C port isn't USB 4.0 compatible.
If you want to spend a little more than the P4 and get a performance boost, the P2 is a good option.
Read our Acer Travelmate P2 review for more information.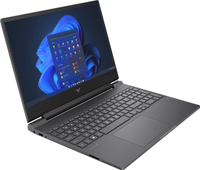 HP Victus 15
The Travelmate P4 is affordable, but the HP Victus 15 is an equally competitive deal. They can come with Intel 12th Gen processors or AMD Ryzen and a wide selection of discrete GPUs.
For around £600 or $700, an HP Victus 15 with AMD Ryzen 5 CPU, Radeon RX 6500M GPU, and a 512 GB SSD can be had. Those willing to spend up to $1,200 can snag a machine with an AMD Ryzen 7 or Intel Core i7 CPU and an NVIDIA GeForce RTX 3050 Ti Laptop GPU.
Read our HP Victus 15 review for more information.
Mark is an expert on 3D printers, drones and phones. He also covers storage, including SSDs, NAS drives and portable hard drives. He started writing in 1986 and has contributed to MicroMart, PC Format, 3D World, among others.