The modular nature of this design is remarkably fresh and demonstrates how engineering is not just about making laptops cheap and easy to make. The 7040 is a template for how laptops could all be made and not merely an exercise in constructional elegance. Big brands should take note of this since this is something customers might genuinely want.
Pros
+

Modular concept

+

USB 4.0

+

Elegant engineering

+

Decent battery life
Cons
-

Only one year warranty

-

The camera isn't Windows Hello capable
Why you can trust TechRadar We spend hours testing every product or service we review, so you can be sure you're buying the best. Find out more about how we test.
Framework 7040 Series: 30-second review
Apple, Dell and others have gone to great lengths to make computers effectively disposable as they funnel buyers into spending more to get a critical feature they need.
The irony of this is that from a design and production perspective, the systems they make are modular, and it's the mixing and matching of those modules that allow them to create so many SKUs from a set of basic components.
Framework is a computer brand that decided to hand the power of modularity to its customers. Its objective is to deliver remarkably flexible, repairable, and affordable systems.
Starting with a foundational platform, Intel or AMD, the Framework 13 Laptop (AKA AMD Ryzen 7040 series) allows functionality to be added or removed at will, tailoring the machine to the user's exact requirements. This is the first laptop we've seen that comes with a tool to open the case, and only five screws provide access to the inside, where memory and storage can easily be upgraded.
But the party trick, so to speak, of the 7040 Series is that all the ports on the sides are modular, and you can order whatever ports you would like to come with the machine for easy insertion. And, if your needs change, and you no longer need DisplayPort but could do with another USB Type-A, then you can order that port and swap it out.
These modules use USB (or Thunderbolt), the unit cost of them is remarkably low, and customers will love the flexibility they bring.
The key to any successful business is surely to give the customer exactly what they want, and the Framework 7040 series does. Framework has offered sub-$1000 versions before, but the 13-inch model reviewed here does have a higher price tag. However, with the specifications of this machine, some other brands would be asking for more without offering its flexibility.
If this concept takes hold, and it should, Apple, Dell and others might need to rethink their strategies.
Framework 7040 Series: Price and availability
How much does it cost? Starting from $1049
When is it out? Available now
Where can you get it? You can get it directly from Framework
Framework sells the 7040 series directly from its website, and it comes either as 'DIY' or 'Pre-built' depending on how exact you want to be about the specifications.
There are three UK SKUs for the 7040 series, base, performance and professional, costing £1,049 ($1,049), £1,469 ($1,469) and £1,659 ($1,659), respectively. The base model uses an AMD Ryzen 5 7640U processor with 8GB of RAM, 256GB of storage, a 55Wh battery, and a Windows 11 Home pre-installed.
Moving up to the 'Performance' tier, it comes with a better Ryzen 7 7840U CPU, 16GB of RAM, 512GB of storage, and a 61Wh battery, but it is still Windows 11 Home. Whereas the Professional SKU uses the same CPU, 32GB of RAM, 1TB of storage and bags you Windows 11 Pro.
US customers get the same SKUs and the pricing as the UK but in dollars, making their hardware about 25% cheaper than that in Europe.
Alternatively, Framework will send you an entirely custom hardware specification and I/O module selection that you can define with the DIY edition.
What's slightly sobering about the DIY edition is that it reveals that Framework adds $199 or £220 for Windows 11 Pro, though you can ask for no OS to be installed and then add Linux, your own Windows license or ChromeOS Flex when it arrives.
We should also mention that while the Ryzen 7040 Series is exclusively AMD-powered, Framework does make an Intel platform version of the Laptop 13, using 11th, 12th and 13th generation processors.
Compared to other brands, the Framework 13 Laptop 7040 Series is slightly more expensive than the typical asking price. For example, the Lenovo ThinkPad X1 Nano Gen 3 is about $1750 for a similar specification to the Performance SKU. However, relatively few system makers currently use the Ryzen 7 7000 series, and Dell doesn't offer an XPS 13 with an AMD processor.
On a few critical levels, what you are paying for here is choice.
Framework 7040 Series: Specifications
Swipe to scroll horizontally
| | |
| --- | --- |
| Model: | Framework Laptop 13 7040 Series |
| CPU: | AMD Ryzen 7 7840U (8 cores 16 threads) |
| GPU: | Radeon 780M Graphics |
| RAM: | 6GB DDR5 (expandable to 64GB) |
| Storage: | 1TB NVMe M.2 2280 |
| Screen: | 13.5" IPS panel with 1500:1 contrast, >400 nit brightness and 100% sRGB. 2256 x 1504 resolution. |
| Ports | User-definable, with four ports from a selection of USB-C, USB-A, DisplayPort, HDMI, MicroSD card reader, Audio Jack |
| Networking: | WiFi 6E, Bluetooth 5.2 |
| Camera: | 1080p 60fps |
| OS: | Windows 11 Pro (pre-installed) |
| Biometrics: | Fingerprint reader |
| PSU: | 60W (20V 3A) |
| Dimensions: | 297 x 229 x 45mm |
| TPD Limit: | 28W |
Framework 7040 Series: Design
Modular ports
Aerospace engineering
Easy access
Over the years, we've seen plenty of modular concepts, and almost all of them failed in spectacular fashion. It was often the result of drawbacks in the technology that connected the modules or the extra structures needed to hold the system together.
The Framework 7040 series is a modular laptop design that takes the plug-and-play nature of USB. The thinking here promotes a solution for those who want a laptop their way and not one with features chosen seemingly at random.
A customer removing the Framework 7040 from its packaging for the first time will be confronted with what appears to be an incomplete computer, with four prominent holes along the side edges of the machine.
In addition to the machine and its power supply, the 7040 comes with some unexpected accessories, including a combined screwdriver and spudger tool. To a seasoned reviewer, the idea of a machine maker encouraging customers to go inside their machines is a culture shock. And it isn't anything we're expecting Apple to repeat anytime soon.
The other accessory is a neatly packaged set of modules designed to fit the four available pockets that contain the various ports that were ordered with the machine.
In our review machine, the port connection included four USB-C, one USB-A and a DisplayPort. But these aren't the only options that a customer gets. Other choices include HDMI (3rd gen), Ethernet, MicroSD card reader and Audio.
You can buy extra ones if you suddenly decide you need Ethernet, as an example, but didn't order it with the machine to begin with.
The cost of many of these modules ranges from $10 to $20, with the most expensive being the Ethernet, costing close to $40. As the modules are easily removable, changing the mix or replacing a damaged port is easy and quick to do.
If a caveat exists to the modularity of this solution, it's the dependence on USB 3.2 or USB 4.0 to connect everything. Therefore, it can't support technologies that need PCIe or some other special technology.
One important detail about the modular slots is that they're all not created equal. The top slots, those nearest the hinge, are full USB 4.0 with DP capable. Whereas the lower two are only USB 3.2 Gen 2. But, irrespective of where the USB-C modules are placed, you can use them to charge the machine.
But this isn't the only modular aspect of the 7040 series. Internal components are also part of a solution where changes can be made without invalidating the warranty of the machine.
Using the provided screwdriver and spudger, getting inside this laptop takes only the loosening of five screws and a little spudger encouragement, and the owner has access to the NVMe drive, memory slots, mainboard and battery.
Typically, with thin, highly engineered Ultrabook designs, the underside is removable and living under it are all the critical components. But in the 7040, the screws on the base release the keyboard and its surrounding, allowing the keyboard language to be swapped out, along with any of the easily removable internal parts. Even the coloured bezel can be replaced with another shade, should that be a requirement.
What's impressive about all this is that the 7040 series is still a relatively thin and lightweight design, so providing this degree of flexibility hasn't negatively impacted the machine's ergonomics. It's all engineered to aerospace tolerances, providing a form that is easy to handle and use.
Another standout feature of this design is the size and quality of the display. At 13-inches across, this panel is not larger than many of the branded products that are priced similarly but with a native resolution of much higher than usual, it allows for more applications to share screen space.
Framework 7040 Series: Features
AMD or Intel
Odd screen resolution
No Windows Hello camera
Our review machine was the Performance model that comes with an AMD Ryzen 7 7840U (8 cores, 16 threads) processor and its associated integrated GPU, the Radeon 780M.
Versions of this machine that use Intel hardware are also available, and depending on the Intel CPU generation, these might or might not have features that the AMD models offer.
What this platform offers is PCIe 4.0, allowing faster internal NVMe storage. Many laptop designs that offer 13-inch displays use 1080p displays, as the size of the panel doesn't justify a much greater resolution. Framework went with an odd resolution display of 2256 x 1504, an iPad-like 3:2 ratio.
But it isn't the resolution of this display that catches the eye, greater than 400 nit brightness and exceptionally high contrast output for an IPS panel. As an example of how bright this screen is, we always tune down the display to 120 nits for our battery test, and that level is a setting of 40% on this panel. Frankly, the 100% setting is too bright for most uses, though it might be useful outside on a bright day.
One omission on a laptop that costs this much is a webcam that supports Windows Hello. The webcam is a decent-quality camera with 1080p capture, but it can't be used for biometric confirmations. The only option for that is a fingerprint reader that is on the power button.
A curious aspect of the camera is that there appear to be two lenses, each with its own privacy cover. But closer inspection reveals that the one on the left is the camera cover, and on the right is a microphone and mute switch.
It might be a problem to get these confused, so be careful when running streaming applications.
Framework 7040 Series: Performance
AMD CPU and GPU power combo
Great battery life
Thunderbolt on USB 4.0
Swipe to scroll horizontally
Benchmarks

| | | |
| --- | --- | --- |
| 3DMark: | WildLife: | 15,280 |
| Row 1 - Cell 0 | Fire Strike: | 6,545 |
| Row 2 - Cell 0 | Time Spy: | 2,801 |
| Cinebench R23: | Single core: | 1,691 |
| Row 4 - Cell 0 | Multi core: | 13,735 |
| Row 5 - Cell 0 | Ratio: | 8.12 |
| GeekBench 5: | Single core: | 1,886 |
| Row 7 - Cell 0 | Multi core: | 10,734 |
| Row 8 - Cell 0 | OpenCL: | 37,328 |
| CrystalDiskMark: | Sequential Read: | 5.094MB/s |
| Row 10 - Cell 0 | Sequential Write: | 3.884 MB/s |
| PC Mark 10: | Office Test: | 7,151 |
| Row 12 - Cell 0 | Battery Test: | 13h 55m |
| Windows Experience Index: | Score: | 8.2 |
The AMD Ryzen 7 7840U processor used in the 7040 series is a recent AMD launch that first appeared in March of 2023. It has a Zen 4 architecture and is the fastest Phoenix series U class device model. Made by TMSC using a 4nm fabrication, it supports eight cores, all with hyperthreading, a base clock speed of 3.1GHz and a turbo boost of 5.1GHz on a single core.
It's one rung down from the slightly faster clocked and greater TDP of the AMD Ryzen 7 7840HS, but it still manages to outperform the previous Ryzen 7 PRO 6850U due to its superior Zen 4 architecture.
Alongside the CPU is a revised iGPU, the Radeon 780M, which isn't a major improvement over the previous 680M, though it does have a new AV1 engine for better video decoding and encoding.
This is the first machine that this reviewer has encountered with this hardware platform at its core, and the experience was mildly underwhelming, though possibly for a good reason.
That said, compared to most Intel laptops that aren't classed as mobile workstations, the performance of the 7040 series is decent, and it has a few areas where it is exceptional.
The machine it most reminds us of is the Lenovo Z16 Gen 1, a design that used the Ryzen 7 Pro 6850H, another eight-core and sixteen-thread mobile CPU. That machine was substantially faster at the graphical tests, hitting over 30k on 3Dmark Wild Life, double that of this system. That would be a fair comparison if that processor didn't have a TDP of 45W, whereas the power cap on the 7840U in this system has only 28W to work with.
It might not be amazing graphically, but in single and multithreaded compute tests it smashes the 6850H. The CineBench Multi-core test result is 13,735, over 3,000 extra points above the 6850H with the same number of cores.
But where the Zen 4 architecture and 28W TDP return on the investment is that the Z16 Gen 1 only delivered 10 hours and 19 minutes of running time with a larger battery, where this machine had 40% extra running time with 14% less battery capacity on hand.
It also offered a much better PCMark 10 Office score,
Some of the graphical performance differences might be the way that the Radeon 780M is configured in the BIOS. By the default setting of 'Auto' mode, the iGPU is only given 512MB of system memory by default. There is a Game Mode option that increases this to 2GB, but no control that allows the maximum of 8MB to be defined from the outset.
With 16GB of DDR5 RAM clocked at 2800MHz (DDR5-5600), it might be possible to get some extra performance out of the iGPU with more or faster memory, but this is the highest clock spec that the AMD Ryzen 7 can accept. The BIOS Game Mode option is the best it can manage, and it's the one part of this platform that needs to perform better.
The speed of the WD SN740 NVMe drive is in line with its performance envelope, and for those wanting higher speeds and better power management, we'd recommend swapping it for a different design, like the Lexar NM790.
One final test we always try to do with machines that come with USB 4.0 is to determine if it will operate in Thunderbolt mode with a suitable external hard drive. It passed this test with flying colours, managing a file transfer of 3,000MB/s from an OCW external Thunderbolt drive.
Overall, while it is a delicate balancing act between power use and performance output, the 7040 Series has many virtues and only a few vices.
Framework 7040 Series: Verdict
As modular solutions go, the Framework Laptop 13 is one of the better attempts this reviewer has seen, and it succeeds in most respects. In the 7040 Series, the inclusion of USB 4.0 and, by inference, Thunderbolt ports makes this laptop even more flexible than it might already seem.
The module mechanism is elegant, and support should continue as long as Framework doesn't cease to exist.
With the modularity of this design, it should be possible for one to be maintained for some considerable time with upgrades and replacement parts. The only disappointment here is that Framework only offers a single year of warranty, but perhaps it knows that these might be popular with those who like to tinker.
The balance here is between greater flexibility and customisation and cost, with this laptop costing a little more than it would without its modular nature. For those prepared to embrace this design, it offers the ability to customise the platform to eliminate those ports you never use or add the critical missing ones you need.
Framework needs to be applauded for getting this product from a concept to a working retail product, and we hope it sparks the interest that these endeavours justify.
Should you buy a Framework 7040 Series?
Swipe to scroll horizontally
| | | |
| --- | --- | --- |
| Value | Not cheap, but well-specified | 4 / 5 |
| Design | Aerospace engineering that is easy to get inside to upgrade and fix | 4.5 / 5 |
| Features | A stunningly good display and the option for AMD or Intel platform. The only downside is the lack of a Windows Hello camera. | 4 / 5 |
| Performance | A power-efficient system with excellent battery life, but not a gaming platform. | 4 / 5 |
| Overall | Stylish and flexible solution that can be tailored precisely for the user. | 4.5 / 5 |
Buy it if...
You like exacting specs
This system is customisable down to individual ports, allowing the user to have the machine they need for the job they do. But the ports are only part of the story, as this machine is designed to be serviced in a way that most laptops aren't.
You have a long working day
With a battery life that is close to 14 hours, this laptop should get you through a full day and then some more. The latest AMD Ryzen 7 processor provides both high performance and power efficiency in a single package.
Don't buy it if...
You use a Windows Hello camera
One of the few features missing from the machine is a camera that is Windows Hello capable. It is possible to add one externally using USB, but that's never the same as having it as part of the platform.
You need more graphics power
Without a discrete GPU, the graphics capabilities of this machine are limited. It's worth noting that Framework does offer discrete graphics with the Laptop 16 series machines, although the cost of these upgrades might put you off.
Also consider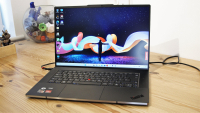 Lenovo ThinkPad Z16 Gen 1
It costs more than the 7040 Series but has a bigger screen and a WAN capability as standard. But it lacks a USB-A port, and its battery life is less impressive than the 7040 series. This machine competes more with the Framework Laptop 16, and as such, is an impressive performer.
Read our Lenovo ThinkPad Z16 Gen 1 review for more information.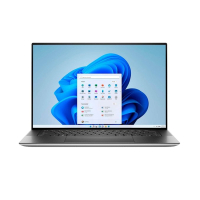 Dell XPS 15 (2023)
A big screen and excellent performance make this one of the best Ultrabook designs on the market. Sadly, it suffers from the same issue as the X1 Carbon in that the top-spec machines are expensive, and they are all exclusively Intel-powered. And curiously, the 2023 model doesn't perform as well on battery power as the 2022 version did.
Check out our Dell XPS 15 (2023) review
For more business laptop options check out our Best Business Laptops selection.
Mark is an expert on 3D printers, drones and phones. He also covers storage, including SSDs, NAS drives and portable hard drives. He started writing in 1986 and has contributed to MicroMart, PC Format, 3D World, among others.