The number of BIOS updates needed to fix this machine is a concern and may hint that this combination of power and chassis might have a potential flaw. When it isn't getting hot, it's great, but the cooling system might need a rethink.
Pros
+

AMD Ryzen powered

+

Large bright display

+

USB 4.0 ports
Cons
-

Many BIOS upgrades were needed to fix issues

-

A trackpad that isn't intuitive

-

No USB-A ports or HDMI out
Why you can trust TechRadar We spend hours testing every product or service we review, so you can be sure you're buying the best. Find out more about how we test.
Lenovo ThinkPad Z16 Gen 1: Two minute review
The first important information about the Z16 Gen 1 to relay is that this review took longer than we'd normally allocate for a laptop due to some issues we encountered.
This hardware has had a series of BIOS updates and software fixes to address some overheating issues, and only now do these appear to be resolved.
Not many laptop makers have designs between the 15-inch display models and the larger 17-inch options, but this ThinkPad fits neatly into that niche.
Built around AMD Ryzen 5 series silicon, the Z16 provides a less restricted performance and physicality than smaller systems while still offering enough battery capacity to operate through a full working day.
Compared to the previous Z13 Gen 1, this is a more expensive option and potentially slightly less portable. But, more users will like the size of the display, and the room allowed this to the keyboard, especially for those that normally work on a desktop system.
According to Lenovo, the Z16 chassis is entirely made from milled aluminum, providing a strong but lightweight cradle for the internals and a total weight of just 1.95kg.
Compared with the smaller 13-inch Ultrabook, that weight isn't low, but it's less than the Apple MacBook Pro 16, which looks increasingly portly against those brands that have made competitive options.
What Apple's product can claim is that it has excellent usability, whereas the Z16 Gen 1 is something of a slightly less consistent experience.
While the keyboard is excellent and suitable for extended use, the glass-coated touchpad is something of an acquired taste. It lacks integral buttons and instead expects users to learn an entirely new gesture model to create the equivalents of right-clicks and dragging.
The port layout is also less than ideal, with the righthand side sporting two USB-C ports (one is required for charging) and an SD card slot, and the left another USB-C, Kensington security slot, audio jack, power button and SIM card slot.
It comes with no USB-A ports and no adapter in the box. Lenovo wants another $5 for this, hilariously. We'd strongly recommend a USB-C docking station to be added to the cost of the system from the outset.
Depending on the SKU chosen, this system starts at around $1,430 and goes to nearly $5,000 for the ones that come with a 4K display, discrete GPU, and 32GB of RAM pre-installed. As with many recent Lenovo designs, the memory isn't upgradable, and therefore if you want 32GB, it must be ordered with the machine.
The differences in capabilities between the entry-level SKUs and those with higher specifications are significant, making the job of choosing the specification a real challenge.
Even after the latest BIOS update, this machine isn't perfect, and it might be worth waiting for Z16 Gen 2 to fully resolve the curious thermal dynamics of this system.
Lenovo ThinkPad Z16 Gen 1: Price and availability
How much does it cost? From $1,424/ £2,013
When is it out? It is available now
Where can you get it? Can be found on Amazon.com, and other online retailers
Lenovo ThinkPad Z16 Gen 1 Specs
Here is the Lenovo ThinkPad Z16 Gen 1 configuration sent to TechRadar for review:
CPU: AMD Ryzen 7 PRO 6850H
Graphics: AMD Radeon RX 6500M
RAM: 16GB DDR5 RAM (Not upgradeable)
Storage: M.2 2280 512GB NVMe SSD
Ports: 1x USB 3.2 Gen 2 Type-C, 2x USB 4.0 Type-C, 1x universal audio jack, SD card reader, NanoSIM WAN slot, Kensington Nano Lock
Connectivity: Dual-Band WiFi 6 (802.11ax), Bluetooth 5.2
Size: 354.4 x 237.4 x 15.8 mm (W x D x H)
OS installed: Licensed Windows 11 Pro.
Accessories: PSU Adapter 135W
The scope and range of the Z16 models offered in different regions are striking, and this massively impacts entry-level costs to the higher specification options.
On the US Lenovo site, the starting point is only $1,423.95 for a system using the AMD Ryzen 5 PRO 6650H, 16GB of RAM, 256GB of SSD storage and a WUXGA (1920 x 1200) resolution display. The highest spec SKU is a whopping $4,919, and for that outlay it comes with an AMD Ryzen 9 PRO 6950H Processor, 32GB of RAM, a 2TB SSD, a WQUXGA (3840 x 2400) OLED Touch screen and a discrete AMD Radeon RX 6500M GPU.
In the UK, there are fewer options, and the starting cost of £2,012.81 gets you the AMD Ryzen 5 PRO 6650H Processor, the AMD Radeon RX 6500M GPU, 16GB of RAM, 256GB of storage and the WUXGA display.
However, the top system in the UK costs only £2,820.30 and includes the Ryzen 9 CPU, 32GB of RAM, 1TB of storage and the WQUXGA (3840 x 2400) display.
But, none of the standard UK models come with Wireless WAN LTE at this time, although you can add that as a customer option.
To buy the specification of the machine reviewed here costs approximately £2,200 in the UK and $3,300 in the USA.
Lenovo ThinkPad Z16 Gen 1: Design
Aluminium construction
Thermal issues
USB 4.0 ports
Picking up the Lenovo ThinkPad Z16 Gen 1 for the first time, the cool feeling of the mostly-metal construction makes a strong impression. However, the undertray is plastic, as is most of the facing around the keyboard and touchpad.
Critically the lid and the sides of the chassis are all milled from aluminium, which gives the sense that this machine could take some knocks and won't easily flex.
Protection along the top of the screen provides both a place to pug the face-time camera without creating a large border above the screen and also a simple means to open the laptop.
The hinge doesn't let the laptop fold fully flat, stopping at around 45 degrees from the vertical.
Lenovo created an ample keyboard for this design that has enough space on either side for the speakers but doesn't offer a numeric pad, unfortunately. The touchpad, as mentioned in the condensed review, wasn't one that seemed well considered, as it assumes you can cope without buttons of any physical type, using a new gesture technique.
Your reviewer didn't like this, but other people might be fine with this awkwardness.
Another useability mistake is that the power button, normally near the keyboard, is on the right side, and it feels the same as the SIM card slot when you try to operate it blindly.
Why they placed it there and next to the SIM tray end is a mistake, plain and simple.
But it isn't the biggest issue with this machine, it's thermodynamics.
When we first received this system, it already had a few BIOS upgrades from the launch revision. Immediately we noticed that it would spontaneously reboot, and a quick scan through the Lenovo Z16 forum posts revealed that the issue wasn't unique to our machine.
A BIOS fix came along, and indeed the laptop didn't reboot randomly any longer. Instead, now the fans never ran at full speed, causing it to hit 100C or higher and thermally throttle the processor, ruining performance.
Just before completing this review, another BIOS update arrived that promised to fix the fan issues, and it largely appears to, but we did experience a lock-up while idle.
Precisely what the exact issues are with the Z16 are in detail only the engineers that designed it at Lenovo know, but it appears that balancing the power in this laptop and its chassis to work optimally is a challenge.
One potential area of concern in this is that all the warm air vents out through a perforated panel on the underside of the laptop, one that is very close to any surface the machine sits on. Placing it on a raised and vented platform with cooling might help, though we didn't have that type of workspace available to test that theory.
The latest BIOS at least enables the full benchmarking of the Z16, but we suspect it isn't the last version that this design is likely to see.
Lenovo ThinkPad Z16 Gen 1: Features
Powerful AMD CPU
Few user-upgrade options
Large and efficient display
Like many of the latest ThinkPad designs, the Z16 has a wide gamut of features that are dependent on the SKU and extra options that this design can have.
Our review hardware had the mobile SIM slot that empowers it with LTE mobile data access in some parts of the world, but this isn't on all Z16 SKUs.
Conversely, the Ryzen 5 processor and 1920 x 1200 resolution display are eclipsed by Ryzen 7 and 4K resolution panels on higher specification models.
The features that all models get are the excellent 135W USB-C power supply, USB-4.0 ports, AMD Radeon RX 6500M GPU, FHD IR camera, backlit keyboard and metal chassis construction.
Even the Ryzen 7 processor on our review machine is a processing monster, so what the Ryzen 9 are like, we can only estimate. This is substantially more power than most laptops or even desktop computers can muster, making it ideal for those involved in creative processors that need the extra performance.
One notable weakness of recent Lenovo ThinkPad designs is that in an attempt to be as thin as possible, they have stopped using RAM module slots. Therefore, if you want 32GB of RAM, it must be installed from the outset, as the memory can't be user-upgraded.
For those willing to ignore the security stickers on the base, it is possible to get inside and upgrade the M.2 NVMe drive, although as it only has one slot, cloning this drive to a replacement drive would require extra hardware.
What's great about the Z16 is the size of the screen, which is a significant upgrade to those users coming from a 13-inch machine. While it might not seem that much bigger, in practical terms, it enables the machine to use lower levels of scaling to the display, almost irrespective of the panel resolution.
The Z16 resolution of 1920 x 1200 is high enough that it would be difficult to use at 100% scaling on a 13-inch laptop, but on this 16-inch display, it is useable, although 125% is preferable.
The extra screen space is also useful when presenting, although the Z16 doesn't have a reversible screen hinge to make that scenario ideal.
With such a large and bright panel, the temptation is to accept that this will dramatically impact battery life unless the brightness is significantly reduced. Surprisingly this isn't the case, and the Z16 has plenty of battery power to drive the 1920 x 1200 resolution display at workable brightness for many hours.
Lenovo ThinkPad Z16 Gen 1: Performance
Exceptional performance
Gen 2 NVMe drive
More than 10 hours on battery
Benchmarks
Here's how the Lenovo ThinkPad Z16 Gen 1 scored in our suite of benchmark tests:
3DMark Wild Life:14,915; Fire Strike: 4,803; Time Spy: 1,847 Cinebench R23 CPU: 1577(single-core); 6,869 (multi-core)
GeekBench 5: 1,518 (single-core); 7,664 (multi-core), 19,961 (OpenCL)
CrystalDiskMark: Sequential Read: 6,465MB/s; Sequential Write: 4,910MB/s
PCMark 10: 5,083 points
PCMark 10 Battery Life (Modern Life): 7 hours and 12 minutes
Windows Experience Index: 8.4
The benchmark numbers the Z16 can achieve are on a completely different level to most of the laptops we review here. Specifically those that use Intel mobile processors.
An appropriate machine to compare to the Z16 might be the Lenovo X1 Carbon (2022), as it has recent Intel silicon, the Intel Core i7-1260P, and is made by the same company.
How do the Ryzen 7 Pro 6850H and Radeon Graphics GPU, matched with 8 cores against the Intel Core i7-1260P, its 12 cores, and Iris Xe GPU? In short, the Ryzen 7 Pro 6850H eats it for breakfast.
It has more than double the score on 3DMark Wild Life, Fire Strike and Time Spy. And, while the single-core performance of the Intel chip is marginally better on CineBench23, the multi-core results are 54% better on the Ryzen 7, with four cores less.
The only argument for the Intel i7-1260P is that it is suitable for single-thread jobs, but once an application uses more than one thread, the Ryzen 7 Pro 6850H is superior.
This laptop is also one of the few with a PCIe Gen 4 NVMe slot that comes with a real drive to that specification, offering blistering drive performance on both reading and writing.
And, with all this power, the substantial 72Whr battery delivers over 10 hours of continuous operation on the PCMark 10 Office test.
Overall, the ThinkPad Z16 Gen 1 doesn't disappoint, and the results are a validation of Lenovo's decision to go with AMD on this product.
If it weren't for the spiral attack on fixing some of the bugs in the original BIOS for this machine and the lack of clearance below the air vents, the Lenovo ThinkPad Z16 Gen 1 would easily be one of the best laptops we've tested.
It's powerful, the extra screen area is useful, the WAN options are good, and the battery life is easily more than a working day.
We're not fans of the button-less touchpad, the power button placement, and its lack of USB-A ports, but these are mostly minor gripes.
The latest BIOS is an improvement over some that Lenovo released before and seems very close to a complete fix for these issues. If only this had been the launch firmware, there might have been very little to complain about other than the price.
Lenovo ThinkPad Z16 Gen 1: Report card
Swipe to scroll horizontally
| | | |
| --- | --- | --- |
| Value | Powerful machine with a high asking price | 3 / 5 |
| Design | A few ergonomic mistakes sully what might have been a classic design. | 4 / 5 |
| Features | Needs a docking station to add ports Lenovo left off it | 4 / 5 |
| Performance | A very powerful platform that can do most things easily | 5 / 5 |
| Total | BIOS issues aside, this is an excellent laptop | 4 / 5 |
Should you buy a Lenovo ThinkPad Z16 Gen 1?
Buy it if...
You work on your laptop
Spending all day at a 13-inch laptop display isn't a great user experience, and the 16-inch panel on this machine could be transformative for those who operate exclusively on their mobile system.
You use a docking station
The limited number of USB ports on this machine makes it imperative that you have a Docking station configuration and one that can deliver enough watts to recharge the Z16.
Greater than Office app performance is needed
While even better discrete GPUs are available for mobile platforms, the Z16 has plenty of grunt from its CPU and GPU combination. Although, using the Radeon GPU extensively will impact battery life, predictably.
Don't buy it if...
Intel hardware is important
Some people, mostly for historical reasons, are invested in Intel, where the Z16 uses AMD. With modern applications, this shouldn't be a problem, but for some legacy tools, it might be.
It's your money
While a business might be able to absorb the cost of the Z16 easily, for an individual, this is a major investment, and cheaper options are available. With the high cost and limited resilience, this isn't the ideal machine to buy a youngster.
You want to game on this PC
The Ryzen 7 CPU is spectacular, but the Radeon GPU is only impressive when compared to Intel integrated graphics hardware. The demands of modern game titles and the resolutions they are designed for aren't a good fit with the capabilities of this system. It also lacks HDMI out, so an adapter is required for an external display.
Also consider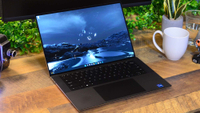 Dell XPS 15 (2022)
A big screen, excellent performance and discrete graphics make this one of the best Ultrabook designs on the market. Sadly, it suffers from the same issue as the X1 Carbon, in that the top-spec machines are expensive.
Check out our Dell XPS 15 (2022) review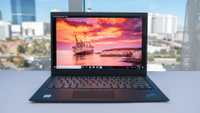 Lenovo X1 Carbon (2022)
Same brand, but Intel-based and a little cheaper for the same amount of memory and storage. However, its Iris XE GPU isn't as good, and the battery life is less impressive.
Check out our Lenovo X1 Carbon (2022) review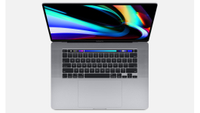 Apple MacBook Pro 16-inch (2021)
The machine that the Z16 was meant to compete with. For those that like the Apple ecosystem, the 16-inch MacBook Pro is a no-compromise option with excellent performance and long battery life. But, conversely, it is heavy and even more expensive.
Check out our Apple MacBook Pro 16-inch (2021) review
Mark is an expert on 3D printers, drones and phones. He also covers storage, including SSDs, NAS drives and portable hard drives. He started writing in 1986 and has contributed to MicroMart, PC Format, 3D World, among others.