ECPA reform bill approved sans warrantless email search provisions
Strengthens instead of weakens privacy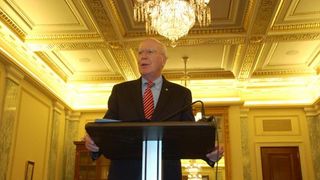 The U.S. Senate Judiciary Committee approved an amendment to the 1986 Electronic Communications Privacy Act that requires a warrant before the government can search a citizen's email.
Bringing the outdated law into the 21st century would protect digital communications the same way that snail mail is currently protected.
"After decades of the erosion of Americans' privacy rights on many fronts, we finally have a rare opportunity for progress on privacy protection," said Senate Judiciary Committee Chairman and ECPA reform bill author Patrick Leahy.
No warrantless email searches in new ECPA
This strengthening of the ECPA is in contrast to reports about a new draft of Leahy's bill that circulated this month. It allegedly exempts almost two dozen government agencies, giving each warrantless email search powers.
However, the Democrat from Vermont strongly disputed the claim that this was done to appease Republicans, and reaffirmed his commitment to the bill's original privacy intent.
He was still able to assuaged fears of the right in a press release today, saying, "the updates in the bill do not alter federal counterterrorism or other criminal laws."
"My bill stays true to its core purpose — to strengthen the protection provided by requiring that the government get a search warrant to obtain email content, even from third-party providers."
The EPCA reform still faces votes
The unanimously backed committee bill faces votes from the full Senate and the House of Representatives, meaning law enforcement still only needs "reasonable grounds" to go sifting through email.
Regardless, privacy rights groups like the American Civil Liberties Union (ACLU) are celebrating. The groups see the Senate committee's passage of the ECPA reform bill as one voting round closer to it being signed into law.
"This is an important gain for privacy," said ACLU legislative counsel Chris Calabrese.
"We are very happy that the committee voted that all electronic content like emails, photos and other communications held by companies like Google and Facebook should be protected with a search warrant."
Putting the ECPA amendment into context, Calabrese added, "We believe law enforcement should use the same standard to search your inbox that they do to search your home."
Via Wired
Sign up to receive daily breaking news, reviews, opinion, analysis, deals and more from the world of tech.