Senator clarifies stance on warrantless email search bill revisions
Bill needs update, but not this kind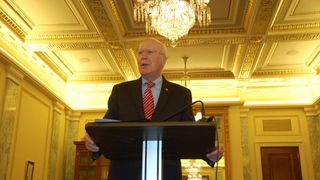 An update to the 1986 Electronic Communications Privacy Act introduced by U.S. Senator Patrick Leahy was supposed to protect the email communications of American citizens.
Privacy advocates, however, said a recent a rewrite to the bill did the opposite, and exempted at least 22 government agencies from obtaining a warrant to tap into emails and digital files.
The revisions to the bill were apparently the result of pressure from law enforcement, at least according to a CNET report published after the publication obtained a revised draft of the proposal.
The Senate Judiciary Committee, which is headed by the Democrat from Vermont, votes on the bill next week.
Sen. Leahy responds via Twitter
Under the revised version of the bill, law enforcement would have warrantless access to e-mail, Google Doc files, Facebook wall posts and even Twitter direct messages, according to CNET.
So it was ironic that Leahy's office used Twitter to respond to CNET's article.
"Ideas from many sources always circulate b4 a markup 4 disc., but Sen. Leahy does NOT support such an exception for #ECPA search warrants"
The senator expanded upon that 140-character response on his website, saying, "rumors about warrant exceptions being added to ECPA are incorrect."
"The whole thrust of my bill is to remedy the erosion of the public's privacy rights under the rapid advances of technology that we have seen since ECPA was first enacted thirty years ago.
"In particular, my proposal would require search warrants for government access to email stored by third-party service providers – something that of course was not contemplated three decades ago."
Criticism from privacy advocates
An updated ECPA was intended to strengthen e-mail privacy, but the new exceptions are problematic in the eyes of privacy groups, the American Civil Liberties Union chief among them.
"That undercuts the whole purpose of the bill," American Civil Liberties Union legislative counsel Chris Calabrese told The Hill.
Calabrese said that he saw the draft reported on by CNET, but wasn't under the impression that Leahy supported it.
"There was a lot of language floating around," he said.
Calabrese went on to say that the ACLU would not support any proposal with such broad exceptions.
The group has also been steadfast against warrantless wiretapping, which is still legal under the Foreign Intelligence Surveillance Amendments Act.
Get daily insight, inspiration and deals in your inbox
Get the hottest deals available in your inbox plus news, reviews, opinion, analysis and more from the TechRadar team.