If you're in the market for a great deal on ultra-fast full fibre broadband, then we have something that just might fit the bill.
Right now you can get Plusnet's Full Fibre 500 broadband for £39.99 a month on a 24-month contract (opens in new tab). This is Plusnet's fastest speed (500Mbps) and if you sign up for this deal now you will also receive a £70 Plusnet Reward Card when your broadband is up and running.
The package is broadband-only and has a 275Mbps 'minimum speed' guarantee. What's more, there aren't any activation fees and you can get your broadband 'supercharged' by Plusnet's innovative and fast Hub Two router. The deal also has unlimited data, and with these fast speeds, it makes it a great choice for almost any household - even large properties with high UHD streaming or downloading demands.
What you should note is that as a 'Full Fibre' package, this deal is only available if your property has a FTTP connection. However, you can check your eligibility for this with Plusnet when looking to sign up.
This deal is available until February 15, so you should enquire now if you want to make the most of it. Equally, if you want a more affordable package or you don't necessarily need the faster speeds, be sure to take a look at our other top broadband deals.
OUR PLUSNET BROADBAND DEAL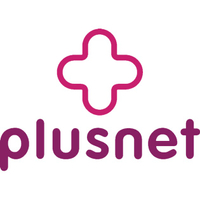 (opens in new tab)
Plusnet Full Fibre 500 | 500Mbps average speeds | £39.99 per month | 24-month contract | No activation fees | £70 Reward Card (opens in new tab)
With this broadband-only deal you get Plusnet's fastest package - its Full Fibre 500 - giving you 500Mbps and unlimited data, all on a 24-month contract for £39.99 a month. With these speeds, as well as Plusnet's excellent Hub Two router, even large households can enjoy fast and uninterrupted streaming, downloads and online gaming. However, this is only available for properties with full fibre connectivity, but when you're successfully signed up you'll get a £70 Plusnet Reward Card. This offer is available until February 15.
Other reasons to choose Plusnet for your broadband
Plusnet is now one of the UK's top broadband providers, thanks largely to the fact it's one of the most affordable - often sitting at the cheaper end of the markets.
It's also incredibly reliable because it uses BT's Openreach network. In turn this also means it has a wider reach across the country compared to other similar providers and can offer more options in terms of faster broadband connections or slower speeds.
Plusnet has also received plenty of commendation for the support it offers. A quick glance at a few review sites will also show that generally the feedback it receives is positive - so it's no surprise that Plusnet has won various awards for UK-based customer services.
Lastly, with Plusnet you can get plenty of great extras such as its 'Safeguard' and 'Protect' features on your broadband. Members can also sign up for its reward perks and if you want to, you can add on BT Sport as a TV bundle.
So to see what other broadband options are available with Plusnet in your area, head to our cheap broadband deals page or see enter your postcode into the widget below.
Loading...