If you're considering switching from a traditional broadband setup to a 5G one, then we have a deal that might be of interest.
Right now, you can get Three's 5G Home Broadband Hub that offers average download speeds of 150Mbps (opens in new tab) for free for the first three months! The deal is a 24-month contract and after this initial three months the price then goes up to £20 a month.
One of the best parts about this deal is that you don't need a landline, nor do you need to any installation work carried out. Instead you can just plug in your new hub and make the most of this super-fast 5G broadband. In addition, Three claims that with the 150Mbps connection, downloads can be 'near instant' and it can handle multiple devices streaming in UHD or even online gaming, all at the same time.
However, if this has piqued your interest, there are a few things you need to check first. As it works through 5G, you need to ensure this is available in your area. Then, you need to think about your own requirements, as you won't be able to get a landline with this package.
To learn a bit more about 5G broadband, you can check out our guide to the best 5G broadband deals. Equally, if you can't get 5G or you want a standard broadband setup, check out our top broadband deals here.
OUR THREE 5G BROADBAND DEAL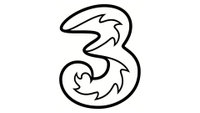 (opens in new tab)
Three 5G Home Broadband Hub | 150Mbps | First three months FREE | 24-month contract | Unlimited data | No installation (opens in new tab)
This deal from Three will see you get your first three months of 5G broadband for free. The price then goes up to £20 a month for the remaining period of the 24-month contract. With it you get Three's 5G Home Broadband Hub, 150Mbps average download speeds and unlimited data. There aren't any setup costs or installation requirements, you can just plug in your new hub and make the most of this speedy internet. Three claims the package has 'near instant' downloads and can easily manage 4K streaming from large and busy households. Whether you can access this broadband is subject to the 5G coverage in your area.
Why should I choose Three for my 5G broadband?
When it comes to 5G broadband, as a provider, Three is hard to beat. Not only does it have some of the most affordable packages and contracts, it also has some of the fastest options and typically offers unlimited data - unlike a lot of its competitors.
Three is also continuing to improve its 5G network. Right now it meets the 'Ofcom High Confidence' standard for its 5G and via its coverage checkers and maps you can easily find out if you'll be able to make the most of this type of broadband.
Three also offers a little bit of flexibility with its contracts. While our deal above is for 24 months, you can also get some rolling monthly contracts, which are ideal if you don't want to be tied down to a long-term commitment. However, these are a more expensive choice.
Should I choose 5G broadband?
As we've already mentioned above, one of the first things you should check before choosing this type of broadband contract is whether or not you have decent 5G coverage in your area.
You also need to bear in mind that the simplicity of a 5G broadband setup is one of the appealing parts, but ultimately you won't be able to get many (if any) added extras. In other words, if you're wanting a phone line too, this broadband won't be the right choice.
That said, if you do have 5G coverage and you don't want the hassle of having an engineer come out to you, this could be the perfect solution. All you need to do when you receive your 5G Hub is insert the SIM card and then turn it on. The Hub will then send out a Wi-Fi network signal you can quickly connect to with your devices.
If you're still unsure and want to compare 5G broadband with a traditional connection, use our widget below to see what's available near you.
Loading...