Flash sale: Blu R1 Plus is $109 for the next 24 hours
Amazon is selling Blu R1 Plus for $50 off today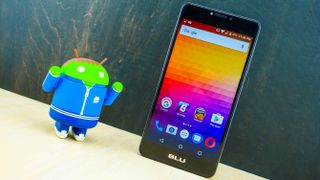 Update: The Blu R1 Plus Amazon flash sale price is $109, but ends at 11:59 Pacific time. It goes back up to $159 midnight on Sunday.
The is one of the cheapest Android phones we have ever reviewed, and right now it's even cheaper thanks to a temporary Amazon discount.
It's on sale today for . This is a $50 discount on the 5.5-inch HD phone that has a metal design and runs Android Marshmallow.
This makes the Blu R1 Plus about 1/8th the price of the , one of the most expensive smartphones we've reviewed. That's a big price gap.
The normal Blu R1 Plus price will be $159, which is still incredibly cheap. But at that point, it starts getting closer to the Amazon price of the new .
Blu R1 Plus is strictly for the sub-$200 crowd
You're not going to want to trade down from an or for this ultra-cheap phone. If you own flagship phones, this one isn't for you.
Instead, we see the Blu R1 Plus as an adequate choice for someone who can't afford the newest smartphone on the market or can't get on-contract financing.
The fact that this is an unlocked GSM phone means it's a fine travel phone, too. It'll work overseas in addition to AT&T, T-Mobile, Cricket Wireless, etc. in the US.
If you happen to lose or break it during your travels, it's not as heartbreaking as losing an . We've been in that expensive pickle before.
Finally, it's a worthy choice for those flip-phone owning holdouts in your life, like mom and dad, or friends who carry around a phone with a cracked screen. This one can get them through the end of their contract upgrade.
What Blu R1 can and can't do for its price
We were surprised by many of the Blu R1 Plus features, including the bright enough HD display, aluminum back and metal frame and extra-large battery.
It's packing a 4,000mAh battery, which is larger than most flagship phones eight times its price. We were able to get close to two days a battery life in our testing.
Here's what Blu R1 Plus is not: it's not a 3D games performer by any means. 3D game apps tend to stutter quite a bit. Audio is just satisfactory, even for $109.
It still runs Android Marshmallow instead of Android Nougat. We didn't really mind that, except we think an eventual update could give it better battery life.
We were definitely missing the fingerprint sensor more than any single Android Nougat perk. The camera is shockingly not bad, except in all low light situations.
Lastly, we have to note that the Blu R1 HD isn't compatible with Verizon, Sprint or US Cellular. Those are CDMA networks.
You can get AT&T, T-Mobile, Cricket Wireless and a variety of other carriers to work with this 4G LTE phone and then revel in paying a rock-bottom price for it.
Sign up for Black Friday email alerts!
Get the hottest deals available in your inbox plus news, reviews, opinion, analysis and more from the TechRadar team.