With potentially a huge range of camera-related bargains on offer this Black Friday, it's a good time to remember why we take photos in the first place – so that we can share them with friends, family and the wider world.
It's no good having the best camera kit if your photos never get to see the light of day. It's fine sharing images online, but what's the point of buying a camera with a 24MP sensor if the shots you take will only be viewed on a screen? You might as well get a compact camera with a 6-8MP sensor if that's all you're going to do with your images.
Black Friday deals Quick Links:
So why not do your images, and your camera, justice? Dedicated software can help you make the best of your images, more often than not with a few simple clicks, while it's never been easier to print your favorite photos – and it's so much more rewarding than seeing your pics on a screen.
With this in mind, here are some key pieces of kit to look out for on Black Friday 2016.
Adobe Photoshop Elements 15
Photoshop is undoubtedly still the king of image editing, but it can be a bit overwhelming for new users, while Adobe requires you to sign up to its monthly photography payment plan, which isn't for everyone.
That's where Photoshop Elements comes in, offering many of the clever features of the full-blown Photoshop, but in a much more user-friendly package. There are a host of image-editing features (though it misses the more advanced controls like Curves), along with step-by-step 'guided' editing options for beginners and a stripped-down Camera Raw editor.
Plus you can buy it outright – and for a very competitive price – with no further commitment necessary. It's the perfect image-editing program for the novice user looking to enhance their photos.
Fuji Instax Share SP-2
Fuji's Instax Share SP-2 allows you to bring your smartphone images to life. Using the dedicated app you can transfer images wirelessly from your phone to the Instax Share SP-2, when it will produce a credit card sized instant print for you. There's a handy reprint button, allowing you to share the same print with friends multiple times, while your pics on Facebook and Instagram can also be transferred to the SP-2. You don't need to plug it in either thanks to the rechargeable battery, meaning you can print pretty much anywhere you want - especially as it's so compact.
Canon SELPHY CP910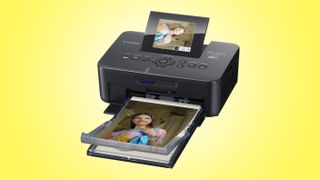 If you want to print more traditional 6x4-inch postcard sized photos, then a compact photo printer is the way to go. The SELPHY CP910 from Canon not only offers wireless printing from many devices (including supported cameras), but it also accepts SD cards as well as a USB port. Rather than using inks, the CP910 uses dye sublimation technology to produce a lab quality print in under a minute, while a special overcoat protects prints from splashes, fading and grubby finger marks.
Epson Expression Photo XP-960
If you're looking for a printer that can handle a range of prints, including large A3 photos that can adorn your walls, then a large photo printer like the Epson Expression Photo XP-960 could be just the answer. Featuring six inks to produce images with smooth graduations and faithful tones, image quality is excellent, while it can also scan and copy as well. The XP-960 can be used as a standalone device, with a large screen to control it and preview images, while images can be wirelessly transferred from your camera or smart device. It can also be used in a more traditional way, with images edited in the likes of Photoshop first before being sent to print.