The best blogging platforms make it simple and easy to set up and start a blog.
If you're not exactly sure how to track down the best blogging platforms and pick out the right one for you – you got the right place. With so many blogging platforms out there, this task may feel tiresome at best.
Nevertheless, to connect with like-minded individuals across the world and share your views and ideas with them – you'll probably want a blog, and to set up a blog you'll need a blogging platform.
The primary purpose of blogging platforms is to enable authors to publish content (whether articles, product reviews, or opinions) swiftly and simply through stand-alone websites, social networking sites, or email. These platforms can also provide powerful tools for marketing and building a brand, given that a well-thought-out blog can captivate a wider audience and build a worldwide following.
So, before you put your creative cap on and start cranking out posts to charm your virtual visitors from all over the world – you need to pick out the best blogging platform at hand. To help you out a bit, we've hand-picked the best blogging platforms on the market, so be sure to check them out before any action is taken.
---
The best blogging platforms of 2023 in full:
Why you can trust TechRadar We spend hours testing every product or service we review, so you can be sure you're buying the best. Find out more about how we test.
Originally created as a blogging platform, WordPress currently powers more than 43% of all sites on the internet, which is a testament to its popularity. It offers an excellent balance between ease of use and more powerful features.
Since you're paying for a full service, you can let WordPress's technical team handle all the details, such as taking care of the domain name, keeping your site secure, and web hosting services – it's an all-in-one package.
There are thousands of free themes made for WordPress across the web, with flexibility in fonts and plenty of options for a custom look. They also offer specialized customer support, Google Analytics is easily enabled, and credit card payments can be accepted via an available plugin.
While there is a free tier available, it is suitable for non-commercial blogs only since it puts WordPress ads on your blog but removes the ability to monetize it.
However, you can simply download the free WordPress blogging software from WordPress.org and set it up yourself on a web hosting account. the process is relatively simple and painless, especially as many webhosts provide CPanel, which often includes WordPress as a one-click install. This is the preferred way for many personal and business websites as it offers an immense amount of freedom to do what you want with it, away from the limitations of paid-for website builder option.
Read our WordPress review.
If you ask any old-time blogger about what platform they started their blog with, the chances are they'll answer that it was Blogger. Over two decades later, Google's offering in the blogging space still holds several advantages over the competition, including that your existing Google account means you already have a Blogger account.
Those working on a shoestring budget will be glad to hear that Blogger is completely free of charge, and you'll get a "blogspot.com" subdomain to boot. To add a custom domain name you'll have to buy it from a third-party domain registrar, and it can be done in a couple of clicks.
Blogger is one of the simplest blogging platforms out there and you'll even get a choice of templates that can be further customized.
Since it's a Google offering, it easily integrates with other Google products, including Google Analytics, which will provide information about your website's visitors that can be used to help grow traffic.
Also, your blog can be integrated with Google AdSense, which will analyze your content, and display relevant ads to monetize your blog – basically, you can pay for the coffee as you sit in Starbucks and blog into the night.
With all that going for it, is there any reason not to use Blogger? Well, since with Blogger you'll get basic blogging tools only, as your blog grows it will outgrow Blogger at some point. Also, making a transition from Blogger to another platform can be somewhat tricky, although not impossible.
Overall, though, Blogger lacks the tools and flexibility of rival platforms such as WordPress, but is reasonably basic and easy for people to set up and start with.
Whether you're looking for a blogging platform to start a personal blog or build a professional site, you've surely run into Wix – one of the biggest players in the site-building landscape today.
Simple yet not simplistic, Wix offers features that cater specifically to newcomers to the blogging game and it's really as simple as picking a template from their wide selection and customizing it. However, on the downside, once you choose a template you cannot change it without starting your site from the scratch, which can be bothersome at best.
What's even better is that Wix lets you view your blog template in desktop and mobile form before you even commit to it. Wix provides its blogging tools for those looking to promote themselves or a brand, grow their following, or even make some money.
With Wix, you can create your blog for free (provided you have your domain name set up and don't mind having Wix branding on your blog), drive traffic to your blog with Wix's advanced SEO tools like AMP & Schema, and have a personalized SEO plan to increase your visibility on search engines.
Wix also has a scheduling feature so that you can write your blog entries when it's most convenient for you and then schedule them to go live at an optimal time.
Read our full Wix review.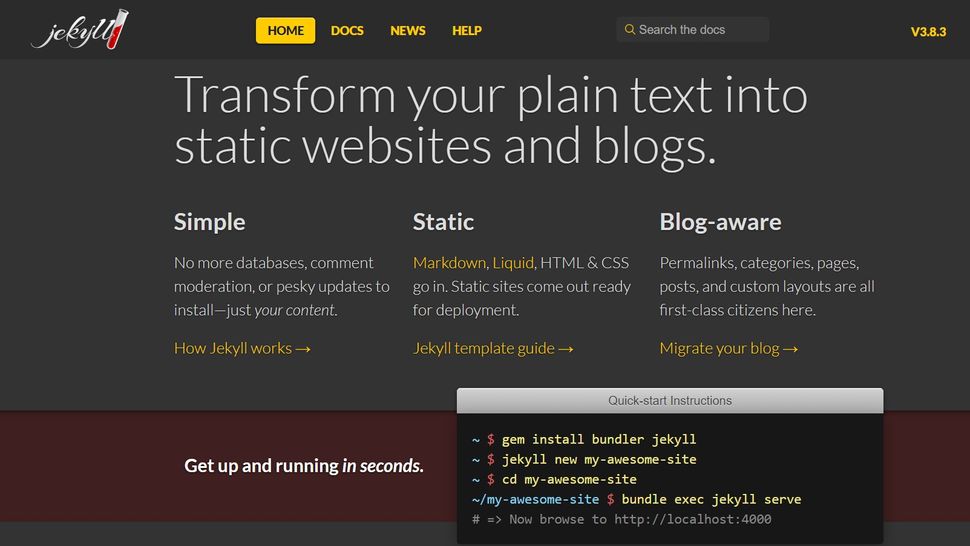 The latest version of Jekyll works as a "site generator" that can "transform your plain text into static websites and blogs". Content gets created in TXT files, which get placed into folders. Then you build your site via Liquid language templates. Jekyll then merges the content and the template, and voila, a website is generated that can be uploaded to a server. For those that need a host, there is integration with Jekyll to host the website for free on GitHub.
While there is a comprehensive 'quick-start guide' on the Jekyll website, it hardly offers the simplicity of some competing blogging platforms that can do this all from a web interface.
However, the benefits that Jekyll offers are the advanced features, which include options for paginating posts, plenty of plugins, excerpt rendering, templates, and community-maintained themes. Plus, it supports blog migration from other platforms.
Another plus is that there is no cost to the platform, but there's no customer support besides community support. Also, since the work takes place in the Ruby development environment, most non-techies will be put off.
While some blogging platforms encourage their users to evolve and blur the line between a blog and a full-fledged website – Tumblr stands at the other end of things. Nevertheless, it must be doing something right as it claims a staggering 551+ million different blogs.
It focuses on the more concise end of the spectrum, with an emphasis on shorter content, like just an image, or link, that can appear as more of an alternate social media platform. Content is more short-form, with posts consisting of a variety of material, for example, pics, jokes, quips, Spotify tracks, and videos (keep in mind that adult content is no longer welcome). Like with social media platforms, you can also follow other blogs, and republish posts you like to your own blog.
The main benefit of using Tumblr is its simplicity and mobile-friendliness - and it costs nothing. However, it is less than ideal for more ambitious blogs, as all content remains in the Tumblr ecosystem, and there is no way to directly monetize it.
To be fair, you could add ads via companies like Google Adsense, Yahoo Bing Contextual Ads, and Infolinks, or link your Tumblr blog to your online store, business site, or YouTube channel – however, you can't do it directly through Tumblr.
Read our Tumblr review.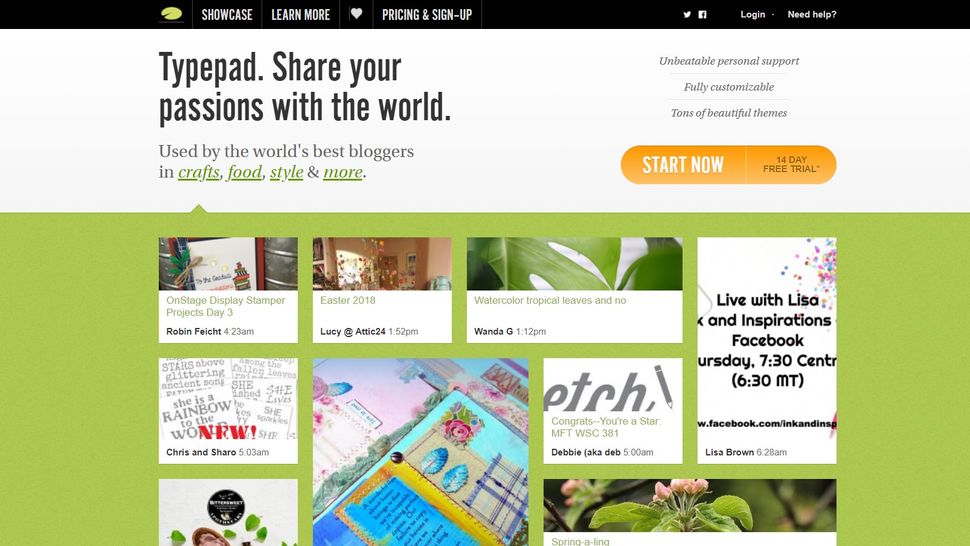 Typepad is a fully developed blogging platform designed with the professional blogger in mind. It offers a ton of flexibility, including the ability to publish from email, a web browser, or a smartphone. It also easily integrates with Google Analytics and has its own affiliate plan.
Typepad supports design customization with a Theme Builder for a custom look and the option for creating your own custom template or modifying a theme with custom CSS. It is also fully hosted and provides superb customer support.
After the initial 14-day trial, the most pocket-friendly plans start at $8.95 per month for up to four blogs with unlimited storage. Unfortunately, Typepad isn't accepting new users at this moment - instead, the company refers all new users to Bluehost.
---
Best blogging platforms FAQs
How to choose the best blogging platform
While all platforms slightly vary in terms of features, the best blogging platforms should cover all core features including an easy-to-use content editor, tons of themes and templates, some search engine optimization SEO tools (or an ability to install third-party ones), and an ample app store with extensions or integrations with third-party tools.
In addition to this, you should look for advanced security, analytics and performance tracking tools, a solid customer service, ecommerce features (if you plan to monetize your blog), and a free trial (or at least a money-back guarantee) – so you can try out the platform before spending any money.
Also, before opting for one blogging platform over the others, you should have an idea of how much creative freedom and control you wish to have over your blog – as well as what level of technical know-how you possess.
How we test the best blogging platforms
Firstly, we'll check what plans are offered by the provider, how many tiers there are, and evaluate their main and unique features while paying special attention to the value that out-of-the-box features offer in comparison to those available as add-ons.
Then we'll test for ourselves how simple it is to purchase a plan with a provider, set up a blog, and start adding content to it – with an emphasis on ease of use, functionality, and flexibility.
In the end, we'll estimate what value for money the provider offers and how do their products compare with similar blogging platforms.
What is a blogging platform?
Not long ago, the tools you would use to create a site and tools for building a blog were quite different – now, the boundary that divided them is blurred more than ever. Most content management systems (CMS') and full-fledged website builders will allow you to create and manage any sort of blog or a site.
So, nowadays, a blogging platform refers to any software-based set of tools that let you create a blog while storing all your content, media, files, links, and everything else critical for your blog to work.