Inevitably, when we upgrade our gear, we end up with older stuff that ends up sitting in a cupboard unused. No more! Put your older gear to good use with APC's great ideas for reviving old tech. We show you how to put your old laptop back to work in unexpectedly useful ways. Those old hard drives? We can do exciting things with those too! And much more. Our guide helps you extend the value of gear you may have written off as useless.
Erase your privacy concerns – and all records of your online activity. We show you how to scrub your presence from the internet and safeguard your identity.
Plus, we're pitting the two fastest CPUs you can buy against each other. Will the mighty 6GHz Intel 13900KS brute-force its way ahead of the Ryzen 7950X3D and its tricky V-Cache? Find out inside…
And all the excitement of the annual Australian PC Awards winners in this issue. We've awarded the very best gear across every category, so you know what to get and what to avoid.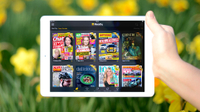 (opens in new tab)
Subscribe to APC's print edition and save!
Subscribe to the print edition of APC magazine and you'll enjoy a greatly-reduced cover price, plus free delivery directly to your door. Visit techmags.com.au (opens in new tab) for full details:

(opens in new tab)

Get the digital edition for your tablet
Alternatively, APC is also available in digital edition to read on your iOS or Android device. To purchase individual issues or take up a subscription, simply follow these links to the Apple Newsstand or Zinio:

(opens in new tab)

(opens in new tab)

Love APC? Sign up for the free TechRadar Australia newsletter!
Brought to you by the same team behind APC mag, the TechRadar Australia newsletter provides twice-weekly digests of the most important tech news, plus exclusives offers and discounts for Aussie readers!

Contact APC
Got a question for the APC editorial team? You can get in touch with us by sending an email to apcmag@futurenet.com.