Does your PC really need to be a huge, hot, noisy and power-hungry tower that reminds you of the alien monolith in 2001? No, it does not! In the June issue of APC we'll show you just how capable mini PCs have become. They can do all the work you need to do for a fraction of the cost, and they can even attach to the back of your monitor to be completely out of site. Even gaming is possible on some!
We've rounded up a sampling of mini PCs representing all levels of performance, check out the new issue to see if this is the PC salvation you've been longing for.
If you're considering a new monitor, no doubt you'll be weighing up whether OLED is the right solution. Then there's microLED, which is just starting to hit its strides. Is LCD still worth considering? APC answers all these questions and may just inspire you to upgrade to something wonderful.
We show you how to speed up your SSD – for free! How to get started with Mastodon if you've had enough of Twitter, plus how to stay safe in public Wi-Fi networks.
Plus, our famous reviews covering all the newest gear that's just landed.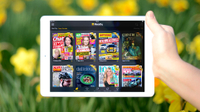 Subscribe to APC's print edition and save!
Subscribe to the print edition of APC magazine and you'll enjoy a greatly-reduced cover price, plus free delivery directly to your door. Visit techmags.com.au for full details:


Get the digital edition for your tablet
Alternatively, APC is also available in digital edition to read on your iOS or Android device. To purchase individual issues or take up a subscription, simply follow these links to the Apple Newsstand or Zinio:



Love APC? Sign up for the free TechRadar Australia newsletter!
Brought to you by the same team behind APC mag, the TechRadar Australia newsletter provides twice-weekly digests of the most important tech news, plus exclusives offers and discounts for Aussie readers!

Contact APC
Got a question for the APC editorial team? You can get in touch with us by sending an email to apcmag@futurenet.com.