Now's a great time to upgrade your SSD, or just add another one for more storage. Prices are down, capacities are up, and we've Labs-tested 14 of the most popular drives on the market. If you're building a new PC, or just needing more space in your current rig, APC's SSD guide will show you what to look for.
We've been extra busy in the Labs, with the very exciting new AMD Radeon 7900 XT and XTX cards coming under our scrutiny. Cheaper than Nvidia's 4080, and a match in many key areas. But all things are not perfect. Read our feature article to know which way to go to get the game graphics you deserve.
Plus, for relaxing reading we take a look at the resurgence in ancient operating systems, as well as the rapidly accelerating development of battlefield drones and AI.
As always, the issue is packed with reviews of the latest gear, and this issue includes the new Microsoft Surface Pro 9 and Laptop 5. The hardware is fantastic, but can the performance live up to expectations? Find out, in APC.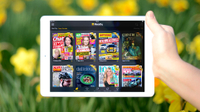 (opens in new tab)
Subscribe to APC's print edition and save!
Subscribe to the print edition of APC magazine and you'll enjoy a greatly-reduced cover price, plus free delivery directly to your door. Visit techmags.com.au (opens in new tab) for full details:

(opens in new tab)

Get the digital edition for your tablet
Alternatively, APC is also available in digital edition to read on your iOS or Android device. To purchase individual issues or take up a subscription, simply follow these links to the Apple Newsstand or Zinio:

(opens in new tab)

(opens in new tab)

Love APC? Sign up for the free TechRadar Australia newsletter!
Brought to you by the same team behind APC mag, the TechRadar Australia newsletter provides twice-weekly digests of the most important tech news, plus exclusives offers and discounts for Aussie readers!

Contact APC
Got a question for the APC editorial team? You can get in touch with us by sending an email to apcmag@futurenet.com.