It's that special time when a new CPU generation is released, along with an exciting new motherboard platform and all that brings. AMD's Ryzen 7000 CPUs have been heating up the Labs, along with a pile of AM5 motherboards.
Discover if this is the right upgrade for you, or perhaps Intel's also-new 13th Gen is better suited to your needs. We'll have the full Labs results for 13th Gen in APC 514, and for now see what AMD has come up with to tempt you.
Plus, we show you the easy - and right - way to upgrade your drivers. Many people don't bother - but you're leaving a lot of performance, features and stability on the shelf if you don't!
APC 511 CORRECTION - The Future of the PC ('Going big on bandwidth') feature error
In APC 511 our feature story The Future of the PC unfortunately contained some text that repeated itself, and as a result portions of text were also missing.
We sincerely apologise for this error and the inconvenience it may have caused.
The feature has been corrected now and is available to view or download as a PDF.
GET THE CORRECTED ARTICLE HERE. (opens in new tab)
Apologies to all readers for this slip up.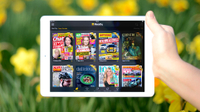 (opens in new tab)
Subscribe to APC's print edition and save!
Subscribe to the print edition of APC magazine and you'll enjoy a greatly-reduced cover price, plus free delivery directly to your door. Visit techmags.com.au (opens in new tab) for full details:

(opens in new tab)

Get the digital edition for your tablet
Alternatively, APC is also available in digital edition to read on your iOS or Android device. To purchase individual issues or take up a subscription, simply follow these links to the Apple Newsstand or Zinio:

(opens in new tab)

(opens in new tab)

Love APC? Sign up for the free TechRadar Australia newsletter!
Brought to you by the same team behind APC mag, the TechRadar Australia newsletter provides twice-weekly digests of the most important tech news, plus exclusives offers and discounts for Aussie readers!

Contact APC
Got a question for the APC editorial team? You can get in touch with us by sending an email to apcmag@futurenet.com.