Two-minute review
The Xiaomi Mi Band 5 is perhaps the company's most popular product in India, being the best-selling wearable for 11 quarters straight. Each year, they follow a tried and tested recipe, bringing meaningful upgrades to an otherwise excellent product. The same happens this year.
It continues to offer a familiar black, pill-shaped design "capsule" which is the actual tracker within a simple TPU band. If you've used any previous Mi Band, this will feel right at home. Within the same footprint, Xiaomi has managed to cram in a much better display, a few new features and reliable tracking — making it more relevant for the lifestyle people have today. While it's no smartwatch, you can still view calls and notifications or use it to control media playback.
It's also a great entry point for those who want to get started with fitness, bringing a healthy suite of features such as exhaustive activity tracking, PAI, heart-rate sensing, sleep monitoring with reasonable accuracy. When combined, these do take a toll on the battery life, but still manages to average at around the 10-day mark on a single charge. The best part? Gone is the old finicky charging mechanism in favour of a new foolproof implementation.
These minor improvements make the Xiaomi Mi Smart Band 5 one of the best budget fitness trackers currently available in India, punching well above its weight. If you're looking to get (back) into fitness this year, it is a good starting point that won't break the bank.
Mi Band 5 price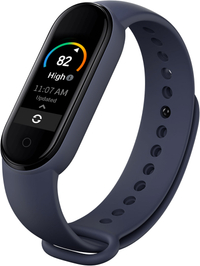 (opens in new tab)
Launched in India in September, the Xiaomi Mi Smart Band 5 is priced at Rs 2,499 (opens in new tab), which includes a standard black strap and the new charging cable. While the third-party accessory market is still developing, Xiaomi does sell replacement bands in other colours for Rs 299 (opens in new tab).
Design and display
The Mi Band 5 follows the same design philosophy that the product line has been building upon since the first generation. You get a minimal black-coloured pill-shaped tracker that has the display on the front and sensors on the back. It is housed within a TPU plastic strap, which uses snap locks. It has enough options to fit wrists of all sizes.
In fact, you'd be forgiven for mistaking the Mi Band 5 for the Mi Band 4; at least till you turn on the display that is. The new screen grows by about 20% to 1.1-inches, is a lot sharper at 126 x 294 resolution, and gets brighter at 450 nits. In short, it is a great display that will serve you well in all lighting conditions. Since most of my current usage was indoors, I rarely had to go beyond the second or third level of brightness. Though, the lack of an ambient light sensor means that you'll have to manually set the brightness whenever the environment changes.
Under the display is a single capacitive button which is used to go back by one page. The entire fascia can seem a little unresponsive, but it had to be done to avoid accidental inputs by stray touches or water.
That extra screen real estate is also welcome because it means more information can be displayed at once, which is most noticeable on the watch screen. Xiaomi also seems to have increased the size of its icons, making it easier to glance at your information during the day.
Like its predecessor, the Mi Smart Band 5 has a 5ATM waterproof rating, which does make it suitable for jumping in the shower with it or putting its pool swim-tracking features to good use.
The favourite change for most people will be how the band is charged. Gone is the infamous charging cradle that needed rubber bands to work properly. It is replaced by a cable that snaps into place with magnets, without the need of removing the capsule from the band.
Overall, it is pretty comfortable and lightweight to wear for extended periods of time or even take to bed.
Features
With every new Mi Band, Xiaomi has sought to improve its uses outside of fitness and sports tracking and that doesn't change with the Mi Smart Band 5. It's compatible with Android phones and iPhones, bringing you features like the ability to view phone notifications, view weather forecasts, control music playback on your phone and taking smartphone photos remotely. Bottom line: it crams in a lot.
Mind you, it is no smartwatch. While you can see who is calling, you can not answer an incoming call - only reject or dismiss it. Similarly, most messaging apps will show you a short preview of a new notification, but there's no way to scroll further or respond to them. Having said that, music playback controls and weather forecasts are well optimized.
Navigating through the entire interface isn't too bad either. Vertical swipes are for settings while scrolling sideways will take you through the key features. Some options such as alarms and remote shutter are hidden a little deeper, but those are anyway unlikely to be used that frequently. Athe alarm functionality can basically get the band to vibrate vigorously to get your attention. It worked for me, but deep sleepers might find it insufficient.
We shouldn't forget to talk about the Band faces you have to pick from on that main screen. The bump in screen quality on the Mi Band 4 meant Xiaomi could be a bit more playful and adventurous with faces, and with the Mi Smart Band 5 it's added a number of animated faces that need to be synced over from the Mi Fit companion app. You also have more control over what health and fitness data is displayed on those faces, which can be changed on the device itself. If the 100+ available faces aren't enough, you can also design custom watch faces with your own images and complications.
While you can see a fair amount of data on the Mi Band itself, you'll need to head to the Mi Fit companion phone app, which is compatible with Android and iOS. It's here where you can see more in the way of trends and the place to adjust band settings. From a syncing point of view, we had no issues with either iPhone or Android in our testing. You'll need to jump into the app to sync data, and it's pretty quick at syncing that data too. There are also dedicated tracking screens for walking, cycling and running when you want to use your phone's GPS, and you can connect with other Mi Band-owning friends.
Although, because it tries to do so much, the companion app can feel overwhelmingly confusing. Some smarter way of sorting the contents would be really helpful. Since the Mi Fit app will be the hub for most functions, it's worth spending some time to make yourself acquainted with where the individual toggles lie. Unlike Wear OS, changing the paired phone of the Mi Band 5 is pretty straightforward: just install the app and log in, and all the data and preferences will be right where they were left.
Fitness
Coming to fitness, the Mi Band 5 uses sensors such as an accelerometer, gyroscope and a heart-rate sensor to track activity. There's no in-built navigation, but it can harness the connected phone's GPS functionality to map outdoor activities.
Data such as daily steps, distance covered, calories burned, idle alerts and current PAI levels are easy to check. Personal Activity Intelligence is a feature borrowed from Amazfit and is regarded as a more holistic approach to fitness by not just counting steps but checking overall activity levels throughout the day. You'll be given a PAI score to begin with, and the target will increase over time.
When you're ready to get into the zone, head to the Workouts section on the watch and choose from any of the 11 sports modes: running, power walking, cycling (indoor and outdoor), treadmill running, pool swimming, skipping, elliptical, yoga and a freestyle mode. For the ones we could test, the accuracy seemed decent. Getting GPS support set up for outdoor activities is a bit fiddly because you need to head into the phone app to enable it, but once that's done, you'll be able to record key metrics like pace, distance and cadence, which we found to be pretty reliable.
The heart-rate monitor can be set to read your pulse at different intervals to create a better report. This will however come at the cost of increased battery consumption. For the most part, we found that the pulse readings were fine or a little higher. Nothing too bad, especially if you just use the data as reference points and not a medical instrument. In case you're wondering, hair or sweat didn't really bother the scanner.
Sleep tracking also makes the cut, giving you a detailed breakdown of REM sleep, naps, sleep quality analysis, sleep regularity, and sleep data comparison with similar users. It is further gamified with a sleep score which encourages people to improve sleep quality. I found the metrics and score to be in line with my experience.
Other notable features include stress tracking and guided breathing exercises, which we've seen crop up on many other wearables, and round off a comprehensive set of features.
Battery
Xiaomi claims that the Mi Band 5 should last for about 14 days. In my testing, the figure was close to 10 days, with about an hour of active fitness tracking daily and a fair bit of notifications. Based on the mix of features enabled, your mileage may vary. Overall, I'd still call it good battery life that can be forgotten for over a week at a stretch. Charging takes about 2 hours.
Verdict
Buy it if...
You want an affordable fitness tracker
Despite its a high quality touchscreen display and an impressive range of features, Xiaomi has managed to keep the price down and make the Mi Smart Band 5 feel much more expensive than it is.
You want a great screen
Xiaomi has managed to include of the best screens you'll find on a fitness tracker, making viewing your data a joy – even compared to devices that cost a lot more.
You want a hybrid sports watch and fitness tracker
The Mi Smart Band 5 offers surprisingly rich tracking support for a range of activities. If you're happy to head out with your phone, that connected GPS support will make sure you get a good hit of data too.
Don't buy it if...
You want something that looks stylish on the wrist
While Xiaomi offers additional bands, and the screen is exceptional, you can certainly find a tracker that has a bit more personality and can be dressed up to look less like a fitness band.
You need accurate heart rate data for fitness
When it comes to sports tracking the Mi Smart Band 5 can be inconsistent in terms of accuracy. You don't have support for external chest straps to improve that, either.
---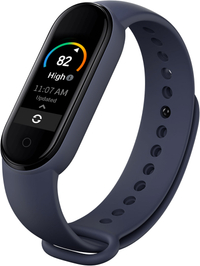 (opens in new tab)