How to start an Amazon business
Everything you need to finally start an Amazon business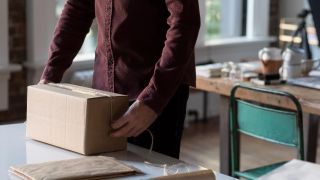 (Image credit: unsplash)
Amazon is the world's favorite online retailer, a place where hundreds of millions of customers spent $500 million+ a year on everything from electronics and entertainment to sports goods, clothing, beauty, home products, kitchen and almost anything else you can imagine.
The figures are staggering, but Amazon' isn't doing this all on its own. There are around 10 million sellers using the platform to market their own products worldwide, and if you have something to sell, you could get a share of profits.
This guide will walk you through the process of starting a business on Amazon, and offer tips on how to make it a big success.
Chapter 1
Amazon marketplace overview
Amazon Marketplace is an e-commerce platform where third-party sellers can market their own products on the Amazon site. These are some of its benefits.
1. Large customer base: Amazon has an army of customers from around the world, and they regularly visit the site to search for products. Access to that kind of audience is perfect for generating sales and growing your business.
2. Reliability: Amazon has spent years in investing in its infrastructure, and the end result is a fast and reliable site which works exactly as its visitors expect, just about all the time.
The end result is a site which has earned the trust of hundreds of millions of buyers worldwide. Sell on Amazon and you immediately get a share of that confidence.
3. Global reach: If you're currently selling products in your own country only, Amazon's global reach could be a huge opportunity. You can easily list your business in dedicated marketplaces for specific countries, such as Amazon.com (United States), Amazon.co.uk (United Kingdom), etc. Even better, Amazon Marketplace gives you access to multiple languages support, you need not worry about how to create product descriptions, listings, and support in the language of the target audience.
3. Makes ordering easy and convenient: starting an Amazon business makes ordering easy and convenient, especially for your customers. Amazon has a user-friendly interface that makes it easier for shoppers to browse through the catalog of products and place orders with ease. The user-friendly interface makes it convenient for customers to find whatever products they are looking for in just a few clicks. With Amazon you can provide your customers with the necessary information they need on the products they want to purchase, this includes the product description, specifications, benefits, value, reviews, and virtual representation of the products.
This information helps the customer to know the kind of product they want to buy and also creates a picture of what the products look like and how it will benefit them in their mind.
4. Payment options: you can choose which payment option is best for you. Shared or individual payments are available for you or another administrator of your Amazon Business account. Debit cards, credit cards, and the Amazon corporate credit line are the three types of shared payment options. The payment method may be utilized by any authorized user of your business account to make purchases on your behalf. While the card you add can be used by any authorized account users, just the last four numbers are visible to them to increase security.
Your user and management options are enhanced as a result of the Amazon corporate credit line. You can approve several buyers on a single account, get reports on your transaction history, and use a purchase order as payment. It has simple-to-comprehend statements and doesn't charge annual fees. Account administrators can control payment methods, including both private and shared ones, as well as delivery addresses, making ordering straightforward for all customers in your business.
5. Advertising support: There are various advertising opportunities in the Amazon marketplace. Amazon's advertising options include Sponsored Products and Sponsored Brands, which promote specific products in search results, increasing their discoverability and generating more sales.
Amazon advertising allows sellers to increase their visibility, especially in a very competitive market, with sponsored products and brands, sellers can put their products on the front to appear in search results thereby increasing the chance of their products being seen by potential customers.
Smarter advertising helps sellers to target your ads based on factors like interest, demographics, location, age, keyword and more, ensuring your messages reach the most relevant people.
Access to Amazon tools and programs: Starting an Amazon business gives you access to many exclusive tools and programs. For example, the inventory management tool helps sellers effectively manage their stock, making sure that products are always available and avoiding stock-outs.
A+ content (also known as enhanced content) uses high-quality images, engaging videos and detailed descriptions to effectively communicate your product features, benefits, value, specifications, etc.
Other extras include a host of promotional opportunities such as Lightning Deals, Coupons, and Deal of the Day, ideal to increase customer engagement and boost sales.
Benefits of starting an Amazon business
Chapter 2
What you need to know before starting an Amazon business
Before starting an Amazon business there are things you need to know that will help you in your journey.
Here are factors you need to consider before starting an Amazon business.
Amazon seller account types: Before starting an Amazon business you should understand the types of Amazon sellers account, and think about which one is best for you. These are your two options.
Individual sellers account: this account is suitable for beginners and sellers that have low sales volume with less than 40 sales units per month. Here are some features:
1. Sellers pay per item fee for each product sold, therefore there isn't a monthly subscription fee for sellers in this account.
2. Access to tools and features is limited, unlike sellers in professional accounts.
3. Sellers that choose an individual selling account may not be eligible for certain programs and also may be restricted from using advanced selling tools.
Amazon individual sellers are charged $0.99 for each item sold. One disadvantage of an individual seller's account is that you cannot offer free shipping to customers to lure them to your store and you can't sell on Amazon restricted categories like personal care, grocery, clothing, health, footwear, watches, beauty items, etc. and also Amazon decides the shipping rate for you.
Professional sellers account: This is an ideal account for individuals who want to make huge sales on Amazon, and individuals who plan on making more than 40 sales each month. Here are some of the features of professional sellers' accounts:
1. It includes a monthly subscription plan of $39.99,
2. With this account, you have access to advanced tools to help in the management of your store,
3. There is an inventory listing tool that lets you create a listing page for your products.
4. It also gives you access to promotional opportunities and inventory management (but these may require paying extra fees.)
5. People using professional seller's accounts have access to restricted categories and Amazon APIs for integration.
Competitive analysis: As a seller, you need to know who your competitors are on Amazon, how they list and market their products, how they market their products, their pricing strategies, and the feedback they get in customer reviews. Identify your competitor's weaknesses and strength, for clues on how to differentiate your business from theirs.
Performing a competitive analysis serves as a guide to your path of business success, allowing you to identify market opportunities and gaps. It helps you to know the areas with less competition, and how you can position your business for greater success.
It's just as important to learn who your customers are, and what they are looking for (you can't sell to people you know nothing about.)
Analyzing your direct competitors' reviews, pricing strategies and product offerings gives you insights on what your customers are after. Knowledge of this helps you understand how to channel your marketing strategy, pricing, and customer experience to serve your customers better and meet their expectations.
It's important to learn from your competitor's strengths and weaknesses. Analyzing their customers' feedback and reviews gives you insights between your customers' pain points, needs, issues, and products. By carefully studying these areas you can identify ways you can provide better customer service to your audience, and also avoid mistakes competitors may have made.
Conduct product research and selection: before starting an Amazon business you need to conduct thorough research on products to identify those with low competition, and high market demand. Conduct an analysis to know the trends, search volumes, and customers' preferences for a product before deciding your next move.
To know how profitable a specific target market can be, thorough research is needed. You need to know the production costs of a product, pricing, Amazon fees, and profit margins to enable you to estimate the profitability of selling a particular product. Consider issues like seasonality, too: collecting this kind of detail is a vital part of identifying profitable and in-demand products, and ensuring the long-term success or your business.
Fulfilment method: you need to decide if it's best to use Amazon FBA (fulfilment by Amazon) or to use your fulfilment (FBM, or fulfilment by merchant). Although FBA comes with additional fees, it can have a lot of advantages for your business.
Difference between FBA and FBM:
a) With FBA your logistics are insured. FBA takes care of your logistics including storage, packaging, and shipping while with FBM the seller is responsible for the logistics.
b) FBA provides customer service and support on behalf of the seller; with FBM, the seller handles the customer service and customer support.
c) FBA allows sellers to offer prime-eligible products to customers, because of its fast shipping and prime membership perks it attracts more customers. While with FBM, sellers can also offer prime eligible products to customers, but they have to be specific and offer products within timeframes.
d) With FBA sellers pay for storage, packing, and shipping service provided by Amazon. FBM sellers are more in control of their costs, since they handle fulfilment themselves, but they must still pay for their own warehousing, packaging material, and shipping costs.
Advantages of using FBA for sellers
Some of the benefits or advantages of using FBA for sellers include:
1. Prime eligibility: prime-eligible products bring customers fast to your doorstep. FBA allows sellers to offer prime eligible products to customers, which is of huge benefit to customers. Prime members prefer prime-eligible products because of their fast shipping benefits and free shipping. This is a huge benefit to sellers because it increases visibility, conversion rate and improves customer satisfaction.
2. Expanded customer reach: FBA has a huge advantage over sellers. By utilizing FBA sellers can reach thousands of customers worldwide. With FBA you can access Amazon shipping and delivery.
3. Trust and customer confidence: with FBA you can earn the trust and confidence of your customers. Amazon has made a name for itself worldwide and with its reputation your store can easily earn the trust and confidence of customers, especially with its fast and free shipping benefits.
4. Multi-channel fulfilment: FBA offers multi-channel fulfilment capabilities. Assuming you have an online marketplace or another channel apart from Amazon, with FBA you can fulfil orders from other channels, providing you with the ability to scale your business on different platforms.
Business setup and legal considerations
There are legal requirements that should be met if you don't want to lose your business when run into some legal or financial situations. Before setting up your business you need to decide on the business structure.
Determine the business structure
Your business structure is an important legal consideration which greatly influence how you manage your finances, pay tax and more.
These are the two most widely recognized business types.
Sole proprietorship: This type of business managed by one person alone. This is the most common type of business structure and very simple to set up, all you need is to start selling something, and boom! You are already operating as a sole proprietorship.
One huge advantage of a sole proprietorship is total control, you have authority over every affair of the business, and you don't need to consult anyone like shareholders, partners, etc. A sole proprietorship business is very easy.
The problem is that you, as the sole proprietor, are personally liable for any debts, lawsuits or other legal issues your business may encounter. There's no legal protection.
Limited Liability Company (LLC): An LLC (Limited Liability Company) is a US legal structure that shields owners from financial obligations and other responsibilities. An LLC legally separates the owner(s) from the business, in contrast to a sole proprietorship. This means that any debts or legal actions that your company may face will be handled by the LLC, not you personally.
Unlike sole proprietorships, LLCs are allowed to have more than one member.
You must submit documentation to the secretary of state of the state where you intend to conduct business to establish an LLC. If your firm is medium- or high-risk, you want to preserve your assets, or you want to pay less tax than you would with a corporation, this structure may be a good choice for you.
The main difference between the two is how much more security you have with an LLC. An LLC is a legal entity that can be used to run a business, open a bank account, borrow money, sue, and be sued. Real estate can also be bought and sold through it.
If your LLC business is sued or incurs debts, then unlike a sole proprietorship, you are not personally responsible. Creditors of your firm cannot seize any funds or property that are not owned by the LLC, such as your house or personal savings.
Register your business and obtain the necessary permits and licenses
You don't need to register your business to start selling on Amazon marketplace, neither do you need a seller's permit, but your state government might want you to register your business. It's very important to comply with the legal requirements of your state or country which might include registration of your business and obtaining necessary permits and licenses.
To register your business it's best you contact the legal and local business authorities to ensure you comply with the laws and regulations.
Typically, you'll visit the appropriate government agency or website that is in charge of registering businesses in your country or region. This usually involves paying a fee and filling out some necessary documents. Moreover, you also need to provide some necessary information about your business like your business name, details, address, contact details, etc.
Getting a tax identification number usually depends on your location. For instance, in the US, the Internal Revenue Service (IRS) would require you to request an Employer Identification Number (EIN).
After obtaining a tax identification number depending on your location, you need to check i.e. conduct some necessary research to know the permits and licenses required to sell specific products in your region or country for example these licenses or permits can include basic business licenses, licenses for collecting sales taxes, permits for health and safety, or customized permissions for particular items. Consult the appropriate government authorities on this. Also if your region or country requires you to collect sales tax, then you need to set up a sales tax system to collect tax.
Set up a separate bank account and payment system
Setting up a separate bank account and payment system for your business is very important as there are a lot of advantages that come with it.
These advantages include:
1. Financial organization: if you separate your business bank account from your personal account it helps you to be more organized. It helps you track your profits, revenue, and all business expenses correctly, and makes your financial analysis much easier.
2. Legal and liability protection: it's very important you maintain a clear distinction between your business and personal bank accounts. This will help you separate and protect your personal account in case of any legal issues or disputes.
3. Simplified bookkeeping: separation of your account simplifies your bookkeeping process. It helps you understand how your money is coming in, where it's coming from, and where it's going. The clarity separation of your account provides makes it possible to avoid unnecessary financial and bookkeeping errors.
4. Improved financial insights: This enables you to gain clarity and better visibility and understanding of your business. Separation of your account helps you effectively monitor cash flows, revenues, and expenses, and better understand the profitability of your business.
How much money do you need to start selling on Amazon?
How much do you think you need to start selling on Amazon? Amazon ecommerce experts Jungle Scout reports that most sellers (69%) had an initial investment of around $5,000, but 32% started with less than $1,000, and 16% got started with $500 (or even less.)
Whatever your budget, it's important to consider the other outlays you might encounter when you're selling on Amazon.
1. Required costs: the necessary money you need to pay to start selling on Amazon.
2. Inventory cost: customers will expect you to deliver goods quickly, so you'll have to keep a stock of products to ensure they're immediately available.
If you're just starting out selling on Amazon, you might be hesitant to invest a lot of money in inventory as you don't know for sure which products will be popular. Keep your spending low at first, until you know which products sell best and what your stock levels need to be.
3. Extra costs: You can see these as costs that you need to boost your business early. This includes Advertising costs (advertising on Amazon is less expensive. The current average cost per click on Amazon is $0.35).
Other factors which can affect your Amazon selling costs include:
1. Monthly subscription fees: For individuals that choose a professional seller account, you need to pay a monthly subscription fee of $39.99. then individuals who sell less than 40 units of products each month have to pay $0.99 for each product sold.
2. FBA fees: The prices you pay may vary per order if you're selling through Amazon FBA. For instance, you will be required to pay Amazon extra to complete a larger order.
There is a monthly storage fee associated with FBA, as you're using space in Amazon's warehouses. From January to September, you'll pay $0.69 per cubic foot, and from October to December, $2.40 per cubic foot.
3. FBM fees: Sellers using Amazon's Fulfilled by Merchant (FBM) program are in charge of fulfilling their own products, in contrast to FBA. Reduced fees are one of its key benefits as compared to FBA.
Amazon Professional selling plan members that use FBM can choose their shipping costs.
4. Referral fees: You must pay a referral fee of 6% to 20% for each item you sell on Amazon. The kind of products you sell in your Amazon store determines the referral fee.
For instance, you might anticipate paying an 8% fee if you sell any electronics in your store. On the other hand, if you're selling clothing, you'll be spending about 17%.
5. Customer returns fees: As a seller, there will be times when a customer will return a product either because it's defective or they are not satisfied with the product. You will be in charge of covering those costs.
Which type of business is best on Amazon?
The best type of business to do on Amazon depends on your interest, market demand, and resources. Here are the types of businesses you can start on Amazon.
Private label
A private label is a type of business that involves getting a product from a third-party manufacturer, rebranding is as your own, and selling it at a higher price. This can be lucrative if you choose your products wisely and negotiate a good price, but you need to have experience in branding and marketing to make it a success.
Drop shipping
This is a very popular type of business and is commonly used by individuals who want a simpler way to start in ecommerce. Dropshipping is very easy to start and manage since you don't need to worry about inventory management, shipping, and packaging the products. All of these are handled by your supplier.
Essentially, being a drop shipper on Amazon means you're selling a product on behalf of the supplier. Once a customer purchases from your store, you notify the supplier, who handles everything necessary to get the products delivered.
It's essential to get a supplier you trust before going for drop shipping. If your supplier delivers poor quality products, or maybe runs out of stock and doesn't deliver at all, these can cost you the loyalty and trust of your customers.
Retail arbitrage
This involves finding products from physical stores and then selling them on Amazon for a higher price. This is a very popular model for entry-level business models. By purchasing items in quantity at a discount and raising the cost to sell on Amazon, the business model enables sellers to profit from in-demand products. It is a straightforward idea that, as you accumulate an inventory and learn which product lines offer the most sales prospects, can help you produce a sizable stream of income over time.
You must take into account the initial price of your product and the amount you are selling it for, less the typical Amazon fees, to determine the profits made via retail arbitrage. Make sure you conduct a lot of competitor research to discover what other merchants' price points are so you don't go too high or cheap.
Online Arbitrage
This is similar to retail arbitrage but here instead of products being sourced from physical stores, products are sourced from online retailers. Comparing prices online can be easier than doing it in physical stores. To find possibilities and determine whether each potential purchase is profitable, you can immediately compare prices with Amazon.
It's a surprisingly simple process, and there are more opportunities appearing all the time. Every day, more ecommerce websites are created, allowing you to find tiny or emerging businesses that might provide their goods for less money.
Handmade Products
This business is perfect for you if you are skilled in crafts. You can decide to open a store that sells unique handmade products.
Not every vendor has the ability to begin producing their goods from scratch. Even if you've the skills, you may not have a proper workshop, or the time to manufacture the goods. But this approach can be very successful if you're able to produce an in-demand product which can't be found anywhere else.
Chapter 3
How to set up your Amazon Seller account
For the moment you have been waiting for? In this section, we'll give you a step-by-step guide on how to set up your Amazon seller account.
Choose the appropriate seller plan (individual or professional)
Before setting up your business you need to choose the appropriate seller plan that is right for your business.
Also, remember the plan you choose depends on what you want to use your account and do, but for serious sellers, we recommend choosing a professional seller's plan.
Individual sellers plan
This plan requires you to pay a fee of $0.99 for each product sold. This plan is for individuals that sell less than 40 units of products per month. It's ideal for individuals who aren't quite sure what they want to sell yet, but want to try out Amazon business to see if it works for them.
Professional sellers plan
This is a perfect plan for serious sellers who aim to sell more than 40 products each month. This plan costs $39.99 a month, which gets you benefits like shipping, brand registry, Amazon advertising options, free shipping, promotions etc.
Sign up for an Amazon Seller Central account
To get started with Amazon business, visit sellercentral.amazon.com and click on the SignUp button.
Choose a password, then provide and confirm your email address.
Read Amazon's signup instructions carefully, to make sure you know exactly what Amazon expects from you, and what you can expect from Amazon.
Finally, provide information about your business, such as its location and business type. Whatever choice you make affects the status of your account, so choose carefully.
How to list and optimize your product
To get your product found you need to optimize your product listings online. Amazon's algorithm to prioritize their product suggestions is based on seller conversion metrics, like price, performance, customer satisfaction & sales history. To optimize your product follow the steps below
Create compelling product listings with high-quality images and descriptions
Create a rich product listing with detailed information about the products you are listing. Talk about the product's features, benefits and value, and include all the most relevant specifications in the product description. Always use clear and descriptive language.
When choosing images for your products, avoid low-quality blurry shots. We'd recommend high quality 500x500 or 1000x1000 images, where the product occupies 85% of the frame, and there's little or no unnecessary background to get in the way. Show the item from multiple angles if that would help others understand its attributes and benefits. If necessary, hire a professional photographer: it's an extra cost, but could pay dividends later.
Utilize relevant keywords for better search visibility
Effectively utilizing relevant keywords paves the way for your business success. To search for the right keywords to use for your product you don't need to go for another tool, Amazon has a mega power keyword tool that you can use to search for products, get insights on the best keywords to use for your product, and understand the search queries your customers are using to search for products.
To begin your keyword analysis, follow these steps.
Fill out the Amazon search bar with a range of words and phrases. Check out the drop-down choices after that, and begin constructing a list of pertinent keywords for comparable postings
As a beginning point for your listings, use competitor results. Try comparable searches on Amazon.com to see what is currently available. compare product search keywords next
For further inspiration, look through the Amazon-related and suggested item categories
Consider both long-tail (very specific, but low traffic) and short-tail keywords (very general and high-traffic) while making your list
Optimize pricing strategies to maximize profits
The price you set for your products is a huge influence on your sales growth and conversion rate. To optimize your pricing strategies, research what your competitors are doing, and look at how you can develop a compelling price for your niche.
This is a constantly moving target as sellers change their individual strategies, but Amazon has a pricing tool can help you automatically adjust your price.
Don't forget to include your shipping costs. For example, if a product costs $5- $8 and you charge $6 for shipping, customers may run off to what looks like a better deal.
Implement product reviews and feedback management strategies
Use Amazon's Review Automation tool to automatically request a review from buyers between 4 and 30 days after a product is delivered.
Positive reviews are ideal, and can go a long way to persuade potential customers that you're running a quality business.
Negative feedback and reviews aren't as much fun, but it's vital that you pay them very close attention. Some negative reviews will be unfair, but others could be giving you very important information that you really need to understand and address.
Chapter 4
How to market and promote your product
We will be looking at ways you can market and promote your product on Amazon.
Develop a marketing plan to increase product visibility
To effectively market your products you need to develop a marketing plan and its implementation tactics. What do you want to achieve with your marketing strategy and efforts? Write down what marketing plans you have and the tactics you intend to use to promote your product. Your marketing plan could include a mixture of traditional marketing, influencer marketing, social media marketing, email marketing, digital marketing, etc.
Utilize Amazon advertising tools (sponsored products, brand Registry, etc.)
Amazon has a list of advertising tools such as sponsored products, brand registries, etc. Amazon advertising works as a pay-per-click advertising model. Sellers only pay for the ad when a customer clicks on the ad, it doesn't matter if the product sells or not. Amazon advertising tools help to improve your brand awareness, it also teaches you the best way to reach your targeted audience, and how you can acquire customers at a given time.
Amazon-sponsored products use a type of Amazon advertising tool that appears on the product details page Oland on search results. It is a pay-per-click marketing model. To measure your sponsored products ads we recommend you use a reporting tool that displays your ads' clicks, and advertising cost of sales.
Another type of Amazon ads is Sponsored brand campaigns, this enables you to promote keywords targeted for multiple products. With this, you can direct customers to your store on Amazon. It's also a pay-per-click advertising model. We also have Product display Ads, this type of ads focuses more on upselling or cross-sell to your customers. This type of ad is available to all advertisers, not only to sellers on the platform. Unlike the first two types of ads mentioned, they are only available to advertisers on the platform. To measure the performance of your product's display Ads you can use reporting tools that show you details on your marketing campaigns' clicks, sales, advertising cost of sales, detailed page views, average cost-per-click, etc.
There are other types of Amazon advertising tools like video ads, Amazon native ads, and Amazon stores.
Implement off-platform marketing strategies (social media, influencer collaborations)
Apart from Amazon advertising, you should implement off-platform marketing strategies like social media marketing, and influencer collaborations. Promote your business and product listings on social media platforms, websites, or blogs. Create compelling content on your social media platforms.
Influencer marketing is a very effective method to market your products. Collaborate with influencers in a similar niche like you who have enough followers and engagement on social media platforms like TikTok, Instagram, Facebook, YouTube, etc. This will help increase brand awareness, and generate more sales.
Monitor and analyze marketing performance to optimize campaigns
It's important to regularly monitor and analyze your marketing performance to optimize campaigns using Amazon's Seller Central or third-party analytics tools. Monitor your sales performance, clicks, and metrics. This will enable you to know how your marketing strategy is performing, it also gives you insights on the areas to make adjustments, based on feedback and data you received, you will improve your products performance.
Keep records of the key performance of your marketing activities such as traffic, conversion rates, sales figures, and customer feedback.
How to provide excellent customer service
Providing excellent customer service can help you excel in a specific niche and also earn you the trust and loyalty of your customers. Every customer wants to be heard, they want to feel special and need to be treated that way. However, providing excellent customer service depends on your relationship with your customers. You need to build strong relationships with your audience if you want to earn their loyalty. In this section, we will be talking about how and why you should provide excellent customer service to your audience.
Be friendly: Sounds simple? This is the number one most important rule of providing excellent customer service to your audience. You have to be friendly to your customers when providing services to them. Sound friendly, use friendly emojis when talking to your customers online, and make them feel they are speaking with a human and not a bot. You need to be kind and show them you understand whatever might be going on in their mind, whatever issue they have on a particular product, don't scare them away, but rather embrace the issue and provide a solution.
Friendly customer service has a huge impact on your customers both on existing customers and potential customers. One of the worst things you can do to a customer is to ignore them when they need you and also sound rude to them.
Provide excellent customer service to enhance customer experience: According to statistics, 68% of customers will likely tell their families of any bad experience they had with a brand and also post it on social media. The way you carry your customers will determine if they will remain loyal or even be loyal. One thing about your customers you should know is that the way you treat your customers will affect your business either positively or negatively. When a customer receives poor customer service from you, they will likely tell the public, and post it on social media platforms, therefore, ruining your brand's reputation. To enhance your customer service and customer experience, you need to listen to them. Evaluate the kind of issues they have, and what they share with you and find out ways how to provide better service and solve their issues.
Monitor and respond to customer inquiries and feedback promptly
When attending to customer's queries be prompt. they won't want to wait forever to be attended to. In today's market, the quality of customer service you render is very important in determining the loyalty of your customers. The customer's unique experience cannot always be fully recorded and analyzed, but when combined with customer satisfaction surveys, this data, such as call recordings in contact centers, emails from customers, and interactions on social media, can help an organization better understand the customer experience. With the use of these data, businesses will be able to enhance customer happiness and boost brand loyalty by better serving clients and precisely tailoring items to their needs.
To improve your customers' experience keep an eye on interactions, you may hear from your customers. This is where analytics for the contact center is useful. Text analytics locates emails and chat conversations that need to be monitored, while speech analytics locates calls that are important for review.
Record every avenue of client feedback. Apply the same quality standard to text-based interactions like email and chat that are used for calls.
What does your customer think? Asking your customers what they thought of their experience will yield better results than utilizing your company's own metrics to assess the quality of a conversation.
Encourage customers to leave reviews and provide feedback
You can do this simply by asking, although, it can be tricky to get customers to leave feedback on a particular product purchased. Most customers don't like the idea of telling you if they are satisfied with your service or not, but does that mean you shouldn't try? Of course not, customer reviews are important for your store's search engine optimization. You either encourage customers to leave reviews and provide feedback by either asking directly or indirectly but using both methods can be the best. The best time to ask your customers is to ask shortly after a purchase, allow them to use the products first before asking. You can also ask after a repeated purchase. You can also ask for feedback and reviews by including review links in receipt and shipping emails. You could also ask for reviews in the delivery email (as it's ideal to do so after the product has been received).
Another way you can ask your customers for reviews and feedback is by reminding your customers how reviews and feedback help your business to grow. Customers who are happy with your products and services will likely be happy to leave a review and also be happy to promote your product to their friends and families. You can also encourage customers to provide feedback and reviews by giving them multiple ways they can leave a review either on Amazon, social media platforms, or email.
Chapter 5
How to be successful with Amazon Business
It's one thing to start up a business on Amazon, it's another thing to be successful in your niche. In this section, we will be providing you with 6 tips on how to be successful in the Amazon business.
6 tips on how to be successful in Amazon business.
1. Know what you need to sell: you need to determine what you want to sell. The niche you are interested in. This is the first step to success in Amazon. If you find the best niche you want to focus on then you can have a more specific audience. Choose a product that has high demand but low competition, and don't enter an already saturated market. Carefully research the niche or products you want to focus on, evaluate the pricing strategies of your competitors in that niche, read reviews of what customers think of the products they bought, and also it's important to check the seasonality of the products. Know which time of the month, holidays, or season the products experience more sales.
Once you know the products you want to sell, you need to know who the products appeal to. Who are your target audience, carefully define your audience, know who they are, their pain points, demographics, locations, etc.
2. High-quality products: to be successful in the Amazon business, you must sell high-quality products. Sell products that are of good quality. This will enable you to earn the trust of your customers. Make sure the product descriptions, specifications, and benefits you provide on the platform are what your customers will see when they make purchases. Keep them satisfied and come back for more.
3. Choose your sales channel: choose the place or channel you will market your products. There are many marketing channels, you can market your products on social media platforms, or through influencer marketing, traditional marketing, affiliate marketing, website, etc.
Social media can be a great marketing site for your products. If your audience is on Facebook or Instagram for example then you should leverage the power of these platforms to increase your brand awareness, and increase sales. You can also decide to run ads on these platforms, for example running ads on Facebook is very cheap, and you can run ads on the products you want to sell. In case you want to drive customers to your store, then you can run some ads, to increase your store traffic.
Another channel you can utilize to market your product is influencer marketing. Influencer marketing is a type of social media marketing in which a brand collaborates with a social media influencer to sell or market its products to its followers. These influencers are not literally celebrities, they can be anyone with a large audience or followers on social media. Choose a marketing channel wisely.
4. Optimize your product listings: As I said earlier, optimize your product listings by creating informative, and compelling product descriptions, also high-quality photos. Optimize keywords effectively, and use relevant keywords on your site.
Use the Amazon search toolbar to effectively search for popular keywords for a particular product. When creating an image for your product, go for high-quality photos. Avoid posting blurry images of your products, it's a big turnoff for your customers. Use 500 x 500 or 1000 x 1,000 pixels to increase listing quality. The ideal number of photos is thought to be 5 to 6.
5. Work on your Amazon SEO. You need to know the Amazon search algorithm to be able to be successful in your business. Amazon might have a similar SEO with Google but the difference is that Amazon is a buying platform and not a search engine.
To work on your Amazon SEO you need to conduct keyword research to identify high and most-used search terms for your product. Make sure your keywords are incorporated into your product title. Another way you can work on your Amazon SEO is by writing compelling and informative product descriptions. Make sure you highlight the features, specifications, and benefits of the products. Use bullet points to highlight the features of your products and also include relevant information. Remember it's important to stay updated with the latest change in Amazon's algorithm.
6. Stay organized in bookkeeping and accounting:
Being organized especially in your bookkeeping is a very important step if you want to successfully run a business on Amazon. Accurate financial records allow you to keep track of your finances, expenses, assets, liabilities, and revenues. Keep your finances healthy by keeping accurate financial records. Staying organized in your bookkeeping gives you insights into your company's financial performance, it enables you to effectively evaluate your business performance. You will be able to know if you are headed down the drain or on the right track. With accurate and organized bookkeeping, you will be able to generate the profit and loss statement of your company, the balance sheets, and cash flow insights.
How to make my Amazon business profitable
Products selection and sourcing: To make your Amazon business profitable you need to select products that are in high demand and have good profit margins. To select products that have high demand, you need to conduct thorough research to identify the profitable niche you can venture into.
Streamline operational costs: You need to identify the areas where you can reduce some operational costs. Improve packaging and shipping procedures, negotiate with suppliers for lower prices, and look at less expensive fulfillment options like Amazon FBA (Fulfillment by Amazon). Pay attention to expenditures for shipping, storage, advertising, and other overhead charges.
Build your own brand: Although creating your own brand requires work and money, it can result in devoted customers. Amazon also provides brand owners with a wide range of resources and advantages. Enroll in Brand Registry if you're ready to take the plunge or if you already have a brand in place to have access to automated label protections and more brand management resources.
Enhance product listings: Your product listings should be optimized to increase conversion rates. Make use of crisp product photos, persuading copy, bullet points, and precise product information. Use relevant keywords to increase your search presence. An optimized listing can increase revenue by luring more customers.
Be competitive and know your competition: Monitoring what your competitors are doing is very important to the success of your business. Examine their product pricing, marketing strategy, method of presentation, method of product description, and frequency of new product offerings. Maintaining a competitive edge and remaining profitable requires keeping up with the market.
Conclusion
Summary
Starting a business on Amazon is quite easy, you just have to follow the steps and instructions in this article. Before you can succeed in business you need to outline your business plan, understand the market competition, know your competitors, and map out some business success tactics.
However, starting a business on Amazon is very beneficial as Amazon is a platform that is widely recognized around the world. People from different countries come to buy from this platform because of its reputation, your business or brand can gain from this already-built reputation. With Amazon, your business can gain access to many potential customers, as most people prefer to shop on Amazon. Small businesses have the opportunity to boost their sales with Amazon because of millions of buyers that purchase the platform.
With Amazon Prime membership you can have access to free shipping on eligible items, deals, and other features. Follow these guides, conduct your research on the niche you want to enter, and make sure you don't enter an over-saturated market.
Are you a pro? Subscribe to our newsletter
Sign up to the TechRadar Pro newsletter to get all the top news, opinion, features and guidance your business needs to succeed!
Kenneth is a freelance tech writer who's been in the sector for three years. He loves writing about new technology, focusing on web hosting, streaming, cybersecurity, and how it can benefit people's lives.