Best credit card processor for small business of 2023
Best
Contributions from
last updated
Take payments online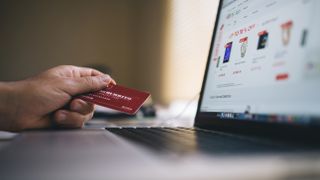 The best credit card processors for small businesses makes it simple and easy to take payments online, either directly through a website or via email requests for payments.
Credit card processing services are an essential part of business transactions, both online and offline. But with the large number of options available to you it can be confusing to decide which might be best for you.
There are two main types available: 1) a simple credit card processor with all fees paid per-transaction, or 2) a merchant-account solution that comes with a monthly fee but offers cheaper processing on a per-item basis.
If you're a startup or an established business with a low turnover then option 1 will often make the most sense, at least in the short-term. As your business income grows the chances are that option 2 will become increasingly more viable.
Additional concerns might be how well it integrates with your existing ecommerce platform, as well as with your accounting software.
Credit card processing is also a key part of a point of sale (POS) system, which can do much more for your business. The best POS systems can manage inventory, ensure you're on top of compliance-related payment regulations, and help you avoid fines and other administrative costs (such as chargeback fraud), all while offering advanced security features that protect from data theft and cyber breaches.
Below we list what we think are the best credit card processors for small businesses currently available.
We've also featured the best tax software.
Best credit card processing features explained
---
Get in touch
The best credit card processors for small business of 2023 in full:
Best for easy processing
PayPal has become the ubiquitous payment portal for many online businesses for one simple reason: It's so easy to use. PayPal has made integration into payment gateways simple for major e-commerce platforms, requiring little more than a couple of clicks and an email address; often the most complex part of setting up PayPal processing is copying and pasting a supplied API key to get started.
Add to that no setup fees and the value it can add to your business is obvious. You can choose from different packages within PayPal to suit the scale of your turnover, so PayPal Checkout, PayPal Web Payments Standard, and PayPal Payments Pro should all be investigated if you're aiming to process credit card payments.

There are no monthly fees for the small business product, Web Payments Standard, with transaction fees depending on sales volume. Although many shopping carts are built to accommodate PayPal from scratch, it can even be used as a standalone service for taking individual payments from clients, just by pasting a payment button code into an email. Subscription payments are also available by default.
PayPal also offers additional features to grow into, such as taking in-store payments through a card reader. With no hidden costs or monthly charges, PayPal is one of the most accessible options for startups and small businesses.
Read our full PayPal credit card processing review.
Best for accounts integration
Sage payment processing is a credit card payment gateway that has the added benefit of being able to integrate into Sage's accounting software. Like most big payment processors, generally speaking it can be easily integrated into existing e-commerce platforms.

It also comes with a beefy collection of features, such as powerful fraud screening tools, lots of security options, customizable payment pages and one-click check-out amongst other things. We're also impressed with the My Sage Pay analytics portal that delivers lots of useful data back to you on how your business is running.
Sage Pay offers telephone processing and direct card processing for in-store usage, as well as providing merchant account integration. Sage Pay effectively has a whole suite of services that can work for startups, as well as small corporations and larger enterprises.
The ability to integrate directly with Sage Accounts is probably the biggest selling point, as this can significantly simplify bookkeeping and financial recording, helping to save on accounting costs. The ability to work directly with a merchant account also means a big reduction on transaction fees.
There is a monthly fee to pay according to sales volume. However, considering the potential for efficiency savings through simplified accounting, this can seem more like an investment than a cost.
Read our full Sage Pay payment processing review.
Best accessible e-commerce processing
Compared to the other credit card processors present here, Stripe is very much the new kid on the block. Some may see that as an advantage: It hasn't had to evolve legacy technologies, but has instead jumped straight in to work with the latest.
The benefit here is a flexible, cloud-based payment system that offers not just payment processing and fraud prevention but also business intelligence through an analytics package Stripe calls Sigma. Stripe doesn't just offer online payment processing, however. It also offers Stripe terminal for taking payments in a brick and mortar store.

The great thing is that you can also accept payments from right around the globe, with Stripe automatically converting the transaction. Keep an eye out for additional charges, though these aren't enough to dissuade you from offering the option altogether. Dig deeper into Stripe's arsenal of tools though and you'll find many more useful features, including smart invoicing and subscription management and multi-party payments for platforms and marketplaces.
The online payment processing service itself comes with no monthly fees, just a percentage charge per transaction, plus a small processing fee, which is competitive with similar payment gateways. However, that's just the initial and basic charge level, and discounts may be available if you contact sales.
As an additional note, as well as credit card processing, Stripe also provide a company startup package which they call Atlas. This service requires you to set up a Stripe account, after which they'll register a LLC for you in Delaware, as well as set you up with a bank account and all payment processing, on top of which they include an EIN with the IRS. There's also a support community to help provide advice about running your new business.
Read our full Stripe payment processing review.
Best for merchant account gateway
Authorize.net has a couple of different platforms on offer. The All-in-One option allows for credit card processing without a merchant account, and comes with a monthly charge and competitive processing fees.
However, Authorize.net is perhaps more famous for its merchant account gateway, and while that option retains the monthly fee, transaction fees are reduced in a big way if you go this route. Note that once you sign up for a merchant account you will be charged for it – whether you are actively using it or not.
There are additional tools offered by Authorize.net, some of which are included by default, and some that incur additional costs. Advanced fraud screening tools are standard and include 13 configurable fraud filters relating to IP, transactions, shipping and also velocity. The latter limits the number of transactions allowed per day or hour to stamp out high-volume fraud. Useful if you're a large concern no doubt, as is the ability to dynamically change and adjust subscription billing.
There are also advanced Customer Information Management tools available, such as the ability to automatically update a customer's charge card details, and allow multiple payment methods and billing addresses for a single customer.
Like most other major payment platforms, Authorize.net can often be found as an add-on for e-commerce platforms for easy integration.
Read our full Authorize.net review.
Best for easy card transactions
PaySimple credit card processing offers a suite of products and services that are well-suited to the smaller business owner. Having been in existence for around 15 years PaySimple has refined its business and now offers the ability for companies to process payments in flexible ways, as well as automated billing and adding in customer marketing options to complete the picture.
PaySimple is a practical solution because it delivers options for accepting payments online, in-person and via mobile, which means if you've got a small business it covers all bases within one package. A free 14-day trial certainly makes it worthy of inspection.

You get a merchant account, which lets you process payments, plus a physical card reader for carrying out transactions when the card is present. You'll also be able to process payments using a virtual terminal although it's worth noting that PaySimple only works if you're based in the USA. As well as offering the convenience of card processing, the service can also be used to set up recurring credit card payments, alongside those one-off transactions, so automated billing schedules are within reach of anyone.
PaySimple states on its website that it has no contracts and no cancellation fees, which is always a bonus if you're a small business that has to be careful with its cashflow.
There are various fees, such as a monthly fee on top of processing fees, plus other fees for additional features if you require them. It's a good idea to head to the PaySimple website and look up their Starter pricing page, as well as the more expensive Standard pricing pages.
Read our full PaySimple payment processing review.
Best flexible all-in-one platform
Helcim is a Canadian credit card processing company and merchant services provider to small businesses. The company has grown a lot over the years and now boasts $2.5 billion in annual processing, handles 15 million transactions per year and keeps no less than 6000 merchants ticking over nicely.
On its website, Helcim points out that its credit card processing features transparent pricing and there are no hidden fees. In fact, Helcim has streamlined its payment systems so you can enjoy month-to-month processing power irrespective of how many cards you end up processing.
On signing up for an account you'll be able to start a new merchant account application.

Helcim offers a range of options for completing transactions, including in-person payments and those done on the go. This comes in the shape of chip and PIN, tap and pay. Helcim also offers the capacity for processing payments using a manual keying-in method for both online and over-the-phone purchases.
In addition, Helcim has a range of payment solutions, which include a virtual terminal, a point-of-sale device, mobile apps plus credit and debit card machines along with a payment gateway. You can also mix and match these options, depending on your business and its requirements.
For added flexibility, Helcim delivers a comprehensive payment processing solution with a built-in merchant account for Visa, MasterCard, Discover, China UnionPay, American Express OptBlue, JCB and Visa Debit cards.

On top of all that, Helcim has now added QR code functionality for merchants who are using its Online Store, Hosted Payment Pages and Online Food Ordering features.
Read our full Helcim payment processing review.
Best for versatility
Clover credit card processing systems come in a wide variety of options, with the company offering point-of-sale products both directly or via one of its partners. The business provides solutions for taking payments over the phone, remotely and contactless. It is, in effect, a one-stop point-of-sale solution and is therefore suited to businesses of all types and sizes.

Clover POS has a range of options to choose from and gets consistently praised for offering simple to use but powerful hardware that just works. You can subsequently mate the kit with either a Clover merchant account or use one from a merchant services provider. Clover is also sold by the likes of Bank of America, BBVA, Citi, PNC, SunTrust and Wells Fargo.
Clover is cloud-based and also has a whole selection of hardware that will enable you to process credit card payments in a physical environment as well as remotely. Terminals are available in a variety of sizes and configurations.
You'll need an account in order to be able to use its products and services, and once you've signed up you have a Clover merchant account along with the Register Lite plan. That allows you to start processing payments without purchasing a device from them or needing any other hardware.
The benefit of using a Clover device is that you get access to more tools and functionality, plus customer rewards and promos.
Read our full Clover POS review.
---
FAQs
How to choose the best credit card processor for you
In simple terms, here are two main options when it comes to choosing a credit card processing service: general processing, and merchant account. The difference between the two is key to deciding which is the best option for you.
The General Processing option means that the credit card processor effectively acts as a middleman between you and the banks. They take care of all transactions and authorizations, as they move money from the customer's bank account to your processing account.
This is generally a good option for start-ups, small businesses, and relatively low-volume sales, ie, thousands rather than tends of thousands in turnover per month.
For this general service expect to pay transaction fees of between 2.5% - 3.5% for online purchases, though this can go higher for keyed in credit card payments you might take over the phone or in store. There may also be higher transaction fees for digital purchases.
The Merchant Account option means that the credit card processor still acts as a middleman - but while they take care of transactions and authorizations, they move money directly from the customer's bank account to yours. This offers a couple of key advantages: lower transaction fees, and no withholding of funds.
The first applies because the processor doesn't need to authentic funds themselves, as this is done by the bank you have your merchant account with. This means you pay only interchange fees which tend to be around a few cents per transaction, which is usually far cheaper than the percentage-based fees for general processing.
And because the money goes directly into your merchant bank account, it means that you don't have to wait around for funds to (Eventually) clear for withdrawal - some general processing services can insist on withholding for between a few days to a few months, in order to cover themselves against fraudulent transactions and chargebacks (which is where the customer disputes the payment and their credit card company forces a refund).
Of course, there is a cost to the merchant account option - usually a monthly fee of around $30 per month. This makes it much more ideal for companies who have a high turnover or high-value transactions, so that the monthly fee works out as much cheaper than a transaction fee of a few percentiles.
However, the big drawback of merchant accounts is that banks can be still distrustful of new companies and online sales, regarding them as riskier than normal retail shopping, so don't be surprised if you're expected to prove your worth - and trust value - over a couple of years before this option is made available to you.
Even still, some providers will offer both types of service, so you can start with their general processing platform, then upgrade to a merchant account later, if needed.
How we tested the best credit card processing services for small businesses:
if you're running a small business and need to use credit card processing services then service and value are perhaps the two main factors we look for during testing.
We try out the various features and functions of the packages, depending on what they're aimed at, while keeping a close eye on efficiency. Security of transactions is naturally a major factor too, with all of our selected companies faring well as you'd expect.
Overall, we look at the bigger picture when it comes to signing up for the best small business credit card processing service. While all those included in our guide are good, some might be better suited to specific needs or business sectors than others. It's worth keeping that in mind if you're currently considering a provider for the first time, or want to move to a new one.
Are you a pro? Subscribe to our newsletter
Sign up to the TechRadar Pro newsletter to get all the top news, opinion, features and guidance your business needs to succeed!
Brian has over 30 years publishing experience as a writer and editor across a range of computing, technology, and marketing titles. He has been interviewed multiple times for the BBC and been a speaker at international conferences. His specialty on techradar is Software as a Service (SaaS) applications, covering everything from office suites to IT service tools. He is also a science fiction and fantasy author, published as Brian G Turner.