Smart speaker vs smart display: Which is best for you?
Helping you decide which device is best for controlling your smart home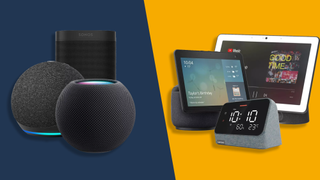 (Image credit: Future)
Smart speakers and smart displays are the foundations of any smart home. Imbued with voice assistants and the ability to connect to an enormous range of smart devices, they serve as the central command center of your home.
Whether you want to simply have Alexa turn on a lamp, ask Siri to fire up a playlist, or get Google Assistant to adjust the thermostat, the best smart speakers and smart displays are often the starting point you'll need to make that happen.
Generally speaking, these devices are almost always mains powered, connect to your Wi-Fi network, and can be wirelessly hooked up to other speakers (or displays) to create a whole-home audio and smart control system. They can also form a multi-room intercom, stream content from services like Spotify and Netflix, and even act as a home security, surveillance, and alarm system.
So should you buy a smart speaker or a smart display? The answer depends on what you already own, what your budget is, and what sort of smart home system you are planning to build. Read on for everything you need to know, and discover which products are best for you.
Smart speaker vs smart display: Key similarities
Voice or touch-activated voice assistants
Control thousands of smart home devices
Provide answers and perform actions with a Wi-Fi connection
Stream music from services like Spotify, Amazon Music, and Apple Music
Manage alarms, timers, and to-do lists
Connect to other, compatible devices for whole-home audio
This is the easy bit. Generally speaking, smart displays work in exactly the same way as smart speakers, but with the added benefit of having a screen attached. Both device types have microphones, speakers and an internet connection via Wi-Fi to access the intelligence of a cloud-based voice assistant.
They both answer questions quickly and can perform tasks like set timers and alarms, manage a shopping or to do list, stream music, answer general knowledge questions and read out the news headlines and weather forecast.
Smart speakers and displays can also connect to smart home devices like lights, plugs, fans, heaters, thermostats, vacuum cleaners, windowblinds, irrigation systems, alarms, door locks and much more.
They can then control these, either when you ask them to or as part of an automation system. For example, they can be programmed to turn certain lights onto a specific setting at the same time every day, or power up a smart plug connected to a fan when an air quality monitor notices an increase in pollutants.
Smart speaker vs smart display: Key differences
Smart speakers do not have a display
Smart displays have a user interface for media and smart home control
Some smart displays have webcams
Some smart displays act as a security camera
Smart speakers can be used to create a TV surround sound system
Smart speakers are more affordable
As with the similarities, the biggest differences are very obvious. In the simplest possible terms, smart speakers work like smart displays without a screen. They lack the user interface and touchscreen interface the display offers, and instead their only user interface is usually a status light to indicate what the speaker and its voice assistant are doing.
Smart displays tend not to have quite so prominent status lights, while Amazon's Echo speakers still often have a light ring or bar which shines blue to indicate when Alexa is listening, thinking, and speaking.
Some smart displays, like the Echo Show 15 and Google's Nest Hub Max, also benefit from having a webcam. This can be used to make video calls with the display, and in the case of some devices act as a security camera when you aren't home.
The primary benefits of smart displays over smart speakers are their ability to stream video — either from a service like Netflix, one of your own security cameras, or video doorbell — and to act as a smart home control center. Their interfaces can be useful for controlling smart lighting and thermostats, especially by members of the family who might be unfamiliar with the exact phrases and commands needed to control the devices via a voice assistant. This does, however, warrant a higher price point; smart displays are sometimes double the price of smart speakers.
Lastly, smart speakers can be used to create a surround sound system connected to your TV. Amazon's Fire TV Stick can use Echo speakers, Google's Chromecast streaming dongle can hook up to its Nest speakers, and Apple's HomePod speakers work with the Apple TV 4K. Sonos smart speakers can also act as surround sound units when connected to one of the company's sound bars.
Smart speaker vs smart display: Smart home compatibility
Most smart speakers and smart displays can control the vast majority of smart home devices, like smart light bulbs, plugs and thermostats.
Some newer smart speakers and displays (like the Echo Dot 5th, Apple HomePod 2 and latest Nest Hub) also support a smart home standard called Matter, which lets devices from different ecosystems interact with each other. Matter has the potential to improve smart home compatibility, but it is yet to truly transform the industry.
Smart speaker vs smart display: What about Apple?
Apple does not make a smart display. But if you have the budget (or an old one laying around) an iPad can make for a great alternative. If you go all-in on Apple's HomeKit ecosystem, the Home app works as a pretty good smart home controller, while the Siri voice assistant can be used to control devices or play music. The iPad also has a webcam for video calls, and it is of course capable of streaming music, playing games, and everything else the Apple tablet is known for.
It's even possible to fix an iPad to the wall using third-party mounts or purchase a dock for using it on a coffee table or in the kitchen. This requires a bit more work, but for an Apple-only household, the results can be worth the extra effort.
The Home app also works on the iPhone, Apple Watch, and Mac, effectively turning all of Apple's products into smart home controllers.
Smart speaker vs smart display: Verdict
Picking between a smart speaker and smart display comes down to what you need and what you already own. When building a smart home it is unlikely that you'll need a smart display in every room. You might well only need one, on a countertop in the kitchen perhaps, as a smart home control center, media streamer, and a way for the family to leave notes for each other and access a shared calendar.
On the other hand, smart speakers can go just about anywhere. You might have a larger one, like an Amazon Echo or Apple HomePod, in the lounge (perhaps a pair connected to the TV), along with smaller versions like the Echo Dot and HomePod Mini in the bedroom and office.
Speakers and displays all have the same basic functionality, and their voice assistants are equally smart on all devices. Smart displays have more specific use cases, such as when the webcam of a Nest Hub Max can be used to make video calls and act as a security camera, while more compact smart speakers can fit in almost anywhere.
Ultimately, if your smart home budget can afford both types of devices, then they each serve a purpose and are equally worthy of your investment.
Get daily insight, inspiration and deals in your inbox
Get the hottest deals available in your inbox plus news, reviews, opinion, analysis and more from the TechRadar team.
Alistair Charlton is a freelance technology and automotive journalist based in London. His career began with a stint of work experience at TechRadar back in 2010, before gaining a journalism degree and working in the industry ever since. A lifelong car and tech enthusiast, Alistair writes for a wide range of publications across the consumer technology and automotive sectors. As well as reviewing dash cams for TechRadar, he also has bylines at Wired, T3, Forbes, Stuff, The Independent, SlashGear and Grand Designs Magazine, among others.