The 4 most important things to look for when buying a Dolby Atmos soundbar
Our practical guide to buying a Dolby Atmos soundbar you'll be happy with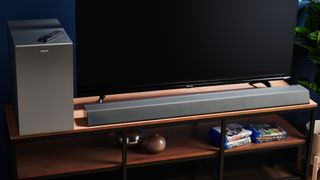 (Image credit: Future)
As with most tech products these days, trying to buy one of the best soundbars can feel totally overwhelming – there's just a sea of similar-looking options, separated by weird-sounding features, jargon and numbers. Many people will have heard that Dolby Atmos soundbars are an especially good option, but the above still applies – it's hard to know where to start.
That's why we've put together this guide for people who are looking to get a handhold on the whole thing. We'll assume you know you want a Dolby Atmos soundbar and you know your budget – so we'll help you start narrowing down which one to get, based on the most important practical considerations, not the technical weeds.
Obviously, some of this stuff is going to get technical still, but we'll explain what we mean about it all, and why it's an important thing to consider for the longevity of your soundbar – our main goal here is for you to find something you'll be happy with for years, not regretting when you realize you'd have been better with something slightly different. So here are the main things to think about.
Real 'upfiring' speakers matter
One of the big things Dolby Atmos adds to movie soundtracks is height as well as surround sound, and the soundbars that achieve this best have 'upfiring' speakers to make it happen. As the name suggests, these are angled towards the ceiling, and reflect sound off it and back to your ears, so it feels like effects can come from overhead (or close to it).
Some affordable Dolby Atmos soundbars, such as the Sonos Beam 2nd Gen or Sony HT-G700 don't have upfiring speakers. They use clever audio processing tricks to add the effect of height from their regular speakers, but it just isn't the same as soundbars that have real, dedicated upfiring speakers. All high-end Dolby Atmos soundbars will have real upfiring speakers, but it's less certain in the mid-range or cheaper end – but plenty of models do, including the Bose Smart Soundbar 600 or Philips TAB8905, and the difference is very clear.
So, if you're looking for a Dolby Atmos soundbar because you want the impressive spatial audio effect that Atmos is famous for, make sure that any soundbar you look for mentions upfiring speakers somewhere.
How many HDMI ports do you need on the soundbar?
Dolby Atmos soundbars need to be connected to your TV over an HDMI port in order to actually receive Dolby Atmos sound. Specifically, an HDMI ARC or eARC port – and most TVs only have one of these, among their other regular HDMI ports. And that's fine – so you'll definitely connect the soundbar to that one, no problem.
Here's the problem: not all HDMI ports are made equally, and that one port is also usually one of the high-performance HDMI ports on your TV. Many TVs will only have two high-performance ports, so losing one to your soundbar is… restricting.
What do I mean by 'high-performance' port? Well, it depends on how old your TV is. On TVs older than about four years, it might mean that two of your HDMI ports can receive a 4K HDR signal, and two are limited just to HD. That's the case for me, with the Sony X900E TV that I use in my office room – it's still a great TV! But if I plug a Dolby Atmos soundbar into it, I lose one of its two 4K ports, and that's infuriating.
On newer TVs, 'high-performance' ports probably means HDMI 2.1 ports that support 120Hz for gaming on the PS5 or Xbox Series X. Many TVs only come with two HDMI 2.1 ports – so again, losing one to your soundbar is very annoying.
So, finally we come the solution part: many soundbars have two or more HDMI ports on them, so that you can still plug something visual into the HDMI eARC socket. The soundbar will 'pass through' the visuals to the TV – it's like you didn't even use up a port for the soundbar! (Note that very few soundbars support HDMI 2.1 120Hz passthrough, though – most just handle regular 4K HDR. So gamers need to keep an eye on that.)
This is even better if you have an older TV that doesn't support Dolby Atmos – you can plug a Dolby Atmos-supporting streaming box, such as the Apple TV 4K (2022), into your Dolby Atmos soundbar, and it will take the Atmos sound, removing your TV from the equation. New, high-end sound without a new high-end TV.
So, pay attention to how many HDMI ports a soundbar has – if it's only one, think about whether you can really live without connecting anything else to your TV's port in the future, and then consider getting one with two ports (or more – you could end up with more ports than you started with!).
Subwoofer or not?
How many boxes do you want in your room? And, connected to that, how meaty do you want your sound to be? A soundbar with a separate subwoofer box will have a lot more range than one without, so it's better if you're looking for a home theater effect. But if you just want clearer sound and are tight on space, maybe you should go for an 'all-in-one' soundbar, with no subwoofer included.
But if you go for the latter, you should still pay attention to whether the soundbar itself has dedicated subwoofer units built into it – it's still important to have that bass extension if you want the full effect of movie soundtracks.
You can get some very high-end all-in-one soundbars with great bass power, such as the Sonos Arc or Sony HT-A7000, so it's not like dropping a subwoofer means losing out totally. But the ones with subwoofers tend to be a better value, because it's just easier to engineer a separate, simpler box.
Will you ever want rear speakers?
Lots of soundbars these days have the option of working with rear speakers as well, so they can act as a surround sound system. In some cases, such as the Samsung HW-Q930B, they're part of the package in the first place – they're in the box, along with the bar and subwoofer. Other options, such as Sonos soundbars or the mid-range Samsung HW-Q700B, don't come with rear speakers, but are compatible with wireless speakers that you could buy separately and add to your system in the future.
So keep that in mind when you buy – if you have ambitions for a more full home theater setup, then either buy the whole thing now, or check a soundbar's details to see if it's compatible with any wireless rear speakers, and make note of what they are so you could buy them later and upgrade without having to replace your soundbar.
And if you're sure you won't ever want that, then don't worry about it! Buy whatever works based on the other things listed here.
---
Naturally, there are other things you might consider in Dolby Atmos soundbars, such as whether you can stream music to them wirelessly or not. Those aren't essential, though – I hope that once you've gone through the things I've mentioned here, you'll find it easier to work out which soundbar will be right for you, and not leave you with buyer's remorse because it lacks the really key stuff.
Don't forget to check out our guides to the best TVs and best 4K projectors available today, if you're looking for more home theater upgrades.
Sign up to receive daily breaking news, reviews, opinion, analysis, deals and more from the world of tech.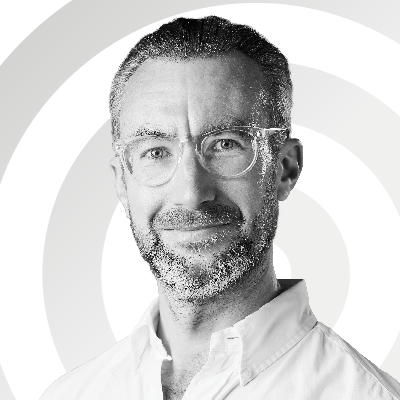 Managing Editor, Entertainment
Matt is TechRadar's Managing Editor for Entertainment, meaning he's in charge of persuading our team of writers and reviewers to watch the latest TV shows and movies on gorgeous TVs and listen to fantastic speakers and headphones. It's a tough task, as you can imagine. Matt has over a decade of experience in tech publishing, and previously ran the TV & audio coverage for our colleagues at T3.com, and before that he edited T3 magazine. During his career, he's also contributed to places as varied as Creative Bloq, PC Gamer, PetsRadar, MacLife, and Edge. TV and movie nerdism is his speciality, and he goes to the cinema three times a week. He's always happy to explain the virtues of Dolby Vision over a drink, but he might need to use props, like he's explaining the offside rule.