How do you top one of the greatest animated movies of all time? That's the primary question that Spider-Man: Across the Spider-Verse's 1,000-strong cast and crew asked themselves ahead of the webslinger's next big screen adventure.
Doing so wouldn't be easy. Its predecessor – 2018's Spider-Man: Into the Spider-Verse – was a game-changer in the animation space. Its spectacular comic book-inspired visuals, meta and emotionally driven narrative, and transformative cinematic experience reshaped perspectives on animation as an art form and how superhero movies were created. Critical and commercial acclaim followed, as did numerous awards, for a Spider-Man film that'll long live in the memory.
Based on the above, Spider-Man: Across the Spider-Verse has a tough act to follow. So, where does one begin when faced with the daunting task of not only living up to such an iconic movie, but attempting to make an even better sequel?
"Everyone could see something different was happening with Into the Spider-Verse," director Joaquim Dos Santos tells TechRadar. "Something like this hadn't been seen before, nor received any sort of recognition. So, when it took off, and we started development on the sequel, rather than us feeling like we were caught between a rock and a hard place, it sort of gave everyone permission to try all the things they wanted to and be as artistic as they can be. The shackles were taken off."
Alright, let's do this one more time
Spider-Man: Across the Spider-Verse picks up a year – one year and four months, to be exact – after Into the Spider-Verse. Miles Morales (Shameik Moore) has spent that time honing his superhero skills on Earth-1610 (Miles' universe, essentially), and he's doing a pretty good job of keeping his home reality safe.
When Miles' friend-cum-love interest Gwen Stacey (Hailee Steinfeld), aka Spider-Gwen, unexpectedly reappears – traveling from her realm of Earth-65 via an interdimensional portal – Miles is roped into another mission to save the multiverse.
However, when Miles finds himself at odds with Spider-Man 2099 (Oscar Isaac), the leader of the Spider-Society tasked with protecting every universe, a Spidey civil war brews. And, with multiverse-traversing villain The Spot (Jason Schwartzman) threatening the safety of every reality, Miles and company can ill-afford to be divided at such a crucial time.
As Across the Spider-Verse's trailers have shown – read our breakdown of its second trailer for the secrets housed within – the second Miles-led film will see him interact with an amazing who's who of Spider-People. And, as the individual that this Sony Pictures film series is based around, it's clear he'll have a huge say in how Across the Spider-Verse's story, and that of its sequel Beyond the Spider-Verse, which is slated to arrive in March 2024, plays out.
Miles isn't the sole protagonist of this movie, however. Spider-Man 2099, Peter B Parker (Jake Johnson), Spider-Woman/Jessica Drew (Issa Rae), Spider-Man India/Pavitr Prabhakar (Karan Soni), and Spider-Punk/Hobie Brown (Daniel Kaluuya) are also key to its plot. But it's Spider-Gwen who's as integral to the story as Miles – a co-star, if you will – and whose loyalties are torn between being Miles' friend and her lofty position in the Spider-Society. In fact, Spider-Gwen's role is so important that Across the Spider-Verse actually sounds like it'll open with a scene starring Earth-65's predominant protector.
"Where we find Gwen at the film's beginning, it's mere moments after the first one ended," director Kemp Powers explains. "After making her first friend in a long time in Miles, she's back in her reality, which she managed to escape, because she's a fugitive of the law. She's the main suspect in the death of her world's Peter Parker, and the detective leading the chase is her dad [Captain Stacy, who's voiced by Shea Wigham].
"So Gwen's in a bit of a quandary, but the opening of a multidimensional portal, which introduces her to Miguel O'Hara [Spider-Man 2099]... let's just say she's excited to leave her world because of the challenges she's facing."
Spot the difference
Like Batman, Spider-Man's rogues gallery is one of the most iconic in comic book history. The character's live-action movies, including 2021's Spider-Man: No Way Home, have brought some of his legendary adversaries into the live-action sphere. But even then these Marvel movies have only scratched the surface of the calculating, callous, and comical villains that the wallcrawler has faced in the 60 years since his comics debut.
It's equal parts strange and inspired, then, that The Spot – real name Jonathan Ohnn – was selected to battle Miles and company for the multiverse's very existence. We were given our menacing first look at The Spot at Annecy Film Festival in June 2022 but, for those who might have only watched the movie's latest trailer, Ohnn's supervillain alter-ego seems more like a B-list goofball than someone who could destroy the Spider-Man multiverse. So, why choose him as the big bad of the piece?
"One of the things is his connection to Miles," Powers teases. "His origin is very much connected to Miles, which makes him the perfect villain. He's very goofy to start with, but he evolves dramatically over the course of the film, and that evolution was exciting to tackle visually and from a character perspective.
"We're thrilled to have Jason voice him, too. I remember seeing Rushmore, and that's a great example of a character Jason plays who you're laughing at but who also goes to some very dark places. That's the perfect way to describe The Spot: a character no one takes seriously, and who doesn't realize the potential of his powers. Once he does, he wants to show everyone who's looked down on him."
Rule breakers
It's been four and a half years since Into the Spider-Verse's pioneering release on the silver screen. Back then, one of the best superhero movies ever made broke all the rules, not least from an animation standpoint. Its living-painting aesthetic, comprising a combination of CGI and 2D handcrafted work, incorporated line work and Jack Kirby's famous 'Kirby Krackle' to give the impression that viewers were watching a comic book come to life before their eyes.
Such boundary-pushing techniques made Into the Spider-Verse a revolutionary animated film. Its influence on the art form simply can't be overlooked, with other visually creative films, such as Netflix's The Mitchells Vs. The Machines and Universal's Puss in Boots: The Last Wish, plus the upcoming Teenage Mutant Ninja Turtles: Mutant Mayhem flick, benefitting from its trailblazing methods.
Unsurprisingly, Across the Spider-Verse continues to push the limits of what's capable in the animation industry. Sony Pictures Imageworks, the film's major production studio, developed 17 new tools for The Spot's Portal-inspired visuals and movements alone. With six unique Spider-Man universes set to be explored in the sequel, plus the seemingly infinite number of Spider-People we'll see on-screen, Across the Spider-Verse is positively forcing the invention of new animation techniques, styles, and pipelines that'll inform the sector for decades to come.
"Sony Imageworks is full of animation scientists who developed these crazy new tools to help each character move individually," Dos Santos says. "You want each one to be representative of their world, but you recognize that it's tough with hundreds of Spider-People on the screen at the same time. Seeing Keith Giffen's work juxtaposed with Todd McFarlane's on the screen… that needs to track immediately [with audiences]. That was a huge challenge for us to overcome."
"Some of my favorite characters are only on the screen for a few moments," Powers adds. "You look at some of them and think 'Oh my god, I want to spend an entire movie with them'. We fully designed and rendered a shockingly large number of characters to be reflective of their comic inspirations and the eras they appeared in. We executed their designs in a way that we want you to go 'That literally looks like [Spider-Man 2099 co-creator] Rick Leondari's work' or 'That's a Brian Stelfreeze drawing'. We brought a lot of those artists on board as consultants to assist with character designs and give guidance to our animation team so they could replicate that."
Spectacular secrets and family ties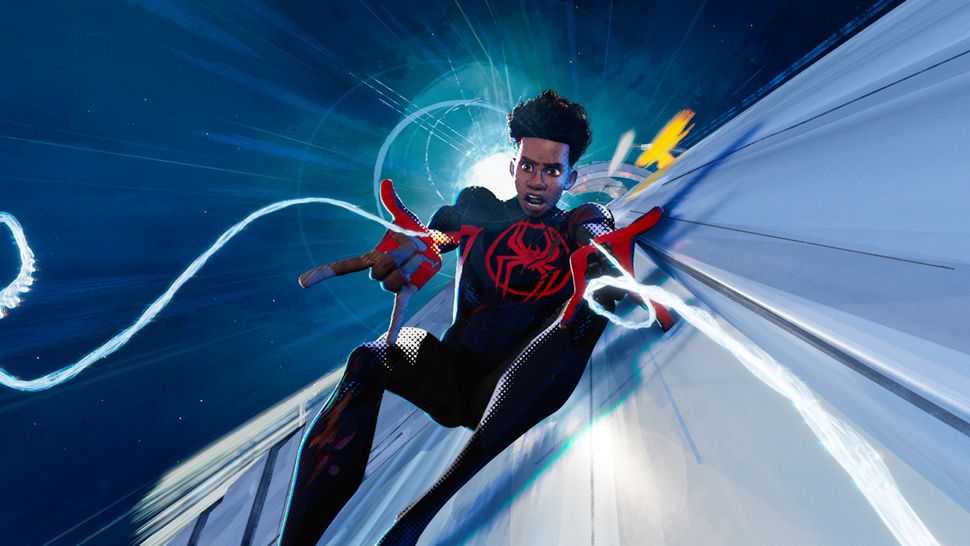 The arrival of Spider-Man: Across the Spider-Verse's trailers and TV spots have had diehard fans pouring over every second of footage to identify every Spider-Person and trying to work out how its highly confidential plot will play out. For their parts, Dos Santos and Powers say every online fan theory they've seen has been "way off base", and that the biggest Spidey-centric surprises are being held back for the movie's full release.
Even with its gorgeous visuals, witty humor, and the growing hype ahead of launch, there's one core theme Dos Santos, Powers, and company couldn't help but return to throughout the movie's lengthy development cycle: family. Miles is a rare breed of superhero, one who has a tight-knit family and whose parents haven't been cruelly taken from him. Sure, he's suffered heartbreak and trauma – just look at him losing Uncle Aaron in Into the Spider-Verse for proof of that. As familial loss goes, though, Miles hasn't battled through such anguish. Well, in his big-screen adventures, anyway. His comic book and video game journeys suggest otherwise.
Miles, then, largely subverts the status quo among his Spider-Peers. It's what makes him such a compelling character, and why Across the Spider-Verse's thematically darker but no less family-oriented narrative has positioned it as one of our most anticipated new movies of 2023.
"Miles' family unit is uncharacteristic of most Spider-People," Dos Santos says. "He's got something to fight for. People want to ascribe to the rules of certain worlds or pop culture icons, and Miles breaks a lot of what those quintessential rules are.
"He's been our north star throughout this whole thing. As big a spectacle and bombastic as this movie gets, we never lost sight of Miles' perspective and tracking the emotionality of him and our other leads in the chaos. That's the heart of this movie, and we hope people recognize that among the craziness of everything else."
Into the Spider-Verse might have been an unexpectedly amazing trendsetter in the animation space, but it sounds like Across the Spider-Verse is the multi-rule-breaking Spider-Man movie we've really been waiting for. Over to you, Miles and company.
Spider-Man: Across the Spider-Verse launches in theaters worldwide on Friday, June 2.