Potential spoilers follow for Spider-Man: Across the Spider-Verse.
The official trailer for Spider-Man: Across the Spider-Verse is here – and yes, it looks as gorgeous, dramatic, funny, and action-packed as we expected.
The upcoming Sony Pictures and Marvel Entertainment animated movie thwips its way into theaters on June 2, so it's high time we got another look at how stylishly beautiful it's set to be. If you haven't watched the trailer yet, you can do so below:
While its eyepopping visuals and foreboding story will have caught your attention, there's plenty in the near three-minute long trailer that you probably missed on first viewing.
Below, we've picked out seven of the biggest things you'll have missed from Across the Spider-Verse's latest teaser (read our article on Across the Spider-Verse's first trailer if you need additional context). So, what are you waiting for? Throw on your favorite Spider-Man suit and let's webshoot our way towards some secrets!
A live-action crossover?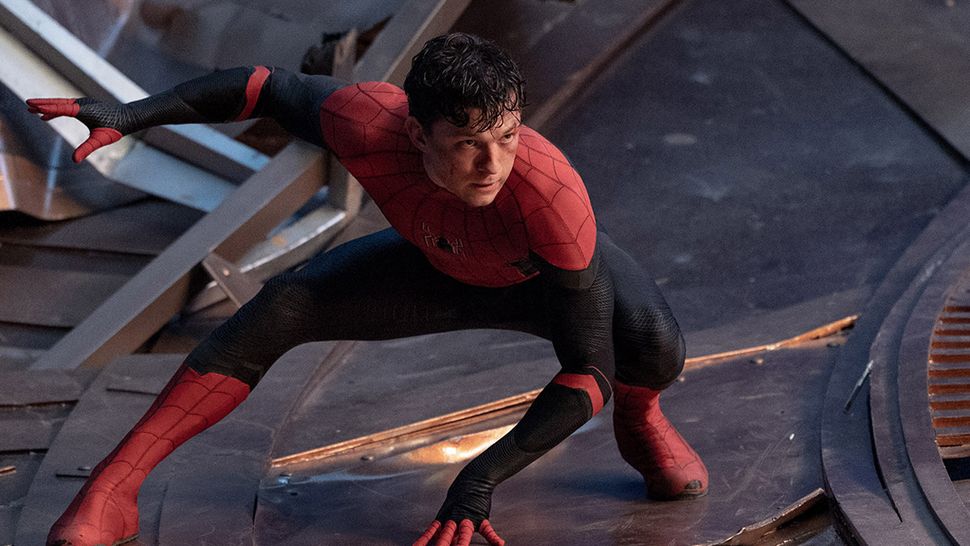 Okay, this first one is a little left-field – but only because it isn't included in Across the Spider-Verse's official trailer. Instead, it opens the Pan-India and German versions of the teaser, so it's easy to miss if you don't know there's more than one iteration.
Anyway, these alternate trailers open with a brief montage of the three live-action Spider-Men – those being Tobey Maguire, Andrew Garfield, and Tom Holland's takes on the webslinger, all of whom appeared in Spider-Man: No Way Home. Voiceovers from the trio, which are played over the footage, are pulled directly from Spider-Man films they've starred in (read our Spider-Man movies in order guide for more details on where each Spidey shows up).
It's a curious way to open two trailers for an animated movie, albeit one that's Spider-Man-based. Does this suggest we'll see Maguire, Garfield, and Holland's wallcrawlers interact with Miles Morales (Shameik Moore)? And, if they do, will it be in animated or live-action form?
There have been rumors that the trio will appear in Across the Spider-Verse or its sequel – Beyond the Spider-Verse, which arrives in March 2024 – so it's a possibility. Alternatively, Sony could just be messing with our heads. We'll find out when one or both movies are released.
Spot the difference
In the movie's official trailer, we get a different elongated opening sequence containing more new footage, which is centered on the film's primary villain.
Meet The Spot, aka Jonathan Ohnn (Jason Schwartzman), a scientist whose body becomes covered in black spots when an experiment goes wrong. Ohnn quickly realizes that the spots covering his body are actually time and space-based portals, meaning he can open them anywhere in his and Miles' universe and the whole Spider-Man multiverse. You don't need to be a *ahem* scientist to work how much of a threat he'll pose to Miles and company, then.
That'll likely form the bulk of the film's plot anyway (more on this later). In this teaser, The Spot is positioned as nothing more than a jokey sort of antagonist. We see him trying (and failing) to steal cash from an ATM as Miles makes fun of him, a loaf of bread humorously falling through two portals that The Spot creates, and then the duo engaging in a brief, amusing, portal-based skirmish. As the trailer later shows, though, he's far more dangerous than most people realize.
Spider-Force, Spider-Force, does whatever a Spider-Force does
Once Miles and Gwen (Hailee Steinfeld) are reunited and traverse the Spider-Verse via those hexagonal multiverse streams, we're given proper looks at some of the other main Spider-People we'll see.
We saw Spider-Woman (Jessica Drew) in the previous trailer. This time around, it's Spider-Punk and Spider-Man India's turn to take the spotlight. We catch a glimpse at Daniel Kaluuya's Spider-Punk – complete with a punk aesthetic and a classic cockney "Oi oi!" line from him, before Spider-Man India (played by Deadpool's Karan Soni) darts across the screen, asking "Who's the new guy?"
Alongside Gwen, Spider-Woman, Peter B Parker (Jake Johnson), and Spider-Man 2099 (Oscar Isaac), Spider-Punk and Spider-Man India are part of the main Spider-Force crew. This gang are responsible for protecting the Spider-Verse from all manner of threats and, alongside many other Spider-People, convene at the Lobby. Here, they discuss what's going down in each other's universes and how they can stop each realm's villains from destroying the multiverse.
Understandably, Miles is eager to join them. However, unlike Gwen – who Spider-Man 2099 and Spider-Woman seek out (we see them give her a wrist band that allows her to traverse the Spider-Verse in the teaser) – Miles isn't invited to the party. Why? We'll explain that in a moment. But first...
An MCU reference – but confusion reigns
After we're officially introduced to Spider-Man 2099, aka Miguel O'Hara, we learn that he's got plenty of experience negotiating the Spider-Verse.
We also find out that O'Hara is well aware of events that played out in the Marvel Cinematic Universe (MCU), especially those that took place in No Way Home. He's not joking when he says it, but it's hard not to chuckle when O'Hara references No Way Home's events when he says "Don't get me started on Doctor Strange and that little nerd on Earth-199999!"
It's a fun shout-out to Marvel Studios' cinematic juggernaut and Spidey's latest live-action adventure, which was part of Marvel Phase 4. However, O'Hara's comment has reignited an online debate about which universe the MCU actually exists in.
Numerous MCU films have referred to this universe's Earth as Earth-616. The most recent reference was made in Doctor Strange 2, when the Earth-838 version of Christine Palmer confirms this to Doctor Strange. However, O'Hara's comment throws that out of whack. He's clearly talking about No Way Home here, but he refers to the MCU's Earth as Earth-199999, not 616.
So, which is it? We suspect the MCU is still designated Earth-616, and O'Hara's Earth-199999 comment is just Sony's way at poking fun at the confusion over which universe the MCU is set in. In short: don't take O'Hara's word as gospel.
A catastrophic choice?
Back to O'Hara's reason for not including Miles in his Spider-Force gang. Initially, it appears O'Hara is warning Miles about the perils of being a Spider-Man. In short: you can't save those you love. Every other Spider-Person has had to make similar sacrifices before, after all. Prime examples include the original Spider-Man being unable to save Uncle Ben, and Spider-Gwen not acting fast enough to rescue her universe's Peter Parker.
But it seems O'Hara is actually preparing to cut off Miles' universe from the rest of the Spider-Verse here. He talks about "sacrifice" and "saving every world", before a blink-and-you'll-miss-it shot shows The Spot sitting at the center of the multiverse, with numerous portals to each Spider-Man universe at his fingertips.
Reading between the lines, we think O'Hara will sever Miles' world from the rest of the Spider-Verse because The Spot hails from Miles' universe. As a multiversal villain who could cause irreparable damage to the Spider-Verse, The Spot poses a massive threat to every Spider-Person and their universes. For the greater good, O'Hara plans to sacrifice Miles' world. To do so, he can't let Miles return home to try to save his family, friends, and his whole universe.
Unsurprisingly, Miles isn't enamored of this plan, hence why he flees and gets pursued by every other Spider-Person. We believe this Spider Civil War between Miles and O'Hara will be the main driver of Across the Spider-Verse's story, with O'Hara positioned as an anti-hero/secondary antagonist to The Spot, who is really the movie's main villain.
Taking a byte out of the competition
Amid O'Hara's lengthy exposition dump (lengthy as far as trailers go, anyway), we catch another Spider-Person who could be integral to the film's story: Spider-Byte.
Also known as Margo (her surname is undisclosed in the comics), Spider-Byte hails from a technology-rich universe where people spend most of their time in the metaverse. Spider-Byte was one of the many characters shown in an Across the Spider-Verse poster that spoiled its biggest surprises, and this trailer confirms she'll appear. We see her splitting into four versions of herself to work across a vast computer-based console.
Considering O'Hara is a fellow technophile, we suspect Spider-Byte is one of the first people he recruits to his Spider-Force team. Spider-Byte would have the know-how to help him create other technologies capable of tracking down other Spider-People, or even helping him make a better version of his multiverse-traveling wrist band, which O'Hara crafted in Into the Spider-Verse's post-credits scene. As we said, expect Spider-Byte to be a major supporting player in this sequel.
Spider-People, assemble!
The final 50 seconds of the trailer are devoted to O'Hara and most other Spider-People chasing Miles to stop him from throwing their plan into disarray.
If you thought we saw a ton of Spider-People in the first teaser and poster, the movie's latest trailer shows just how many Spider-based individuals we'll actually see on the big screen.
As well as all the aforementioned characters, we also picked out *deep breath* another Spider-Woman, Ben Reilly/Scarlet Spider, Cyborg Spider-Woman, zombie Spider-Man, Spider-Man PS4/PS5, Spider-Man Unlimited, Superior Spider-Man, Mayday, Spider-Girl, Lady Spider, Therapist Spider-Man, and even Widow, aka Spider-Horse.
That's just the tip of the iceberg, too. There's a seemingly infinite number of Spider-People shown in the teaser, including some brand-new iterations not seen in the comics. We're going to have a difficult time working out the identities of every single one of them, that's for sure.
For more Spider-Man-centric coverage, check out our best Spider-Man movies ranked piece. Alternatively, read up on where Spider-Man: Into the Spider-Verse placed in our best superhero movies guide, or learn about which Into the Spider-Verse character is getting their own live-action Prime Video show.