Spoilers follow for Pixar's Turning Red.
Few creators, particularly in the animation space, have enjoyed a meteoric rise like Domee Shi. The Chinese-Canadian screenwriter-director burst onto the scene with 2018's Bao, a fascinatingly emotional animated short film that netted Shi an unexpected Oscar less than a year after its Tribeca Film Festival debut.
Following her contributions to other popular Pixar flicks, including Toy Story 4 and Luca, Shi made her feature film directorial debut with 2022's Turning Red. A movie inspired by Shi's own upbringing and her evident love for anime, Turning Red wowed audiences upon release in March 2022 – albeit on Disney Plus. The movie wasn't released theatrically in many countries, much to the chagrin of Shi and producer Lindsey Collins, with the latter telling TechRadar at the time that the decision "kind of sucks".
Still, Turning Red's streaming exclusivity hasn't prevented it from being successful. Neither have the pockets of bizarre backlash, with some viewers criticizing the family-friendly movie's focus on puberty, child disobedience, and sexuality. The Pixar movie has been nominated for more than 50 awards since July 2022 – it's won three so far – including Best Animated Feature Film at the 2023 Oscars and Best Animated Film at 2023 edition of the BAFTAs. Vindication, if any was needed, that Turning Red is a funny, innovative, heart-warming, and highly entertaining film.
Ahead of this year's BAFTA and Academy Award ceremonies, which take place on February 19 and March 12, TechRadar caught up with Shi to discuss her latest award nominations, Pixar Easter eggs, and why animated films are routinely overlooked for Best Picture for the world's most prestigious awards.
TechRadar: Congratulations on Turning Red's BAFTA and Oscar nominations. Is it still surreal to see your work put forward for these awards? How do they compare to your first nomination?
Domee Shi: Yeah, I mean, it's pretty surreal, especially with our film standing next to the other amazing nominees. It's not something that you think about too much when you're making the movie. I just really wanted this film to just resonate with as many people as possible. It's a universal story about a girl working through the messiness of puberty, growing up and fighting with her mom, and it's just so amazing to be able to see it embraced by global audiences. But these nominations feel different this time. I feel like there's a lot more riding on this film to have been commercially and critically successful, because there are so many firsts in this movie. It's the first Pixar film to be led by a predominantly female leadership. It's the first film to really focus on an Asian female lead, and the first film to not shy away from all the ugliness and embarrassment of female puberty, menstruation, all that stuff. Personally, I hoped that it would be received well and I think it was, so it means everything to be nominated.
TR: Some of those 'series of firsts' moments were the new animation tools and techniques that Pixar developed specifically for Turning Red. Having had time to reflect on its production, what would you say was the hardest scene to create?
DS: There were so many challenges, but I think one of the most difficult parts was act three. The whole boyband stadium concert sequence, where Ming-Zilla comes in and crashes the gig. There are so many different characters running around, so it's a very complicated action sequence. It was technically challenging when Mei's aunties transform into their own panda versions, too, and they start helping save Mei's mother and by pulling on her tail – that was very complex.
Anything involving hair and fur, and interaction with hair and fur, is very difficult to do. Also, clumping hair in a certain way so it looks kind of artistic and not just like it's there. The hairs have to be styled specifically, so any scenes where you see a lot of pandas on screen were very tricky to do. Also, Ming-Zilla's whole design was technically challenging because we really wanted her to feel massive and give her this almost magical, fiery aesthetic. When you watch the scenes with Ming-Zilla, her hair is constantly moving, and that took a lot of work and trial and error to see how much movement there should be so it's not distracting.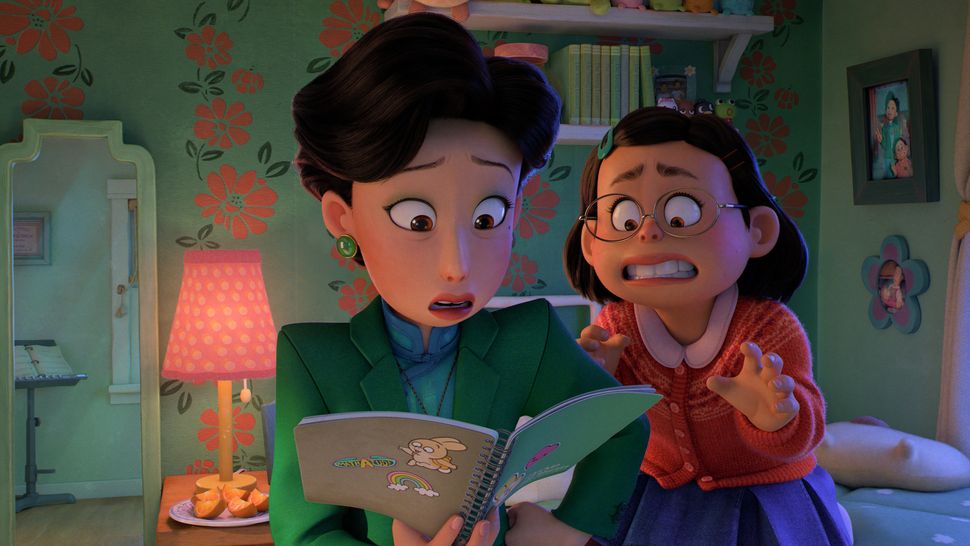 TR: Pixar is renowned for including Easter eggs in its films. Now we're nearly a year on from release, are there any secrets or references that audiences still haven't picked up on?
DS: I haven't seen any articles about all the Easter eggs, so I couldn't say for certain. But, you know, each Pixar movie has a little Easter egg referencing the next movie to come, so we have a little Lightyear sticker on Miriam's skateboard. We have little shout outs to some of the Pixar shorts, like Burrow and Purl. We have the Pizza Planet Truck in the last third of the movie where Mei's running to the concert and she's poofing into a panda on the road, and we'd see her zoom past a Pizza Planet Truck. There are lots in there, but I'm not sure if people have picked up on them all.
TR: It's also no secret Pixar has dominated the Best Animated Film categories at the Oscars and BAFTAs since those categories were introduced. Do you feel any personal pressure to live up to that legacy?
DS: Yeah. I mean, for me, just being nominated was a huge honour. Everything else, I'm just leaving up to the universe. You know, there are so many amazing films this year and I'm just so proud and honoured that our film was able to stand by those other movies. So, yeah, that's all I really care about at the end of the day.
TR: This is the 95th Academy Awards. Throughout the decades, only three animated movies have ever been nominated for Best Picture, which has drawn a lot of valid criticism, particularly in recent years with the vivid and innovative animation styles we've seen. Why do you think that animated features aren't viewed in the same way as their live-action counterparts? Do you think the stigma that animated films are only for kids is the main reason behind that?
DS: I think so, especially in North America. Animation has always been tied to family films, but I have always seen animation as a medium, not a genre. I'm a huge fan of French and Japanese animation. When you look at the work that comes out of those countries, and the different types of movies and TV shows that explore different kinds of stories and themes, they really treat animation as what it's supposed to be, which is just another visual medium to tell a story that can connect with audiences. Nobody at Pixar thinks our movies are just for kids. Our goal is just to tell the most impactful, entertaining stories. We don't think about trying to appeal to little kids or specific age groups. I think a good story is a good story – it should resonate with people of all ages.
I feel like we're seeing a slow change, especially when you look at the list of nominees this year. But you're also seeing a lot of really cool projects coming out on streaming services that have been animated in the western world. Also, just seeing how much live-action is turning into animation. I feel like you can't watch a live-action film and not see a bunch of VFX artists and animators toiling away to produce the footage that you're enjoying. So I think the lines are finally blurring a little bit, but it's up to the Academy and other institutions to recognise what we've all known this whole time.
TR: What can you tell us about your next Pixar project?
DS: I can't really talk about it right now, but I'm really excited about it. It's still super early on in development and it'll be very me, that's all I can say.
This article has been edited for length and clarity.