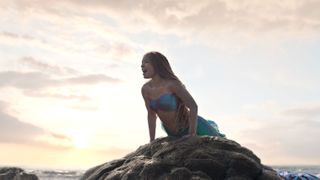 (Image credit: Disney)
It's hard to believe it's been 13 years since Disney began remaking its classic animated movies.
Ever since Alice in Wonderland debuted in theaters in 2020, the entertainment giant has converted 16 of its iconic films into live-action (or, in some cases, CGI-live-action hybrid) flicks. Most have hit the big screen, but there's been the odd Disney Plus exclusive, such as the recently released Peter Pan & Wendy – one of the latest movies to join our new Disney Plus movies list.
Given their legendary status, it's been unsurprising to see many of Disney's live-action film remakes become box office hits. That doesn't necessarily mean they're all good movies, though. As their critical scores on review aggregation website Rotten Tomatoes reveal, some have been fantastic, others middling, and a few have been complete disasters.
With The Little Mermaid remake, one of our most anticipated new movies of 2023, finally making a splash in theaters, now is as good a time as any to rank every Disney live-action remake, from worst to best, by their Rotten Tomatoes score. Now you'll know which of the 16 movies are ready to be *ahem* part of your world. So, what are you waiting for? Dive in!
Best Disney live-action remakes: 16 to 11
16. Alice Through the Looking Glass (2016)
Rotten Tomatoes score: 29%
Dear oh dear, where do we begin with this 2016 offering that tried to build on the success of its predecessor? Alice Through the Looking Glass might be as visually impressive as 2010's Alice in Wonderland, but there's little else to get excited about here. A thoroughly pointless (and likely expensive) sequel that adds nothing to Disney's adaptation of Lewis Carroll's most beloved fantasy book. As the Queen of Hearts would say: off with its head!
15. Pinocchio (2022)
Rotten Tomatoes score: 29%
Speaking of terrible live-action remakes, the Tom Hanks-starring reworking of instant classic Pinocchio is just as much a waste of everyone's time. Yes, it's packed with star power, but there's nothing about 2022's Pinocchio that makes it worthwhile.
In our Pinocchio review, we called it a "somewhat magical Disney Plus remake whose strings ultimately hold it down", but even that's being kind. A tread-for-tread movie that does the bare minimum in trying to update its tale for modern audiences. Guillermo del Toro's Pinocchio, which launched a few months later on Netflix, is a much grander, original, and heartfelt take on Carlo Collodi's famous story.
14. Maleficent: Mistress of Evil (2019)
Rotten Tomatoes score: 39%
The second of only two sequels on this list, Maleficent: Mistress of Evil should have stayed well hidden from view.
Again, it's visually arresting, and some may argue that there are magical elements to it that prevent it from being a complete disaster. Even so, this Angelina Jolie-starring sophomore outing makes for grim viewing. Its dialog and script are below average, its CGI battles cumbersome, and the occasional sidelining of Jolie's mischievous witch doesn't aid matters, either. A charmless sequel to a fairly average first outing.
13. Dumbo (2019)
Rotten Tomatoes score: 45%
Everyone's favorite flappy-eared elephant deserved better than this, especially from someone possessing as creative, talented a mind as Tim Burton.
The Beetlejuice and Wednesday director's live-action take on Dumbo is, like many of its siblings, gorgeous to look at, but beneath the surface, there's just not a lot going on. It lacks the charm, heart, thrills, and even borderline scares and violence depicted in the original. Instead, it opts for a watered-down exploration of the film's overarching themes through thinly developed characters – human and animal alike. We all expected this one to fly, but unfortunately, it didn't have the artistic wings to do so.
12. Alice in Wonderland (2010)
Rotten Tomatoes score: 51%
The movie that kickstarted Disney's efforts to seemingly adapt every single one of its iconic animated films into live-action versions. Another Burton-helmed flick, Alice in Wonderland is a more enjoyable outing than Dumbo, finding a pleasing balance between dark humor, gothic visuals, and typically Burton-inspired absurdity.
It's a shame, then, that Alice in Wonderland trades all of that in for a generic, anti-climactic CGI-laden battle sequence in its third act. A stumbling finale to what could have been a pretty memorable movie and one that sacrifices a lot of the good work that came before.
11. The Lion King (2019)
Rotten Tomatoes score: 52%
After he wowed audiences with his technology-infused, highly enjoyable take on The Jungle Book (more on this later), The Mandalorian co-creator Jon Favreau returned to the Disney movie hot seat to tackle a live-action adaptation of one of the studio's most beloved films of all-time.
You can't argue against that fact, either. The multi-award-winning 1994 original raked in nearly $950 million globally, and its 2019 live-action remake performed even better, earning an eyewatering $1.6 billion worldwide. Despite its impressive technical achievements and clear popularity, though, The Lion King's live-action treatment suffered from the same issues as 2022's Pinocchio. That being, despite its starry cast, it offers nothing new to the Shakespearean tragedy-esque story. It lacks the emotional gut punches of its animated counterpart, too, making it a more feeble offering than what precedes it.
Best Disney live-action remakes: 10 to 6
10. Maleficent (2014)
Rotten Tomatoes score: 54%
This Robert Stromberg-directed fantasy film retelling of 1959's Sleeping Beauty doesn't carry the narrative weight or dramatically dark elements of the original.
However, Maleficent isn't a total write-off, with Jolie delivering a masterclass in devilishness and menacing charm as the titular witch, while Elle Fanning juxtaposes her as the effervescent and delightful Aurora. The movie also benefits from dazzling visual effects, thematic richness, and a general fun-filled factor that's lacking in many of the aforementioned entries.
9. Aladdin (2019)
Rotten Tomatoes score: 57%
Nothing – and we mean nothing – will replace the late Robin Williams' surreal, hilarious, and heartfelt performance as Genie in 1992's Aladdin. In fact, that film is so fun, frightening, and frivolously musical few Disney animated classics can hold a candle to it.
That said, Guy Ritchie's live-action retelling isn't a bad watch. It's a little ponderous early on and could also do with a bit more creativity in the storytelling department. Other than that, though, it largely shines as a spectacle, with charismatic performances from Will Smith, Mena Massoud, and Naomi Scott, plenty of heart and humor, and the right amount of razzle-dazzle.
8. Peter Pan & Wendy (2023)
Rotten Tomatoes score: 62%
We don't think many of you would have had Peter Pan & Wendy on your 'good Disney live-action remake' bingo card, yet here we are.
J.M. Barrie's legendary story of the boy who never grew up is given a rollicking makeover in this period-era-set flick. The muted, naturalistic palette and artistic style from director David Lowery (he of The Green Knight fame) contrasts the swashbuckling adventure within while providing a mature take on the classic tale about childhood freedom, eternal youth, and courage. There are missteps along the way – Peter Pan & Wendy is another example of Disney cannibalizing IP for profit – but, given the alternatives on this list so far, it doesn't do too badly for itself.
7. Lady and the Tramp (2019)
Rotten Tomatoes score: 66%
2019 was a big year for Disney live-action remakes, with no fewer than five movies debuting on the big and small screens.
Nobody would have expected Lady and the Tramp, however, to be the best of that year's quintet. The romantic musical flick (itself inspired by a 1945 Cosmopolitan magazine story) hits all the main narrative notes of the original but does so in a way that feels novel enough for this remake to be worth investing in. Its CGI animals lack the expression of their 2D movie counterparts, and even for a romance-centric film, it can be a bit too lovesick for its own liking. If you can look past those criticisms, though, Lady and the Tramp is a fairly wonderful flick.
6. Beauty and the Beast (2017)
Rotten Tomatoes score: 70%
Beauty and the Beast is the first Disney live-action remake to truly enter 'enchanting' territory. Harry Potter alumnus Emma Watson, ably supported by Luke Evans and Dan Stevens, trades Hogwarts castle for, well, another medieval-period stronghold. The movie manages to capture the splendor, terror, and loved-up allure of the 1991 animated classic.
A faithful but fresh take on Jean-Marie Leprince de Beaumont's 18th-century story, Beauty and the Beast is a lovingly crafted cinematic experience with the grace and poise of a film from another era.
Best Disney live-action remakes: 5 to 1
5. Mulan (2020)
Rotten Tomatoes score: 72%
The Covid-19 pandemic may have curtailed Mulan's chances of being a box office hit in 2020, but this Yifei Liu-led remake is one of Disney's better live-action attempts.
That's not to say it doesn't struggle under its own weight at times. 2020's Mulan is a flashy, ambitious action epic that pleasingly rights some of the wrongs of the animated original – those racial stereotypes haven't aged well – by authentically capturing its Asian characters, traditions, and period setting. However, its reluctance to explore the characters' motives and the film's wider themes, combined with its over-eagerness to please audiences, prevent Mulan from being a truly top-tier live-action remake. One to watch, sure, but not unmissable.
4. The Little Mermaid (2023)
Rotten Tomatoes score: 73%
With few of its recent remakes being well received, Disney will be relieved that The Little Mermaid's live-action adaptation has *ahem* steered its ship back in the right direction.
In our review of The Little Mermaid, we said "this new retelling of the underwater fairy tale is backed up not only by some jaw-dropping live acting and effects works, but is given extra heavyweight heft by the addition of icons Javier Bardem and Melissa McCarthy, who join the impressive Halle Bailey as Ariel". Not bad for a movie about a mythical being who longs to be part of humanity's world, eh?
It's not a complete success, mind you. We also said it's devoid of the humor the original contains, and at two hours and 15 minutes, it's excessively long. In short: temper your expectations somewhat before seeing it in theaters.
3. Cruella (2021)
Rotten Tomatoes score: 75%
A movie that straddles the line between being a remake and a prequel to the book and flick it's based on, Cruella is a rarity among Disney live-action retellings.
True, it wasn't exactly necessary from a development standpoint. It doesn't really deal with the reasons behind Cruella's eventual heel turn to puppy skinner (as the animated and live-action 101 Dalmatians films allude to). One wonders, then, why it was made at all.
That's until you realize that it's just really good fun. Emma Stone and Emma Thompson shine as the titular budding fashion designer and Cruella's, well, cruel boss, respectively. Seeing the pair clash on-screen is a visual and verbal treat. It's tremendously stylish, too, which only adds to the entertainment factor. Read our review of Cruella for more on what we thought of it.
2. Cinderella (2015)
Rotten Tomatoes score: 83%
Kenneth Branagh-directed Disney movies have often flattered to deceive – Thor and the actor-director's Poirot-starring remakes, we're looking at you. But the same cannot be said of 2015's Cinderella, a refreshingly traditional take on the timeless tale that, unlike other entries on this list, doesn't feel hammed up.
Led by a powerhouse performance from Cate Blanchett as the evil stepmother – Lily James and Richard Madden are terrific as the titular character and Prince Kit, too – Cinderella is Disney at its old-fashioned, magical best. A candy-colored, romance-fuelled, and enchanting retelling that'll make your heart soar.
1. The Jungle Book (2016)
Rotten Tomatoes score: 94%
The crème de la crème of Disney-movie remakes. Jon Favreau's first live-action-CGI hybrid film is one of those rare reimaginings that (whisper it quietly) actually feels superior to its animated counterpart.
And few could argue against that when you take everything into consideration. 2016's The Jungle Book is packed with star power at the top of their game, gorgeous visuals that bring Rudyard Kipling's story to life in vivid and sun-drenched fashion, 3D animation that pushed the boundaries of what's possible in filmmaking, bouncing musical renditions that honor – and put a fresh spin on – the movie's iconic soundtrack, and the odd unexpected scary sequence. All in all, this gives The Jungle Book a majestically assembled, modern update. A must-see spectacle.
For more Disney-based coverage, read our guide on the best Disney Plus movies. Alternatively, get the lowdown on everything coming as part of Marvel Phase 5, or find out how much a Disney Plus subscription costs.
Sign up to receive daily breaking news, reviews, opinion, analysis, deals and more from the world of tech.
Senior Entertainment Reporter
As TechRadar's senior entertainment reporter, Tom covers all of the latest movies, TV shows, and streaming service news that you need to know about. You'll regularly find him writing about the Marvel Cinematic Universe, Star Wars, Netflix, Prime Video, Disney Plus, and many other topics of interest.
An NCTJ-accredited journalist, Tom also writes reviews, analytical articles, opinion pieces, and interview-led features on the biggest franchises, actors, directors and other industry leaders. You may see his quotes pop up in the odd official Marvel Studios video, too, such as this Moon Knight TV spot.
Away from work, Tom can be found checking out the latest video games, immersing himself in his favorite sporting pastime of football, reading the many unread books on his shelf, staying fit at the gym, and petting every dog he comes across.

Got a scoop, interesting story, or an intriguing angle on the latest news in entertainment? Feel free to drop him a line.