You'll be hard-pressed to find a better bang-for-the-buck gaming laptop deal than this Lenovo IdeaPad 3 for $599 at Best Buy.
So far, it is the cheapest machine I've seen to feature an RTX 3050 Ti graphics card, which will get you some great 1080p gaming chops considering the price. At Just $600, this one is a great starter machine for someone just starting with PC gaming - or simply needs a cheap backup machine for when they're away from home.
Today's best cheap gaming laptop deal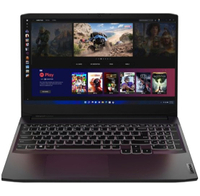 Lenovo IdeaPad 3 15.6-inch gaming laptop
Was: $899
Now: $599.99 at Best Buy
Key features: RTX 3050 Ti graphics card, Ryzen 5 5600H processor, 256GB SSD, 8GB of RAM, 120Hz display
Product launched: 2022
Price history: We've seen this particular machine at this price once or twice before but on rare occasion. As of mid 2023, this remains the cheapest gaming laptop we've seen to feature an RTX 3050 Ti graphics card, which is a slight cut above the usual RTX 3050 that you find on machines in the $500 to $700 range.
Price comparison: Lenovo: $599 | Amazon: $670 | Newegg: $699 | Walmart: $749
Buy it if: You're looking for the cheapest possible gaming laptop that can still offer decent performance in game. The RTX 3050 Ti is still a relatively modest graphics card but it's enough to run most games at high settings at 60FPS on a 1080p monitor like the one featured on this Lenovo.
Don't buy it if: You're looking for a machine that features a super high-end build or display. As a more budget-orientated laptop, you're getting decent components for the money with this Lenovo but a fully plastic build. It's still going to be sturdy, just know that this Lenovo won't be turning any heads.
Why I think this is a good choice right now
Dirt-cheap (like, really cheap)
120Hz display
A good candidate for upgrades
Going into this deal in a bit more detail, and specifically the reason why I've picked it out as the best cheap gaming laptop deal right now for those on a budget. First up, I've already mentioned the fact it's the cheapest machine to feature an RTX 3050 Ti graphics card, but it's also worth noting that it's got a 120Hz refresh rate display, which is one area where manufacturers tend to cheap out at this price. The Ryzen 5-5600H is also pretty serviceable, even though it's not the latest processor on the market by any means, it's a good pairing with the RTX 3050 Ti.
The two weakest areas in the specification with this Lenovo are the 8GB of RAM and 256GB SSD - the latter being particularly tiny for a storage drive of 256GB. This won't give you much space to install many games at once, but the plus side is that both these components are fairly easy (and cheap) to upgrade yourself.
Want to see what else is out there right now? Here are a few other top choices from my main cheap gaming laptop deals roundup:
Ogaming laptop deals to consider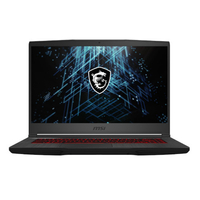 MSI GF65 15.6-inch gaming laptop: $774 at Amazon
Processor: Intel Core i5-10500H
Graphics card: RTX 3060
RAM: 8GB
SSD: 512GB
This MSI is a strong candidate for overall gaming laptop deal of the week right now. This one is a slightly older spec now, and it's a listing that's been knocking around for a while, but it remains one of the cheapest machines ever to feature a mid-range RTX 3060 graphics card. This alone makes it a fantastic bang-for-the-buck choice if you can afford a machine in this budget range.
Performance level: 1080p, mid to high settings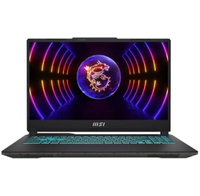 MSI Cyborg 15.6-inch gaming laptop: $1,099.99 at Best Buy
Processor: Intel Core i7-12650H
Graphics card: RTX 4060
RAM: 8GB
SSD: 512GB
Over $1,000 we'd be tempted to pick up a machine with the latest RTX 4000 graphics cards even though they haven't received any price cuts as of yet. Right now, we think the best reasonably priced choice is this MSI Cyborg at Best Buy due to its nice combination of a Core i7 and speedy RTX 4060. Overall, you're not getting a super high-end machine here (especially with the design, RAM, and SSD) but you will get fantastic performance and full support for DLSS 3, which is the next generation of Nvidia's extremely useful image upscaling technology.
Performance level: 1440p, high settings