Cyber Monday coffee maker deals: final savings on top models
Deals
Contributions from
last updated
This year's Cyber Monday coffee maker deals are here – but they end soon
This year's Cyber Monday coffee maker deals offer great savings. We've found a few discounts that are even better than their Black Friday equivalents, although retailers like Amazon, Walmart and Best Buy did carry over their Black Friday discounts through the weekend.
If you're on a hunt for Cyber Monday deals on coffee makers, you'll find the best ones below. There have been some amazing standout deals at all price points this weekend, like the Cyetus Espresso Machine with Milk Frother, which was $140, now $79.99 at Amazon. On the slightly pricier end of the spectrum, we saw the Nespresso Lattissima One Coffee Maker by De'Longhi price slashed by $120 to just $279.30 at Amazon.
We're seeing discounts on some of the best coffee makers and best espresso machines, so your next bean-roasting equipment upgrade needn't be too painful on the wallet. These deals include products from big names you can trust to deliver top-notch coffee machines, including the likes of Nespresso, Keurig, Ninja and more.
Here, we've highlighted our pick of the best bargains and shared advice on where, when, and how to bag the best Cyber Monday coffee maker deals today.
Don't forget to see what KitchenAid promo codes are available if you're thinking of buying something from KitchenAid.
Cyber Monday coffee maker sales: quick links
Ongoing Cyber Monday deals events at Amazon, Best Buy and Walmart have launched a hefty number of coffee maker discounts. You'll find our the pick of the bunch below – most of which are from Amazon – along with a roundup of the other retailers to keep an eye on.
Cyber Monday coffee maker deals: under $100
Cyber Monday coffee maker deals: under $200
Cyber Monday coffee maker deals: over $200
Buying tips: 3 best coffee machines to look for on Cyber Monday
If you need an effortless way to make your morning brew, then the single-serve pod Nespresso Vertuo Next is the coffee maker for you. It can create five different-sized drinks, and because it uses pods, is easy to clean as well.
It's a coffee machine that's regularly on offer, and is already a reasonably priced Nespresso model at $179.95. You can currently save on the Nespresso Vertuo Next at Amazon.
Read more in our Nespresso Vertuo Next review
A drip coffee machine is ideal for those that want large volumes of coffee throughout the day - if this is your coffee machine of choice, it's worth keeping an eye out for a deal on the KitchenAid Classic 5KCM1208 Drip Coffee Maker. Already one of the more affordable drip coffee makers we've tested, the KitchenAid Classic 5KCM1208 has previously been discounted by around 35% in the US - taking it down to $72.
Read our full KitchenAid Classic 5KCM1208 Drip Coffee Maker review
If you fancy taking on the role of the barista, the Breville Bambino Plus is one of the best espresso machines you can right now. It's quick to heat up, makes smooth, intense espresso, and has a steam wand too. This espresso machine saw a discount of 20% in the US on Black Friday/Cyber Monday last year, taking it down to $400.
Read our full Breville Bambino Plus review
Tips for buying a coffee maker on Black Friday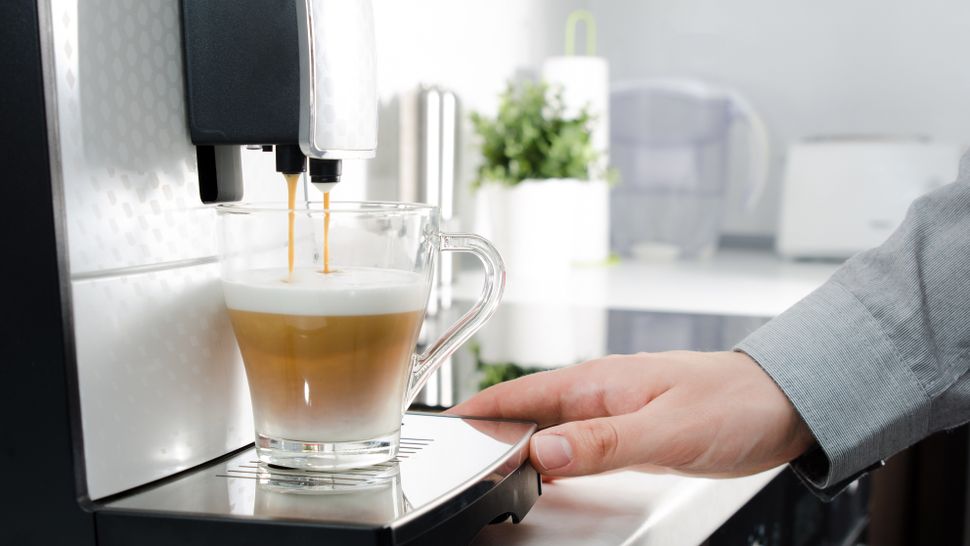 1. Look at individual specifications
When buying a coffee maker on Cyber Monday, you'll want to find a machine that is easy to use with a range of important features built-in. Some of these features include a water temperature adjuster, automatic switch-off setting, and self-cleaning controls. Other popular features to look for when buying a coffee machine on Cyber Monday are machines with a built-in milk frother and coffee grinder.
Picking the perfect coffee machine is often a personal shopping experience, as it depends on your budget, style preferences, the type of coffee you want to make, and the features you want your machine to have. Whether it's an espresso, latte, or cappuccino you're after, it's a good idea to have a look at their individual specifications to evaluate what coffee machine makes the best latte, for example.
2. Practicality over big price reductions
Often when you see big price reductions on pod machines such as the Nespresso Vertuo, bear in mind that this machine isn't compatible with pods other than Nespresso or, until recently, Starbucks' new Vertuo range. For that reason alone, investing in a ground coffee or bean-to-cup machine might be a better cost-saving option in the long term.
3. Do your research in advance
The best way to make sure you end up with the right type of coffee machine on Cyber Monday is to do your research in advance. We advise reading our best coffee machine guide to narrow down the product you're interested in and the specifications you need. Once you have a good idea of what you're looking for, you can approach the Cyber Monday coffee maker deals with a good understanding of whether the machine you're interested in is worth the money.