Unlike Alienware's original 500Hz display, the Alienware AW2524HF takes things closer to the ground, making that novelty of a refresh rate more accessible to early adopters. While it certainly isn't perfect and not something you'd purchase out of necessity right now, it's still a great piece of kit to get if you want to jump on that bandwagon.
Pros
+

Blazing-fast refresh rate

+

AMD FreeSync Premium support

+

Great picture quality

+

Two DisplayPorts 1.4 for 500Hz/0.5ms gtg

+

More affordable than the original
Cons
-

Less powerful PCs need not apply

-

A couple of design struggles

-

HDR nothing to write home about

-

A tad pricey for a 24-inch 1080p monitor
Why you can trust TechRadar We spend hours testing every product or service we review, so you can be sure you're buying the best. Find out more about how we test.
Alienware AW2524HF review: Two-minute review
There's no need for a heated debate here. I think that everyone can agree on one thing: a 500Hz refresh rate is simply superfluous, even in competitive gaming. At least right now when 144Hz is certainly good enough for most gamers who enjoy fast-paced titles.
However, it wasn't that long ago when we were all raving about and dreaming of owning a 144Hz gaming monitor, and now it's starting to feel like the bare minimum. And I'm pretty sure that Alienware is banking on that exact thing to happen with its 500Hz offerings.
You read that right – 500Hz offerings plural, as in its latest line of gaming monitors, is growing with the addition of the Alienware AW2524HF, the subject of this very review.
Much like the Alienware AW2524H, which, despite its price, is one of the best gaming monitors to consider if you're itching for a higher refresh rate, it's sporting that 500Hz (overclocked) / 480Hz (native) refresh rate that you'd be hard-pressed to see on most displays these days. However, it has one big thing going for it over the first model: it's cheaper – $180 cheaper in the US to be exact.
That means that while, realistically, no one really needs a 500Hz gaming monitor right now, at least Alienware is making it possible to get one for relatively cheaper if you're hoping to be an early adopter.
And it is a great, future-proof investment if you're a gamer, even more so if you're a competitive one, especially since there's not really a lot of compromises made to get that price from near-$900 down to a more palatable level.
The Alienware AW2524HF merely sacrifices that attractive-yet-unnecessary RGB lighting, trades in VESA DisplayHDR 400 for the humble HDR10, and swaps G-SYNC and an HDMI port for AMD FreeSync Premium, VESA Adaptive Sync, and a second DisplayPort 1.4.
No one really needs built-in RGB lighting on a monitor these days anyway, not when all these smart light manufacturers are making their own display light strips and panels. And this display does well without it, sporting that classic Alienware design with elegant and curvy yet strangely still gaming-appropriate aesthetics with a nice satin finish that's nice to the touch.
Image 1 of 3
Notably, it only comes in the brand's Dark Side of the Moon colorway, but it's not like it's competing with Samsung's Odyssey line anyway. And I do appreciate that small footprint – while it doesn't have enough screen real estate for multitasking (not for me, anyway), it is refreshing to have a monitor that doesn't feel like it's looming over me or trying to swallow me whole.
There are other aspects to its design that are much appreciated. While there's no KVM feature (a shame seeing as you're getting three ports for input), there is a USB hub with four USB Type-A ports (two in the back and two in the front just below the panel) for your gaming peripherals.
And they work as they should. There's also a built-in retractable headset hanger – a small extra that goes a long way.
Image 1 of 3
Plus, on top of its tilt (-5° to 21°), swivel (-20° to 20°), and height adjustment (110 mm), it also boasts a 90-degree pivot for when you need that portrait mode for something – though sadly, it doesn't have auto-orientation. And, the OSD menu is incredibly easy to navigate using the four-way button just below the panel.
I obviously didn't take this in the middle of the field to reenact Office Space, but it's clearly well-built and made with decently durable materials that will see through the usual wear and tear. However, I cannot stand its stand. There's not a lot of heft to it, which means that every time I make any sort of physical adjustments, the whole thing moves. I have to hold down the base with one hand and make the necessary adjustments with the other every single time.
Finally, the ports: there are two DisplayPort 1.4, as I mentioned, and one HDMI 2.1 for input. Alienware decided that swapping out the second HDMI port in the AW2524H is a wise move, allowing users to have two DisplayPorts that support 500Hz at 1080p. Then there's the aforementioned USB hub.
It's not the widest port selection, but it'll do for most gamers. My only complaint is that they are downward-facing, which means that slotting something in one of them necessitates some pivoting, which then becomes a whole ordeal with that very movable base.
There isn't really a noticeably sizable jump going from faster refresh rates to 500Hz on the Alienware AW2524HF, at least not to most gamers. You will notice a big difference if you're transitioning from a 60Hz display, but only experienced eyes can tell the slight difference between 144Hz to 500Hz, let alone from 360Hz.
However, you can still intuitively feel that the visuals are somehow smoother and cleaner, especially when you're spinning around battling several enemies at once in fast-paced games like Counter-Strike: Global Offensive as well as slower ones like Hogwarts Legacy. You'll feel that it's faster as well, which is really the point here. What is noticeable, however, is the change in contrast and saturation, as the monitor boosts those when you're at 500Hz.
Just bear in mind that you do need serious hardware to enjoy that fast refresh rate, which by the way you'll have to overclock (via the OSD menu) to get. That's another factor to consider when you're seriously thinking about getting this display – anything less powerful than an RTX 4080, and you won't be able to maximize its true potential.
To keep the price down, it swaps out the AW2524H's DisplayHDR 400 for an HDR10, which honestly isn't anything to write home about. When toggled on, it does offer a slight boost in contrast and saturation, as well as a warmer hue, but again, the difference is very minimal and not really that discernable (unless you want to waste several minutes switching back and forth like I did while watching One Piece on Netflix). To be fair, I did find that it was able to recover some details back in the darker scenes in Foundation.
Still, if you want a more immersive HDR experience, as well as that 500Hz refresh rate, you might be better off saving up for its pricier counterpart. The Alienware AW2524HF is for that smooth and responsive 500Hz refresh rate, and that alone.
Alienware AW2524HF review: Price & availability
How much does it cost? $649.99 / £589 (about AU$1,000)
When is it available? Available now
Where can you get it? Available in the US and UK at the time of writing
At $649.99 / £589 (about AU$1,000), the Alienware AW2524HF is still a hefty purchase if you're coming from that 1080p 24-inch monitor point of view. But what you're really paying for here is that 500Hz refresh rate, which you won't find elsewhere at the time of writing – unless, of course, you're getting the pricier AW2524H. It's honestly not too bad a price for taking home a piece of kit as one of its early adopters.
However, if you're on a budget, consider getting a gaming monitor with a refresh rate of 144Hz or even 240Hz like the Samsung Odyssey G7, which you'll now often see on sale at under $450 / £450, or the Asus TUF VG259QM that sits at that below-$300/£300 price point. Our best high refresh rate gaming monitors guide should also give you other alternatives.
If it's that 500Hz refresh rate you desperately want, though, this is the best price you'll find right now. Just keep in mind that it's not available in Australia at the time of writing.
Alienware AW2524HF review: Specs
Swipe to scroll horizontally
| | |
| --- | --- |
| Screen size: | 24.5 inches |
| Aspect ratio: | 16:9 |
| Resolution: | 1920 x 1080 |
| Brightness: | 400 cd/m2 |
| Refresh rate: | 500Hz (oc) / 480Hz (native) |
| Response time: | 0.5ms gtg |
| Viewing angle: | 178/178 |
| Contrast ratio: | 1,000:1 |
| Color support: | 99% sRGB |
| Inputs: | 2x DP 1.4, 1x HDMI 2.1, 1x USB 3.2, 2x USB 3.2, 2x USB 3.2 Gen1 (one port with BC1.2 power-charging) |
| Weight: | 8.05 lbs (3.65 kg) |
Should you buy the Alienware AW2524HF review?
Swipe to scroll horizontally
| | | |
| --- | --- | --- |
| Value | It's not cheap, but it's the most affordable way to experience 500Hz gaming right now. | 4 / 5 |
| Design | It's no-frills yet still recognizably Alienware design comes with some extras including a headset hanger and a USB hub. | 4.5 / 5 |
| Performance | Crisp, smooth and fast visuals offers a competitive edge, even if the HDR is nothing special. | 4.5 / 5 |
| Average rating | If you want an affordable entry into 500Hz gaming, you've got a winner here. | 4.5 / 5 |
Buy it if...
You want the speediest gaming monitor for less
If you want access to that blazing fast refresh rate but have limited funds, this monitor is your best bet.
You're a competitive gamer
If you want to top the leaderboards, then you want as much as speed as you can get, and it doesn't get any faster than 500Hz.
Don't buy it if...
You're on a tight budget
Even if the Alienware AW2524HF is a more affordable way to get that refresh rate, it's not exactly budget.
You need a monitor that rules them all
This monitor is great for what it does, but it's not an all-rounder. If you need a feature-rich monitor or more screen real estate, look elsewhere.
Alienware AW2524HF review: Also consider
Swipe to scroll horizontally
| Header Cell - Column 0 | Alienware AW2524HF | Samsung Odyssey G7 | Asus TUF VG259QM |
| --- | --- | --- | --- |
| Price: | $649.99 / £589 (about AU$1,000) | $676 / £499 / AU$999 | $279 / £349 / AU$499 |
| Screen size: | 24.5 inches | 27 inches | 24.5 inches |
| Aspect ratio: | 16:9 | 16:9 | 16:9 |
| Resolution: | 1920 x 1080 | 2,560 x 1,440 | 1920 x 1080 |
| Brightness: | 400 cd/m2 | 350 nits (typ) / 600 nits (peak) | 400 cd/㎡ |
| Refresh rate: | 500Hz (oc) / 480Hz (native) | 240Hz | 280Hz (oc) / 240Hz (native) |
| Response time: | 0.5ms gtg | 1ms | 1ms |
| Viewing angle: | 178/178 | 178/178 | 178/178 |
| Contrast ratio: | 1,000:1 | 2,500:1 | 1,000:1 |
| Color support: | 99% sRGB | 95% DCI | 99% sRGB |
| Inputs: | 2x DisplayPort 1.4, 1x HDMI 2.1, 1x USB 3.2, 2x USB 3.2, 2x USB 3.2 Gen1 (one port with BC1.2 power-charging) | 1x HDMI 2.0, 2x DisplayPort, 1x 3.5mm headphone output, 3 x USB 2.0 | 1x DisplayPort 1.2, 2x HDMI(v2.0), 1x 3.5mm jack |
| Weight: | 8.05 lbs (3.65 kg) | 15.9 lbs (7.21 kg) | 11.2 lbs (5.1 kg) |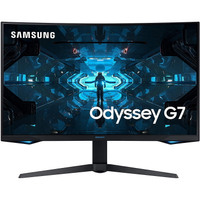 Samsung Odyssey G7
The Samsung Odyssey G7 is a fantastic curved gaming monitor with 240Hz at 1440p for speed and glorious resolution and in a stylish package.
Read the full Samsung Odyssey G7 review
How I tested the Alienware AW2524HF
Tested it for a week
Used it for gaming as well as productivity work and media consumption
Tried out all the features and different refresh rates
To properly test the Alienware AW2524HF in real-world scenarios, I used the display for a week not only for gaming but as my main work monitor as well. I ran different types of games at various refresh rates from 60Hz to its top speed. I also tested all its features including the USB hub and HDR.
With years of extensive experience testing and reviewing computers and peripherals, and as one of the Computing editors at TechRadar, I have all the right tools, skills, and experience to determine whether or not a display is worth your time and money. You can trust me to put them through their paces and make the right recommendations.
We pride ourselves on our independence and our rigorous review-testing process, offering up long-term attention to the products we review and making sure our reviews are updated and maintained - regardless of when a device was released, if you can still buy it, it's on our radar.
First reviewed September 2023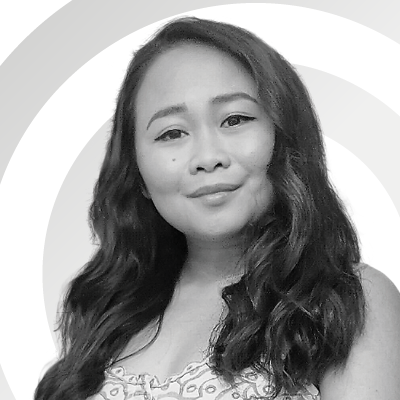 Computing Reviews and Buying Guides Editor
Michelle Rae Uy is the Computing Reviews and Buying Guides Editor here at TechRadar. She's a Los Angeles-based tech, travel and lifestyle writer covering a wide range of topics, from computing to the latest in green commutes to the best hiking trails. She's an ambivert who enjoys communing with nature and traveling for months at a time just as much as watching movies and playing sim games at home. That also means that she has a lot more avenues to explore in terms of understanding how tech can improve the different aspects of our lives.