Mid-size DJI Air 3 lands with dual cameras and huge flight-time boost
The DJI Air 2S's successor is a major all-round update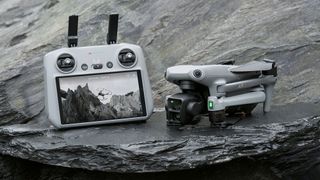 (Image credit: DJI)
The much-rumored DJI Air 3 has officially been announced, and the fourth installment of the Air range is the first of the market leader's mid-size drones to sport dual cameras.
Sitting between the beginner-friendly Mini 3 series of drones and the advanced-level Mavic 3 series, the DJI Air 3 is the latest and greatest option for beginners looking to upgrade to a bigger and better flight experience, and is a comprehensive replacement for the single-camera Air 2S.
Not only does the Air 3 pack the same 24mm camera as the Mini 3 Pro, and now the 70mm telephoto camera recently unveiled in the Mavic 3 Pro; it benefits from a significantly bigger battery that extends the maximum flight time, and improved flight-safety features.
It's a massive Air-series update at a negligible mark-up over its predecessor, and instantly becomes one of our best drones for aerial photography.
Are two better than one?
The DJI Air 3 has two 1/1.3-inch quad-Bayer sensors with dual native ISO that are capable of shooting 48MP photos and 4K slow-motion video up to 100 fps, or 4K HDR up to 60fps. Full HD video is up to 200fps – that's 8x slow-motion – while there's also an option to shoot uncropped vertical 2.7K video up to 60fps.
One sensor is paired with a 24mm f/1.7 camera, which is the same as the one used in the Mini 3 Pro, and the other is a 70mm f/2.8, which is effectively a 3x telephoto camera, inherited from the Mavic 3 Pro. So we've seen the tech before, but not in this combination, or in the Air series of drones.
It's an altogether more versatile setup than the Air 2S, which relies on an older, but physically larger 1-inch sensor with 20MP still images and 5.4K / 30p video, and it could well be that the Air 2S remains on the market a little while longer given the clear distinction between the two models.
Flight delight: longer, further, safer
The overall flight experience of the 720g, C1-rated (EU) drone has been improved, with a larger-capacity 4,241mAh battery enabling a maximum flight time of 46 minutes. That's a huge increase over the Air 2S's 31 minutes, and has blown even our most optimistic Air 3 expectations out of the water – we predicted 40 minutes would be the absolute max.
DJI has also rolled out its latest and next-level O4 video transmission, which boasts a range of up to 12.4 miles / 20km in low interference environments with 1080p / 60fps live feed. That's twice the 6.2-mile / 10km range of the O3+ video transmission used in the Mavic 3 series of drones and the Mini 3 Pro.
Another first for the Air series is the inclusion of Omnidirectional obstacle sensing, as found in advanced-level Mavic 3 drones. It works using twin fisheye lenses for forwards, back, left, right, and upward sensing, plus binocular lenses on the underside, with 'APAS 5.0' anti-collision kicking in to avoid any detected obstacles. There's also the usual Return To Home (RTH), which rounds out the industry-leading safety features.
DJI Air 3 price and release date
DJI Air 3 (DJI RC-N2) costs $1,099 / £962 / AU$1,699
DJI AIr 3 Fly More Combo (RC 2) is $1,549 / £1,379 / AU$2,349
The list price of the DJI Air 3 with basic DJI RC-N2 controller is $1,099 / £962 / AU$1,699, while the Fly More Combo (with the same RC-N2) is $1,349 / £1,199 / AU$2,049. Another Fly More Combo includes the more expensive RC 2 controller, which features a built-in screen, and costs $1,549 / £1,379 / AU$2,349.
There are several optional accessories, too, including the Battery Charging Hub ($69 / £59 / AU$129), and spare parts including a pair of Low-Noise Propellers ($12 / £11 / AU$39), while an additional Intelligent Flight Battery costs $159 / £129 / AU$359
DJI Air 3: first word
We couldn't have predicted the tech utilized by the Air 3; it's an excellent update from the Air 2S, and sensibly positioned between the entry-level Mini series and advanced Mavic series, having more in common with the latter. Some will be disappointed there's smaller image sensors inside than the one in the Air 2S, but the Air 3 is undoubtedly a more versatile offering.
If you'd like to find out how this latest mid-size aerial camera fares in real-world use, and discover more about its features, including those not covered here, we've already published our full DJI Air 3 review. One thing's for sure: DJI has further cemented its position as the market leader in consumer drone technology.
Get daily insight, inspiration and deals in your inbox
Get the hottest deals available in your inbox plus news, reviews, opinion, analysis and more from the TechRadar team.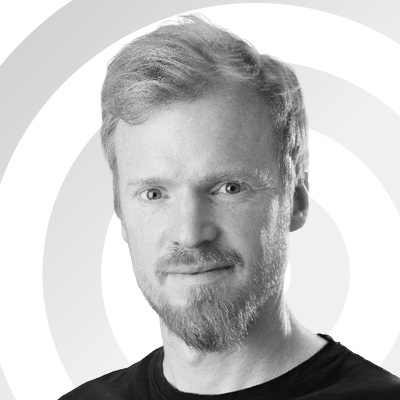 Tim is the Cameras editor at TechRadar. He has enjoyed more than 15 years in the photo video industry with most of those in the world of tech journalism. During his time as Deputy Technical Editor with Amateur Photographer, as a freelancer and consequently editor at Tech Radar, Tim has developed a deeply technical knowledge and practical experience with cameras, educating others through news, reviews and features. He's also worked in video production for Studio 44 with clients including Canon, and volunteers his spare time to consult a non-profit, diverse stories team based in Nairobi. Tim is curious, a keen creative, avid footballer and runner, and moderate flat white drinker who has lived in Kenya and believes we have much to enjoy and learn from each other.