I bought this cheap IKEA shower speaker and expected to hate it – but it's excellent
$20 challenge: IKEA's soap-on-a-rope style speaker had me singin' in the shower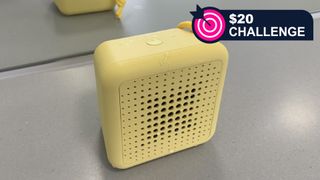 (Image credit: Future)
Part of me doesn't want to write this. My audiophile credentials – nay, my very merit as an audio writer! – will almost certainly be called into question as a result of what I'm about to divulge.
But I'm a fair woman and credit must go where credit is due. The awkward truth is that the IKEA Vappeby shower speaker, which we covered previously upon its launch, is too good for the money not give it a wry nod and utter, "Yes, very good. Well done IKEA".
Over the years, I've tested the bold, room-filling claims of myriad best Bluetooth speakers and helped to wheedle out some of the best Bluetooth speaker deals on my favorites, but none has been quite as wallet friendly as the IKEA Vappeby – a snip at only $15 / £12 (around AU$22, although at the time of writing I cannot see it listed on IKEA's Australian site. I hope that changes soon).
$20 challenge
This is the latest in a regular series of articles in which we test really cheap gadgets to see if they're worth even the small price you'll pay for them. Read them all here.
And yes, that price is without a discount. That is just how much it costs – because it only launched in the US in March, arriving in the UK and other territories a month later. But for such a low price, could the Vappeby really perform well enough to be worthy of even its small $15 asking price? Anyone else hear their mom saying, "Buy cheap, buy twice"?
For reference, the similarly sized JBL Go 3 regularly costs $49.95 / £34.99 / AU$59 and the splendid Tribit Stormbox Micro 2 sells for $60 / £60 (around AU$86) so we're talking three Vappebies for the price of one Go 3 – and actually, buying two of the IKEA propositions is a good call, since you can stereo pair them. But look at me getting ahead of myself!
Until now, I've always thought there comes a threshold with low-price Bluetooth audio kit wherein the cheaper the product gets, the more corners have had to be cut to get it there. I unboxed the Vappeby – which is packaged in IKEA's traditional, functional, almost foreboding no-frills black and white box – thinking it highly likely that the connection would be flaky and unreliable. Or maybe the build quality would be poor compared with the class-leaders. Perhaps that IP67 rating wouldn't hold water. The bass could feasibly bloat uncontrollably even at lower volume – because who has the time to painstakingly tweak and test the sonic recipe for $15? Maybe the buttons simply wouldn't work.
If you read no further, what you need to know is that none of these potential issues applies to the IKEA Vappeby. It is an alarmingly good Bluetooth speaker for the money.
Of course, in order to determine the overall sound quality, features and thus the viability of the audio product, I've got to treat the cheap IKEA Vappeby as I would any other portable speaker that merits review: by examining its specs and listening it to against an industry leader.
So that's what I did: on one side of my bathtub (I live in London, UK, where a bath-over-shower situation is the norm – lucky, even!) I set down the Vappeby. On the other, the aforementioned Tribit Stormbox Micro 2 took up residence. Let's see how the plucky IKEA underdog measures up.
IKEA Vappeby Bluetooth speaker: In a nutshell
The IKEA Vappeby is a Bluetooth speaker made to resemble a soap-on-a-rope for hanging in your shower and bringing the tunes. There's no surer sign that a manufacturer has identified a niche market and tapped a rich seam than when rivals start releasing copycat models and this what's happening here, with good reason.
Don't you just love a good karaoke session in the shower? And wouldn't it be good to have a dedicated little waterproof speaker just for your six minutes under the sprinkles, with a battery so seemingly eternal you rarely have to charge it? That is also what's happening here.
The Vappeby's closest competition is likely the Tribit Stormbox Micro 2 and if anything, that is a little unfair on the Vappeby. You see, the Tribit proposition is easily three times as expensive, depending on the deals and vouchers Tribit regularly offers on its products.
At the point of purchase, the IKEA Vappeby cost me £12 (which is $15 or around AU$22). Check out the specs below:
Swipe to scroll horizontally
IKEA Vappeby Bluetooth speaker: Specifications

| | |
| --- | --- |
| Component | IKEA Vappeby Bluetooth speaker |
| Price | $15 / £12 / AU$22 approx |
| Weight | 170g |
| Dimensions | 8 x 6 x 8cm |
| Bluetooth version | Not stated |
| Battery life | 80 hours |
| Water resistant? | Yes, IP67 |
| Connections | USB-C (charging only) |
| Other features | Stereo pair two Vappeby speakers |
IKEA Vappeby Bluetooth speaker: Design and features
I was delighted upon opening the Vappeby Bluetooth speaker. Once you get past the basic brutalist, meant-for-flatpack-furniture box, its yellow hue is as close to a bar of soap (or a rubber duckie) as you could ever hope for – and I think you'll agree it fits right in with my original 1960s avocado bathroom suite. It's also available in red or black, which I think you'd be a fool to buy when rubber-duckie-yellow is on the menu, but maybe those better suit your decor.
The Vappeby's grille is striking in a soap-suds-meets-style way. Although droplets of water do seem to cruise through the larger central holes towards the speaker's innards, its performance remains unaltered.
I found it wholly worthy of its IP67 claim – which means the speaker can actually be submerged in water up to one meter deep and survive for 30 minutes, as well as being dustproof.
Elsewhere, you get a pleasing power, pairing and shut-down tone (it'll shut down automatically after about 15 minutes of inactivity, so if you're running to work you don't need to worry about its battery), a nice solo LED light on the top plate and rubberized feet on the underside to add traction. Then, there's the central, circular multi-function button on the top of the unit for power, play/pause and stereo-pairing, which can be done with two like models only. It pairs easily, perfectly, and even when I leave my iPhone outside the bathroom (because moisture and smartphones don't mix, guys) the wireless connection never falters.
Do I care that you don't get volume buttons or power-out to charge my phone on the speaker? Not at all. This speaker is designed to go in my shower, at one volume, forever. And here it has all I could ever want – in fact, it would be churlish to ask for more.
Did I mention the battery life? At a claimed 80 hours of playtime at 50% volume, it tramples all over the dinky Tribit Stormbox Micro 2 pictured above, which boasts only 12 hours. It also easily beats the staying power of most of the best waterproof speakers of 2023, by a wide margin. Take it on holiday for a week and you'll almost certainly never need to charge it.
Can I vouch for the stamina claim? I've had it playing for over 48 hours so far at just over 50% volume and it's still going strong.
IKEA Vappeby Bluetooth speaker: sound quality
OK, deep breath. Look, it shouldn't come as a surprise to any of us that IKEA is capable of decent-sounding kit – the company's record player collab with Swedish House Mafia, its Sonos-certified Symfonisk Table Lamp Speaker (which also comes in a floor-standing version) and its Picture Frame with Wi-Fi Speaker are all evidence of fine form. And IKEA's prestigious lineup is extended here, into far cheaper territories.
Listening to Art Brut's My Little Brother is a refreshing surprise and not just because it's 7am and wake up time. The angry, jagged indie guitars and staccato lyrics are held resolutely in a cohesive, agile and compelling mix.
Yes, there's a limit to the bass weight – this speaker is the size of a bar of soap – but for its size and price, you won't beat the performance of the juicier registers. It also goes comfortably loud enough for me to want to turn it down to avoid irritating my neighbors this early.
The Vappeby provides a cohesive, entertaining mix and there's certainly no glaring leanness or tinniness through the low end. And it's a sensible sonic recipe, too, because even as I crank the volume again (which most of us might do first thing in the morning, in the shower) it doesn't distort or bloat. It isn't the wearing listen I'd expected, at all.
Switching to Arctic Monkeys' Mardy Bum, the picked guitars are nicely three-dimensional through the easy treble. Alex Turner's textured vocal is also far more emotive and nuanced than it has any right being at this level. Switching to the Tribit Stormbox Micro 2, you get an extra half-ounce of bass injection and a more omni-directional presentation (the Micro 2 is a cushion-shaped speaker with an upward firing driver), but you actually lose a little clarity and energy through the upper mids.
Honestly, when placed at roughly ear height (which is easily achievable if you've got a hook in your shower) and heard in the confines of your shower cubicle, there's very little wrong with the Vappeby sonically. Expect a forward-sounding, excitable performance rather than a laid-back or refined listen, but here I pull the horses for courses card; the Vappeby's engineers have made sure this little speaker aces the challenges thrown up by its bijou proportions and lowly price margins.
It hopefully goes without saying that for $15 / £12, one cannot expect the last word in sonic brilliance. What I am saying is, the IKEA Vappeby is emphatically worth its paltry asking fee in the sound-per-pound stakes.
IKEA Vappeby Bluetooth speaker: Is it worth it?
Yes. Yes the IKEA Vappeby is worth it. Oh, you need further clarification? OK then: IKEA's tiny progeny offers a whopping 80-hour battery where similarly sized, more expensive models can only stretch to five (JBL Go 3, I'm looking at you) and for sound it has oodles of dynamic panache, given its price point.
It's also enjoyable and resoundingly musical across the frequencies – and I will not list the minor shortfall through the bass as one of its shortcomings. Why? Because this speaker still sounds bigger, bassier and generally better than its diddy enclosure should permit.
If you're willing to spend thrice the price, you'll get the extra modicum of integrated bass clout you might be craving from the splendid Stormbox Micro 2 – but let me be clear, that does mean triple the money for a marginal gain. And the Tribit Stormbox Micro 2 is a class-leader at the level, sitting pretty in my top three Bluetooth speakers to throw in your bag this festival season roundup.
In a race between the Vappeby and JBL's Go 3, it's a clear win for the Vappeby across the board.
There, I've said it; the secret's out. I really enjoy this cheap and cheerful IKEA shower-centric speaker. And I don't even feel unclean for admitting it.
Sign up for Black Friday email alerts!
Get the hottest deals available in your inbox plus news, reviews, opinion, analysis and more from the TechRadar team.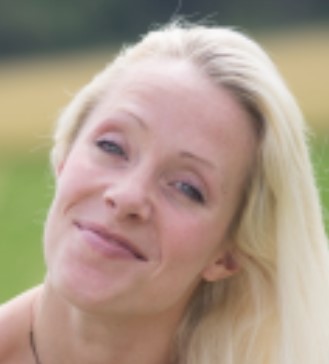 Senior Audio Staff Writer
Becky is a senior staff writer at TechRadar (which she has been assured refers to expertise rather than age) focusing on all things audio. Before joining the team, she spent three years at What Hi-Fi? testing and reviewing everything from wallet-friendly wireless earbuds to huge high-end sound systems. Prior to gaining her MA in Journalism in 2018, Becky freelanced as an arts critic alongside a 22-year career as a professional dancer and aerialist – any love of dance starts with a love of music. Becky has previously contributed to Stuff, FourFourTwo and The Stage. When not writing, she can still be found throwing shapes in a dance studio, these days with varying degrees of success.