These earbuds for kids look like colorful AirPods and now I desperately want them
CareBuds look like colorful AirPods but they're designed to protect your little ones' hearing health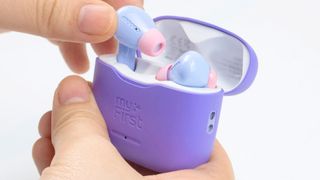 (Image credit: MyFirst )
If you're looking for kid-safe earbuds that your little ones will actually want to wear, MyFirst may have just the thing. The MyFirst CareBuds look like colorful AirPods but they're much cheaper and include built-in hearing protection.
The CareBuds are limited to 85dB as per World Health Organisation recommendations and they come with extra-small tips – the smallest is just 9.4mm – for kids' smaller ears. They're IPX4 water resistant for rainy days. There's noise cancellation with motion-activated transparency mode, simple touch controls and a range of colors including a sober black/dark grey option as well as some more fun colors – handy if like me you've got a kid who likes any color as long as it's black.
Playtime is six hours and a full charge takes 1.5 hours. The USB-C charging case takes the total listening time up to 25 hours. There's no Find My or similar feature but at $49 / £49, they're cheap enough that losing a pair wouldn't be too financially devastating.
Opinion: AirPods aren't ideal for younger listeners
I've got two kids and they'd both rather wear headphones than listen to YouTube (my youngest) or death metal (my eldest) on speakers. My AirPods Max spend more time on my kids' heads than they do on mine, but that's purely when they're sitting on the sofa. There's no way I'm letting them go anywhere else with cans costing five hundred and fifty bucks. And given their propensity for losing absolutely everything all of the time and not charging anything either, I'm not going to buy them AirPods.
If you're responsible for little listeners, you're probably as painfully aware of this as I am: buying the best earbuds for kids is a real pain. Many of the designs are very babyish, so you've no chance of getting the kids to wear them – good luck getting older kids to wear headphones with cat ears or Fisher-Price colors on the school bus – and the materials aren't exactly comfortable either. But while grown-up earbuds tend to look better, they don't have the hard-coded hearing protection I want my kids' headphones to have. As a musician and gig-goer with the first signs of long term hearing damage, I don't want my kids to make the same mistakes I did.
I think if I were buying for anyone other than the youngest kids, I'd be taking a serious look at these. The hearing protection is a must-have, but I also like the smart transparency so that the wearer is still aware of hazards such as distracted school run SUVs, other kids' bicycle bells and so on. If they sound as good as they look these could be a really smart buy.
You might also like
Sign up for Black Friday email alerts!
Get the hottest deals available in your inbox plus news, reviews, opinion, analysis and more from the TechRadar team.
Contributor
Writer, broadcaster, musician and kitchen gadget obsessive Carrie Marshall (Twitter) has been writing about tech since 1998, contributing sage advice and odd opinions to all kinds of magazines and websites as well as writing more than a dozen books. Her memoir, Carrie Kills A Man, is on sale now. She is the singer in Glaswegian rock band HAVR.