Apple Music has a secret feature that let's you learn more about the artists you love
If you keep scrolling down in the Apple Music app, you're in for a big surprise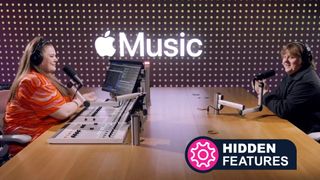 (Image credit: Apple )
Hidden Features
We love a good hidden feature, that functionality on your device that may not necessarily be active at default but which elevates your experience (or even your life). This series explores our pick of them - and you can read them all here.
This week's hidden feature isn't so much hidden as buried: it's in Apple Music and it lives way down the Browse page, long past the bit where you stop scrolling. And that's a shame, because it's a really fun feature. It's Artist Interviews and it's a collection of – yes! – artist interviews.
What I like about the Artist Interviews feature, other than the high production values for both sound quality and video quality, is the range of artists that feature. For example, if I just pick some names out at random there's Lewis Capaldi, Hayley Williams, Bad Bunny, Kim Petras and The Linda Lindas.
What will you find on Apple Music Artist Interviews?
Most of the headline interviews are by Apple's resident DJ and Steve Jobs lookalike Zane Lowe, and if you're familiar with his upbeat interviewing style you'll know what to expect here. If like me you're a bit of a grump in the mornings, he's probably best avoided until your third coffee has kicked in.
The bulk of the interviews here are from Apple's New Music Daily, and it's nice to see Elton John's Rocket Hour in here too. If you missed his Apple Music radio show of the same name, these are videos of his most fun interviews with emerging artists.
The interviews integrate well with the rest of the Apple Music experience, so when you're watching a video you can swipe to the Playing Next screen and the algorithm will recommend more interviews for you. And as with any other Apple Music content you can AirPlay it to your Apple TV 4K or listen to it on your HomePod 2.
Which Apple Music artist interviews don't deliver?
If you're looking for starkly confessional interviews where pop stars open up about their deepest, darkest secrets, this is not the interview collection for you. Some of it definitely tends more towards the "your new song is so amazing what's it like being amazing is it amazing?" style of interviewing, which is something Lewis Capaldi has a lot of fun with – in some cases, fun that his delighted interviewer doesn't spot.
That's not really Apple's fault, of course. Today's pop and rock stars are generally so media trained and their hovering PR minders are so keen to avoid them going viral for the wrong reasons that they're not going to admit to drinking two bottles of Windex a day or having a basement full of dead bodies.
But there's still plenty of fun to be had here, especially with acts such as the Linda Lindas whose enthusiasm and sheer joy is enough to charm even the most cynical heart. It's also nice to see the best music streaming services giving artists more time to reveal the thinking behind their incredible music.
You might also like
Sign up to receive daily breaking news, reviews, opinion, analysis, deals and more from the world of tech.
Contributor
Writer, broadcaster, musician and kitchen gadget obsessive Carrie Marshall (Twitter) has been writing about tech since 1998, contributing sage advice and odd opinions to all kinds of magazines and websites as well as writing more than a dozen books. Her memoir, Carrie Kills A Man, is on sale now. She is the singer in Glaswegian rock band HAVR.